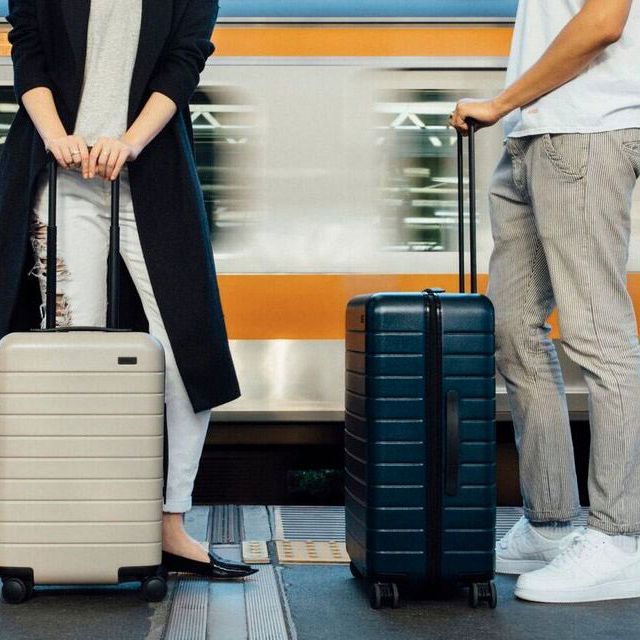 While travelling can still be a complicated and frustrating affair — whether it's the PCR tests needed for international travel or the fact the entire Kent coast seems booked up until 2022 — what you take with you needn't be difficult. Wherever you're going, you're going to need luggage, from hardy check-in cases to carry-on bags perfect for a long weekend.
Getting the right case for you (and not just the right-looking case) is important. So to help with your search, we asked 11 frequent travellers — from photographers, directors, and even Strategist staff — to tell us their go-to suitcases. Read on for their easy-wheeling recommendations, including the best for business travellers, the best for those with zero storage space, and the best for those who like to put their case through hell and back.
Best overall suitcase
Tripp, a U.K.-based suitcase company, was the most frequently mentioned brand, with three separate recommendations. Niamh O'Brien, digital editor at Lonely Planet, is never without her Tripp case. Calling it a "sturdy little number," she says the case "tolerates being dragged down stairs, across fields, and can be chucked in the tightest of luggage situations." The wheels and handle "can really take a punishing," she adds, easily taking on cobbled, sandy, muddy, or hilly terrain. "Extremely good value for money. This might not be the fanciest carry-on on the market, but its durability and practicality are the best." Victoria Beardwood, in-flight magazine editor at Ink, also rated Tripp highly. "It's not flashy, it's not expensive, but it does the job brilliantly."
Best (less expensive) suitcase
This suitcase happens to be a favourite of Strategist U.K. editor Ailbhe Malone. "I've owned this super-light suitcase for over five years, and have taken it around the world with me: from Tokyo to Tasmania to Toulouse," she says. "I've never failed to get this through as cabin luggage, and I can easily fit a week's worth of clothing in it." It's also the best-rated overall in our look at the highest-rated suitcases on Amazon, with over 9,000 reviews, 78 percent of which are five stars.
Best (more expensive) suitcase
"There are many things that make my aluminium Away cabin suitcase the ideal travel companion," says writer Anna Hart. The built-in charging dock for devices saves her from "a desperate hunt for charging points in airports," while clever suitcase dividers "make it easy to dip inside for house keys/travel documents/soap bag without everything tipping onto the floor of a railway station." A sturdy outer shell and combination lock "reduc[e] my paranoia when leaving it at luggage depots or hotel reception," Hart adds. Beardwood also loves Away, saying her backpack is "great as a carry-on for a short trip or as a cabin bag in addition to a big suitcase in the hold." As well as being stylish, it's "super-functional," with three different compartments and a number of secret pockets.
Best luxury suitcase
Tom Marchant, co-founder of luxury travel and lifestyle brand Black Tomato, told our sister site this was his favourite piece of rolling luggage. "My luggage needs durability, function, and an understated design." He loves the timeless and elegant look and the fact that it's waterproof — "a critical factor when traveling." It's also lightweight and can be stored overhead. It's durable, too: "My Rimowa has seen quite a few things around the world, including a tumble off the roof rack of a tiny car while winding down roads in Greece (miraculously intact)." He never has to worry about items he's collected during his travels breaking, either. "As I split my time between New York and L.A., this has become a staple of my life on the go and, I do believe, a lucky talisman of the adventures to come," he says.
Best lightweight suitcase
Photo: retailer
"You can fit a surprising amount inside this suitcase," says Jessica Prupas, associate editor at EasyJet Traveller, which is all the more impressive given its weight. A minuscule 1.88 kilogram, it's "great for lugging home from Luton," she says. As well as being ultralightweight, it's sturdy too. "I've had an IT suitcase for Lord knows how long, and it's never done me dirty." Though colour options are a little limited — it's a choice between grey or red — innovative touches, like a mesh laundry section and an extra-deep front pocket, make up for this.
Best non-scratch suitcase
Director Amma Asante told us her trusty Tumi case coped with all manner of knocks and scrapes while she went travelling with her husband in 2019. "This suitcase withstood us going from Los Angeles to Taiwan, then the Maldives, and then Bangkok," she said. "It's got loads of space — I can even fit my Dyson curling set in there — and it coped brilliantly with getting battered through many an airport."
Best space-saving suitcase
"I live in a tiny studio apartment, so the fact that this packs away flat is a massive bonus," says author Erin Niimi Longhurst, who recently relocated to New York. The outer shell is made from sturdy canvas, which "collapses so it's really flat and easy to store." As well as packing away neatly, the bag is lightweight: "There's an irritating trend on transatlantic flights recently where they're weighing cabin bags, so if I know I'm flying an airline that does that, then this is the bag I take with me." The Eastpak bag also comes with a 30-year warranty. "When one of the internal zips split recently, I was able to send my suitcase off, and it came back all fixed up," says Longhurst.
Best duffle suitcase
"I'm never worried about splitting this bag open," says Longhurst of this stylish duffle. "I've always really liked luggage from Kipling. When I was little, it was because I loved the little monkey keychain it comes with, but these days I really appreciate how thick and robust the zips are. I feel like I can always squeeze and cram a few more bits in." The bag can also be handily converted into a backpack. "If I'm taking this on a trip where I'm visiting a lot of markets, the backpack function becomes absolutely necessary once I'm laden with purchases." [Editor's note: This product is currently sold out].
Best suitcase for photographers
Blogger and keen underwater photographer Michelle Attard originally purchased her Samsonite Cosmolite Spinner to match her large hold luggage. "It now works great for my camera gear as it's super-light," she tells me. She loves that it has four wheels "so I don't have to drag it behind me, hurting my back" and that it's "extremely sturdy." It's especially good for those who like to travel to remote locations. "It's perfect for connecting flights in smaller planes, as they usually have strict weight restrictions and try to overcharge you if your cabin suitcase is too heavy," she adds. One thing to note, however, is that Attard does wish it had "more internal pockets."
Best suitcase for business travel
The world's first global rum ambassador, Ian A.V. Burrell, needs to look slick while he's away "travelling to all seven continents, spreading the gospel according to rum." Although it's expensive, he loves the S.C Holdall from Bennett Winch, which has "a sharp, understated look that masks a unique two-piece design — both a holdall bag and suit carrier in one." Burrell refuses to travel with checked luggage: "With this, my suits and shirts are wrinkle free, and I'm straight on and off the plane, no waiting around." The wraparound suit holder can fit one pair of trousers and a jacket, while the internal bag is surprisingly roomy at 32 litres. Burrell says his bag has seen him through weeklong trips. [Editor's note: this product is released in batches, and is currently available for pre-order only. Bennett Winch say it is expected to ship at the end of January].
Photographer Eyal Yassky had to take 50 flights last year for work, which "makes it almost impossible to adopt an eco-conscious lifestyle." But even for frequent fliers, there "are still things we can do," he says. Choosing the products he consumes carefully has been a key part of this. His go-to short-haul Patagonia cabin bag is made from 100 percent postconsumer polyester and is "built to last." As well as its minimal environmental damage, his favourite feature is "the ability to compress the top part and the external passport pocket" for quick access going through the airport.
Some other suitcases we like
If you're travelling with your partner, a two-case set would be worth considering. This pair came highly rated on Amazon, with 78 percent of all the reviews being five stars. They are the same size as the Aerolite suitcase featured above — the capacity is 34L — and come in 15 different colour combinations.
Parents and kids are really into Trunki, the colourful suitcases that were first featured on Dragon's Den in 2006 — this case has 89 percent five-star reviews. Many reviews on Amazon highlight how much kids love playing with theirs — even when they're not going on holiday. One parent said it was great for taking to sleepovers, while another said her son loved using it to pack his toys whenever they went away. Parents described it as sturdy and durable considering how much wear and tear it goes through, and it's been recommended for kids as young as ten months to as big as six years. And several even said the fun design helped quell any potential meltdowns from tired ones — especially during travel delays.
The Strategist UK is designed to surface the most useful, expert recommendations for things to buy across the vast e-commerce landscape. Read about who we are and what we do here. Our editors update links when possible, but note that deals can expire and all prices are subject to change.