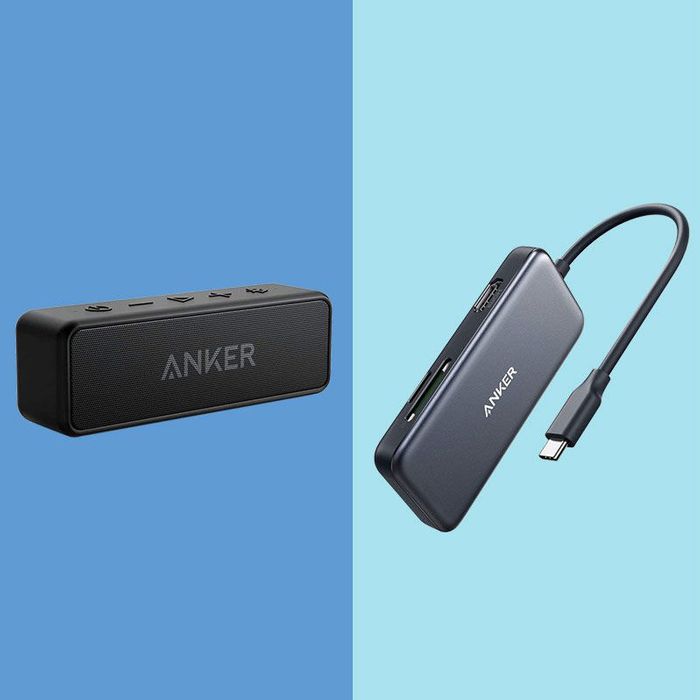 Photo-Illustration: retailer
A version of this story originally appeared on the Strategist U.S.
If you've ever charged a device, nearly any device, you've probably heard of the Anker brand. The company makes some of the best power banks and chargers we've ever used. It makes a lot of other things too, including power strips, docking stations, and speakers. When you shop as regularly as we do, you learn that many brands just do some things better than they do other things. Anker is one of those brands, with a massive inventory of exceptional products that have been consistently recommended throughout the Strategist by former tech columnist David Pogue, Megababe founder Katie Sturino, and more. To help you find the best that Anker has to offer, we collected the most-praised products we've written about, from Anker's affordable portable speaker to its sturdy ten-foot cable.
Charger stand
Strategist contributor David Pogue says, "My attitude toward wireless chargers changed when I found the Anker PowerWave charger." There's no annoying sweet spot to find on the wireless charger, and you don't have to worry about placing your phone horizontally or vertically; it always manages to charge in any position.
Wall chargers
The new Dual Port wall charger allows you to charge multiple phones, tablets, and other accessories at the same time — and so much faster than your 5W iPhone charger. The latest iPhones and Android phones support fast charging, which means this charger could get your phone from 0 to 50 percent in about 30 minutes.
This 2-port USB C 60W high-speed portable charger comes with easy-to-swap plugs for any travel situation. It's powerful enough to charge two laptops at the same time. And it has Anker's "Intelligent Power allocation" technology, which just means you can plug in other devices like a smartphone or tablet, and the charger will automatically figure out what type of device it is and give it the optimum level of charge.
Portable chargers
When we looked at the best portable chargers on Amazon, according to hyperenthusiastic reviewers, two Anker chargers were featured. The first was the PowerCore Power Bank; 86 percent of the almost 27,000 reviews are five stars. The charger has a mAh (milliamp hours) of 26,800: For reference, an iPhone 11 requires 3,110 mAh per full charge, meaning the Power Bank can charge your phone up to eight times before it needs charging itself. The device comes equipped with three USB outputs, meaning up to three devices can be charged at any one time simultaneously. It was popular with both campers and those working from home — one reviewer said he found it convenient to use around the house, as he no longer had to sit near a socket to revive his iPad. Reviewers did mention that the device is rather weighty, but that its usefulness made the burden worthwhile.
For a lighter (and less expensive) option, the PowerCore Light came highly reviewed, too. It can also charge up to three devices simultaneously, and with a 10,000 mAh, can fully charge an iPhone 11 at least twice on one charge, according to reviewers. It's light enough to take on the go, with one reviewer saying they no longer have to fear the dreaded one-percent-battery tube ride home.
This handbag or pocket-friendly option has almost 20,000 reviews on Amazon, 75 percent of which are five stars. Four hundred reviewers called the charger (which has 5,200 mAh of power) easy to use, and 15 said the charger's clear lights, indicating how much power the bank has left, made planning their phone usage a breeze.
If you are "constantly scoping for your next outlet," Katie Sturino, founder of Megababe, recommends this slim portable charger. "It actually gives more than two times the amount of charge your phone needs," she says. The PowerCore Slim 10000 PD carries enough charge to fill your phone twice.
"I call myself the Energizer Bunny, and if there is a battery pack that embodies this vibe, it's the Anker battery pack," says Ty Haney, the founder and CEO of Outdoor Voices. "I'm constantly on the road with my fiancé, Mark, or outdoors 'doing things,' so I always need a battery pack on me." The portable charger has two USB ports, so you can charge two devices at the same time.
This "life-changing" portable charger came recommended to us by model-actress Suki Waterhouse. "The problem with a normal portable charger is you have to charge the charger, and I always lose the charger for the portable charger," she says. "You can just plug this one into the wall to charge it — there are no separate parts. I got it last year when I had way too much time on my hands and finally got around to finding a portable charger that works for me." This is the updated model to the Anker charger that comedian Jaqueline Novak also recommended to us.
Cables
Strategist contributor Alison Freer says this comically long charging cable is virtually indestructible. "For two years, I've used it every single day. In my house, I'll drag it along everywhere I go. I can lie on any end of the couch and still charge my phone, or lie all the way down in bed (rather than awkwardly perch on one elbow next to the power strip), or even just ride in the back seat of a car with the phone plugged into the cigar socket and still use my phone while charging it," says Freer. "Two full years of heavy use later, it hasn't split, torn, bent, or even started to fray — and I've yanked, twisted, stretched, and dropped it repeatedly."
In our story on the best lightning cables on Amazon, reviewers praised this one-foot cord for its durability and recommended using it with a portable power bank. More than 12,000 customers gave it five stars.
This cable has a 180-degree U-shaped plug that keeps the cable out of the way, which is quite handy when you want to use your phone while it's charging. The reinforced plug also reduces the chances of your cable getting damaged and frayed.
Hub & Adapter
When Strategist contributor Steven John bought a new MacBook Pro, which has only USB-C ports, he needed an adapter to connect his monitor and plug in an SD card. "The Apple Store guy, who will remain anonymous, leaned in conspiratorially and advised against buying a dongle from Apple, saying Anker made an option that was every bit as good," John says. "The Anker model I use has two USB 3.0 ports, an HDMI port, and both an SD and a micro-SD slot — and it's never given me any problems."
Speaker
Although it's only £30, this Bluetooth speaker gets consistently great reviews — 4.6 stars after nearly 43,000 ratings on Amazon. "Sound is crisp and full, it looks great, and has a nice, solid heft to it. It's also extremely easy to pair to an iPhone. Once paired, it quickly and reliably connects to my phone when turned on," says one reviewer. "I think you would be hard-pressed to find anything at this price point that comes anywhere even remotely close to the awesomeness you get with this speaker," writes another.
Earphones
When we looked at the best-rated earphones on Amazon, these inexpensive ones from Anker held their own against the more expensive Apple, Beats, and Jabra options — they were rated best for noise-cancelling. Not only did they have over 84,000 reviews, but the neat fit and rubber tips were frequently highlighted as helping cut noise. Happy customers included one who used these to drown out the sirens wailing every time they drove past his house, to the husband who used his to watch the football so as not to disturb his wife.
The Strategist UK is designed to surface the most useful, expert recommendations for things to buy across the vast e-commerce landscape. Read about who we are and what we do here. Our editors update links when possible, but note that deals can expire and all prices are subject to change.