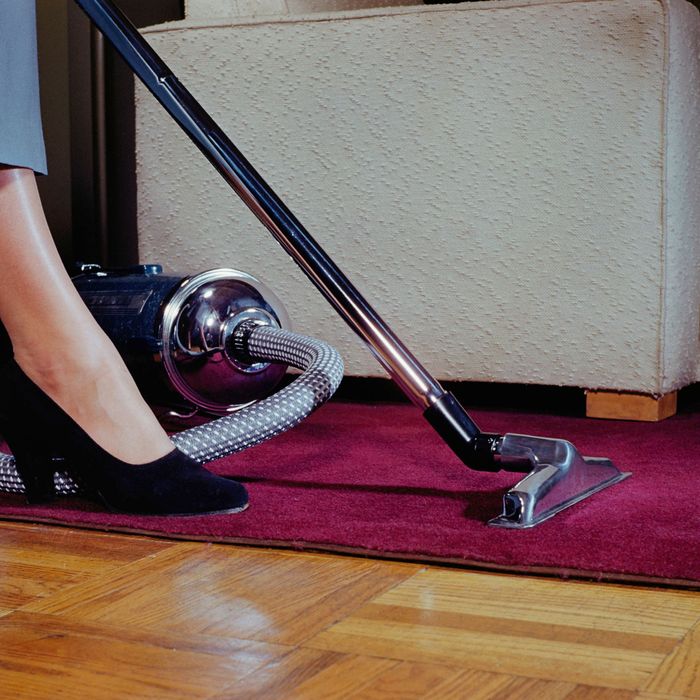 Photo: Steven Gottlieb/Corbis via Getty Images
A good vacuum cleaner is one of the most significant home purchases you can make. If you're going to be using it weekly, even daily, you don't just need one that works — you need one that works well, is easy to use, and is built to last more than a few months. But how does one go about choosing a decent vacuum cleaner in a market dominated by major players who all seem to put durability first?
To sift through the Hoovers, the Henrys, and the Dysons, we enlisted the help of ten experts across the tidiness spectrum, from hoteliers to bloggers to cleaning technicians (and one pop star). They came up with a list of nine vacuum cleaners across seven categories — from the best bagless and cordless vacuum cleaners to the best automatic vacuum cleaner and the best vacuum cleaner for those with pets or children.
Best overall vacuum cleaner
Six of our experts picked Numatic vacuum cleaners as the best on the market, with four of them recommending the brand's enduring "Henry Hoover" model. "If you're in the market for a good, medium-range, all-round vacuum cleaner with solid performance, you can't go wrong with a Henry," says Marta Lytovchuk from London-based cleaning service eMop.
Monika Nikolova, supervisor at the Cleaning Gurus, agrees. "It's very strong and it has massive vacuum power," she says. The "strong and reliable" Henry has another recommender in Zdravko Dimitrov, a lead technician at Fantastic Services. "It's easy to service, and it can be used for a long time," he says, though he points to the Henry's bulkiness and the fact that it has only one setting as potential downsides. Rounding out Henry's recommenders is Dolapo Oni, managing director of property-development firm CityGate Homes. "It's hard-wearing, durable, and worth the price point," she says. "I've used a lot of cheaper vacuums, but this one consistently delivers so it's the only one we use now."
Owner of zero-waste shop The Green Stores, in Hertfordshire, Wendy Iveson says she uses this hoover in both the store and at home. With four kids, she's says it's "just so reliable," and points out that its "industrial nature means it's suitable for both the workplace and domestic spaces."
Spice Girl Melanie C told us that she carries this with her "everywhere." It helps her manage the dust and fluff that her kids produce. "Why are kids so fluffy? And how much dust can five humans produce? I mean, it's ridiculous," she told us.
Numatic also offer a professional alternative to the domestic Henry in its industrial NRV 240 model — one which keeps the same smile, if not the same name. "The NRV 240 is light, handy, and easy to carry, which gives you a significant advantage when you need to move it from one room to another or from one floor to another," says Iwona Korczak, director of accommodation services at Royal Lancaster London. "It's really powerful, effortless to maintain, and is also well priced compared to other big brands — which is a big consideration when you're buying a significant amount." Not only that, the NVR 240 is equipped with a longer cable than the classic Henry, at 12 metres, as well as added stability and a greater capacity in the drum.
Best (more expensive) vacuum cleaner
If you've got more money to spend on a vacuum cleaner, four of our ten experts recommend the versatility offered by the Miele C3. "It's probably one of the best vacuum cleaners I've ever used," says Lytovchuk. "The only downside for me is the price, but you pay for quality." While the Miele is two or three times as expensive as the Henry, it's in its extra details where it proves its worth. Philip Schlee, head of U.K. operations at cleaner-booking service Cleanzy, points to its "long reach" socket, its 4.5-litre bin capacity ("much higher than cordless alternatives"), and the fact that it works on all floor types as reasons to invest. Nikolova, another Miele user, echoes Schlee's sentiments. "The vacuum power is great, they have a lot of capacity in their bags, and you can clean all kind of surfaces," she says. Dimitrov also uses a Miele. "It's compact and it has plenty of filters and several suction modes depending on what you need," he says. While the C3 comes in a range of different models, our experts tend to favour either the Silence EcoLine and the Cat & Dog PowerLine — the former for its efficiency and reduced noise capacity and the latter for its expert combatting of odour and hair.
Best budget vacuum cleaner
While Dolapo Oni warns that vacuum cleaners cheaper than a £99 Henry "usually don't last," professional cleaner Lytovchuk likes this Amazonbasics offering. "It's good if you're after a no-frills, no-fuss kind of everyday vacuum which which won't break the bank," she says. "It's compact and lightweight but with an incredibly powerful suction capability." It's also "not too noisy," with an impressively low volume of 78 decibels to match the low price.
Best cordless vacuum cleaner
Dyson has long been the master of the cordless vacuum, and its Cyclone vacuum cleaners — especially the Absolute variation — were recommended by four of our ten experts. "It's so easy to use that even my 3-year-old uses it," Oni says of hers. "It's very lightweight and effective, and the cordless feature makes it a really great user experience." Elena Banuta, product expert at Ideal Cleaning, agrees. "It's revolutionised vacuuming, really taking the backache out of it," she says. "When cleaning any home, I'm always relieved when I find a Cyclone in the cupboard."
Schlee also recommends the Absolute — specifically the most recent model, the V11, which he commends for its "sleek and futuristic design" with impressively high-tech features. "It's got three different cleaning modes and an LED screen which tells you how much run time is remaining and the location of a blockage," he explains. Korczak also recommends the Absolute, saying it's "handy and versatile" thanks to its large accessory kit. "It's got adjustable power, a short charging time, and a hygienic, easy-to-empty tank," she says. "I love the fact that you can store it very easily and that you can fix the charger on the wall."
Best vacuum cleaner for children and pets
Tinuke Awe, parenting blogger and founder of Mums and Tea, cleans up after her two young children with the help of Vax's Air Max Pet model. "I can get into the corners and all those hard-to-reach nooks and crannies with its detachable features," she explains. "It means I can quickly and easily clean up mess on the carpet from the kids after they play with sensory rice or have a particularly messy dinner." The Pet Cylinder also gets a thumbs up from Banuta, who praises its affordability and reliability. "It's perfect even if you don't have pets, as it has been built to deal with tricky and tough-to-remove dust and hair," she says. "You know it will work and not run out of steam within a few months like other similarly priced brands."
Best automatic vacuum cleaner


Photo: retailer
If you fancy putting your feet up and letting AI do the work, Banuta recommends Kobold's automated offering. "Robot vacuums allow you to save time and focus cleaning in other areas," she explains. "The usual downside is fur and hair clogging up the spinning rotators that move the robots along, but the VR300's design has been developed so that's not a problem." Banuta also praises the machine's "sleek" look and "unique" scanner, which helps it navigate around awkward areas. The only downside? "It costs!" [Editor's note: The Kobold is sold out at multiple retailers, but we recommend this Eufy model as an alternative. It was featured in our look at the best-rated robot vacuums on Amazon and was singled out for its exceptional suction.]
The Strategist UK is designed to surface the most useful, expert recommendations for things to buy across the vast e-commerce landscape. Read about who we are and what we do here. Our editors update links when possible, but note that deals can expire and all prices are subject to change.