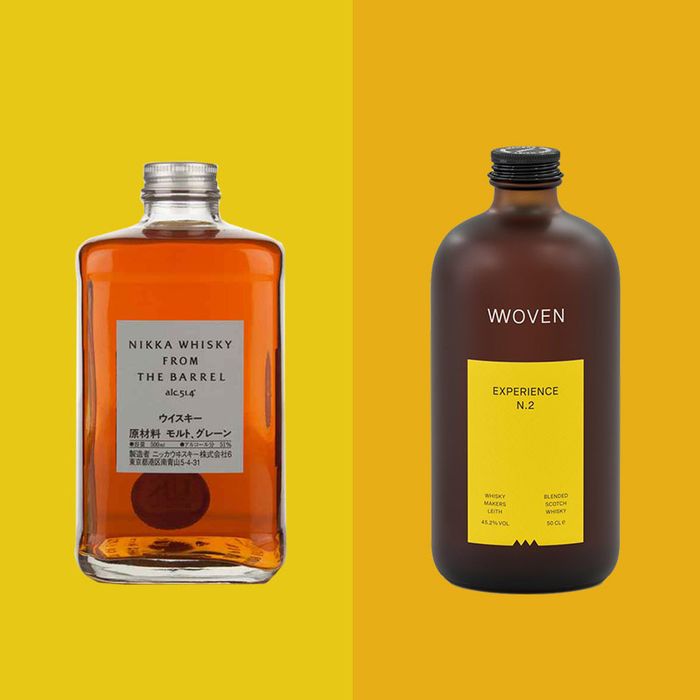 Photo-Illustration: retailers
Whiskey has come a long way since Mad Men. And though it may never shake off the image of Madison Avenue suits or stuffy pronouncements on different maltings, the last couple of decades have seen a system change in the whiskey world. From female-founded distilleries producing environmentally friendly bottles to "New World" origins beyond the time-old trio triumvirate of Scotland, Ireland, and North America, whiskey is breaking free of the old-fashioned attitudes it's often associated with. "I personally enjoy whisky any time, be it before a meal, during, or after," says Scottish chef Roberta Hall McCarron, founder of Edinburgh's The Little Chartroom and Eleanore. "One of my favourite places is to climb to the top of a mountain and pour myself a dram."
Whether you're looking for a whisky or a whiskey, a classic single malt or a New World blend, we approached ten specialists — from luxury buyers to award-winning bartenders to Michelin-starred restaurateurs — to find out which are the best whiskies to buy right now. Below, you'll find the best single malt, the best blended whisky, as well as the best whiskies from the USA, Ireland, Japan, and beyond.
But before that, a word on the different types. "Whisky," without the e, is the Scottish spelling, so generally refers to Scotch. "Whiskey," on the other hand, is Irish. It's in the resulting influences where things get interesting: American bourbons and ryes, being based on Irish whiskey, are also "whiskey." But Canadian and Japanese whiskies, which are heavily influenced by Scotch, are "whisky."
And while everything from the climate to the distilling method to the type of cask it's aged in can differ, the main difference between whisky and whiskey is the type of grain used. Scotch (and therefore Canadian and Japanese) whisky is made from malted barley, with "single malt" meaning it's the product of a single distillery. Irish whiskey is usually made from barley both malted and unmalted, while American whiskey can be made from a mix of corn, rye, wheat, or barley. When you think of American whiskey, you're likely thinking of bourbon — a slightly sweeter (and usually stronger) liquid distilled from at least 51 percent corn and aged in charred-oak casks. Whereas rye, bourbon's slightly less common cousin, is made with a mash of no less than 51 percent — you guessed it — rye.
Best single-malt Scottish whiskys
Katie Groves, bar manager at London's oldest whisky specialist Milroy's of Soho, recommends Nc'nean's Organic Single Malt. "It's an amazing whisky, and I have so much respect and admiration for their founder, Annabel Thomas," she says. "Even though it's a young whisky it's really refreshing, in so many ways. It's delicious, the ethos of the distillery is really admirable, and it comes in the most beautiful packaging."
As well as being one of few female-founded whisky distilleries, Nc'nean have made a name for themselves with their climate-positive attitude — something admired by the three of our experts who recommended it. "They are now the first ever verified net-zero carbon whisky distillery, and have moved this out across their whole supply chain" says Nick Bell, spirits and beers buyer at Harvey Nichols. "The wood chips for their biomass boiler are sourced from a local forest, while all of their by-products are recycled as animal and plant feed on the Drimnin Estate where the distillery is located," says Michael Monte, assistant buyer at Selfridges. "All this means that Nc'nean has reached net zero status 20 years ahead of the Scotch whisky industry's goal." On the palate, Monte says to expect a "nice, creamy mouth feel," with "well-integrated alcohol" and "plenty of fruit."
If you're looking for a more traditional single malt, the 200-year-old GlenDronach distillery has plenty more history, and its 18-year-old Allardice Sherry Cask has a big fan in whisky expert Groves. "It's a Highland single malt and one of my all-time favourite whiskies, because it has this incredibly rich flavour," she says. "It's sherry-cask aging done to perfection, with these amazing warm, Christmassy notes and a great depth." Also recommending the GlenDronach is Tommy Cummins, head buyer at The Umbrella Project, the team behind cult London bars Discount Suit Company and The Sun Tavern. "This is one of those bottles that unless you know what it is, you might glance past it in a bar or shop. But you oughtn't: it's a gem," Cummins says. "Aged all of its life in Oloroso sherry casks, upon pouring this dark, rich liquid you'll instantly be hit by the smell of Black Forest Gateau: cherries and dark chocolate, plus raisins and toffee." According to Cummins, it's a whisky to pour for your in-laws. "They won't have a bad word to say about you after the first drop has passed their lips," he says.
[Editor's note: This product is currently out of stock. You can sign up online to be notified when it's back in stock.]
Best (less expensive) single-malt Scottish whisky
If you're looking for a single malt that stays well under £50, Ardbeg's new Wee Beastie comes recommended by whisky obsessive Mia Johansson, whose bar Swift was recently ranked the second best cocktail bar in the UK. "Meaty and succulent as always from Ardbeg, but this one is a little more fun and playful," she says. "Not as chewy, but certainly packs that punch with a crisp, smoky finish. A great liquid for your buck."
Best blended Scottish whisky
While single malts are made exclusively from one crop, blends combine different whiskies, making them faster to make and easier to mass-produce. Still, the right blended Scotch can be just as delicious. Scottish restaurateur, Roberta Hall McCarron's favourite blend comes from contemporary Leith distillery Woven, which is a short walk from Hall McCarron's restaurant. "They are a great example of people doing the right thing for the right reasons," she says. "Small batches of beautifully, carefully blended whisky that all taste absolutely delicious." Her blend of choice is the Experience N.2, "a great example of how good a blend can be." Made by mixing whiskies in an "ancient" cognac cask, Hall McCarron describes the end result as "bright, fresh and super drinkable."
Best Irish whiskey
Dubliner Aaron Wall, who runs Islington Irish bar Homeboy, is an Irish whiskey specialist. His pick? The Greenspot Leoville Barton Bordeaux Cask. Like the GlenDronach, it's initially aged in Oloroso sherry casks — but gets added flavour from two extra years in casks which used to contain Bordeaux. "It's the perfect sipping whiskey, as the French oak Bordeaux casks add spice and loads of black and red currant, giving it the traditional Green Spot apple taste," Wall says. "Essentially, it tastes like a Granny Smith apple wrapped in a blackberry." According to Emily Chipperfield, Head Bartender at Shoreditch cocktail bar Callooh Callay, it's the whiskey she's gifted the most and served most by the dram. "Its accessible price point makes it my favourite value-for-money bottle across all spirits categories," she says. "It's full of orchard flavours, which are really accessible, it has a great mouth feel and it shines through all the classic serves whether neat, in a highball or in an old-fashioned."
Best (more expensive) Irish whiskey
Though the price is much higher, Redbreast 27 Year Old is aged for about three times as long as the whiskies used in Green Spot. According to our experts, it shows. "Getting hold of older Irish whisky is always tough, and the quality of this liquid shows you why it sells out", says Bell. "It's spent 27 years resting in the countryside of Cork," says Cummins. "The only thing it's done in those 27 years is to be woken and moved from its original bourbon barrel to a sherry butt and finally into a port pipe." It's this pairing of three different casks that helps Redbreast 27 "take your palate on a journey," which Cummins says ranges from cherries, plums and summer fruits, to spices, oak and leather, to, "for reasons I've never understood," tropical fruit like mango and pineapple. "This whiskey may be new to the world, but in my opinion it should be added to the icons of all whiskey, not just Irish," Cummins says.
Meanwhile, Redbreast also offer a 15-year-old version — aged in a similar way but for around half the time, making it a quarter of the price at just £90.
Best bourbons


According to our experts, the best bourbons are the limited batches produced by Kentucky's Buffalo Trace distillery. And while Buffalo Trace's finest bourbon, the "mythical" Pappy Van Winkle, can cost thousands, Cummins says that its "younger brother" W. L. Weller is a good bet for those on a budget. "When I sit down to drink this full-bodied bourbon, I get transported to a dusty saloon," Cummins says. "The idea being that this is what great bourbon is, and what John Wayne and Clint Eastwood would have drunk in their movies." The W. L. Weller can be hard to find outside of the USA, but is, according to Cummins, worth it for the punch it packs. "What it loses in age it gains in ABV, so this big boy needs to be shown some respect," he says. [Editor's note: This product is currently out of stock.]
Another Buffalo Trace bourbon with a slightly lower price tag, Mia Johansson recommends the Stagg Junior, "a fun, modern classic that might not be as well-known as its larger big brother." Be warned: It's a "gloves off" whiskey, as the 65.55 percent proof proves. "This Kentucky bourbon is flirty, rough around the edges in just the right kind of way and finished with a chocolate brown toffee note," Johansson says. "It takes you on a roller-coaster journey, but leaves you wanting more. A fun joker to add to your staples." [Editor's note: This product is currently out of stock, but you can sign up to be notified when it's back in stock.]
Best rye whiskeys
According to Noel Venning, founder of award-winning Dalston cocktail bar Three Sheets, the rye you need to try is the prohibition-inspired Ragtime, grown in New York State then bottled and distilled in Brooklyn. "This whiskey makes unbelievable classic cocktails," Venning says. "It has all the classic rye tasting notes of spice and berries, but we also love the green apple flavour that comes through at the end, which lends itself to refreshing summertime highball serves."
If you're looking for a rye with a twist, Emily Chipperfield recommends Kentucky distillery Minor Case, who take the "not common" approach of finishing their rye in sherry casks to mix the classic peppery notes with added berry sweetness. "A lot of my work is about bringing new experiences to our guests, and a lot of Scotch drinkers regularly request sherry finishes," Chipperfield says. "This rye expression allows me to meet them halfway, giving them those distinctive sherry notes with a whole bunch of surprises following."
Best Japanese whisky
Scotch-inspired Japanese whisky has gone from strength to strength over the last few years, with big name distilleries like Nikka and Suntory now firm favourites among discerning whisky drinkers. Both were recommended by our experts, with Nikka's Yoichi Single Malt getting the thumbs up from Katie Groves. "Everyone is talking about Japanese whisky, and this is genuinely one of my favourites," she says. "It takes you on a journey, with many different layers of flavour all very elegantly put together. Some creamy sweetness, a little bit of spice, and a gentle coastal smoke."
Edoardo Pellicano, executive chef of the Michelin-starred Māos restaurant in Shoreditch's Blue Mountain School, is a fan of Nikka's cult "Whisky From the Barrel". "It's well-aged in the barrel and has a distinctive fruity caramel flavour," he says.
From Hokkaido in northern Japan to Osaka in the south, Suntory is another increasingly popular Japanese distillery. Pellicano's favourite is their Yamazaki Single Malt. "It's aged in oak, and is definitely on the more expensive side," he says. "But it has good body, with a lot of nutty flavour."
For a more affordable Suntory, Venning recommends their Toki, which blends whiskies from their three main distilleries: Yamazaki, plus Hakushu and Chita. "It's my favourite whisky at the moment," he says. "Light and versatile, it cannot be matched in a highball and has enough about it to stand up in some classics such as Rob Roys and Manhattans. Quite simply the best all-rounder currently available."
Best Taiwanese whisky
Although whisky — and whiskey — have both come a long way in the 21st century, the market is still dominated by four origins: Scotland, Ireland, North America, and, to a lesser extent, Japan. That's why the Kavalan Solist, from the King Car Distillery in the Yi-Lan County of Taiwan, makes such a refreshing change. "They might not have the heritage of Ireland, Scotland, or America, but what they do have is a tropical climate, and they use this to their advantage," Cummins says. "Kavalan are also not hampered by some of the rules of Scotch — they follow the rules to a point, but they're able to use any barrel they want." According to Cummins, this means that "the new kid at the big boys' table" is able to experiment in a way that Scotch distillers never have before. "They're releasing some truly rare and never-heard-of whiskies, and the Solist Amontillado Cask is one that simply doesn't exist in any other country," he says. "Every time this beauty gets poured for me, I know I'm getting something weird and wonderful. I feel like it's someone rewriting a classic novel for the modern age, taking all the best bits and adding in something that didn't exist back then."
The Strategist UK is designed to surface the most useful, expert recommendations for things to buy across the vast e-commerce landscape. Read about who we are and what we do here. Our editors update links when possible, but note that deals can expire and all prices are subject to change.