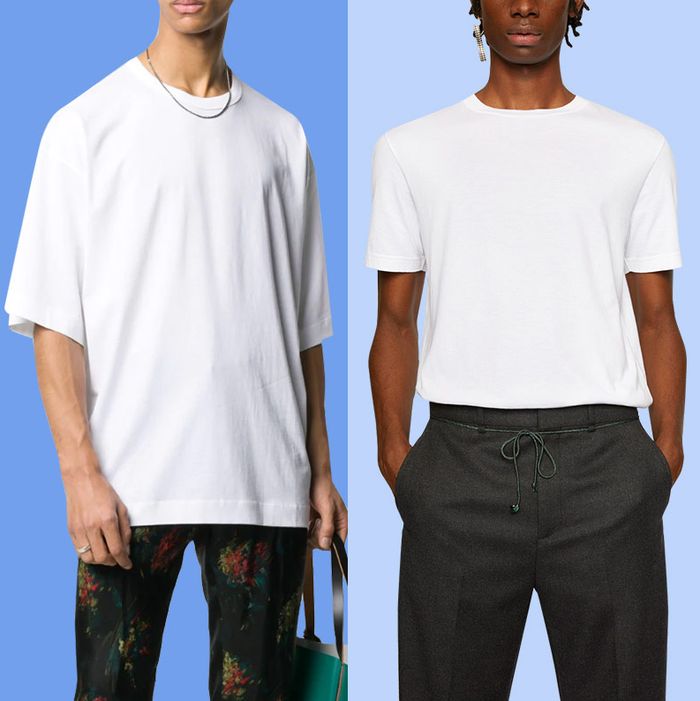 Photo: Courtesy the retailer
The perfect white T-shirt should be a multitasker, able to sit under a shirt, or be worn by itself with a jacket. But there are a lot of options — and price points — so whether you're looking for an affordable white T-shirt, something a bit more luxury, or just an update on a classic white tee, we're here to help.
We spoke to eight of the most stylish and interesting men — including actors, dancers, PR directors, and a CEO of a boutique stationery company — and asked where they got their white T-shirts from. Read on for their picks, featuring styles for pretty much anyone — including the best long-sleeved white shirt, the best for work and the best roomier fit, as well as the best budget and luxury options. (We've also covered the best white T-shirts for women, too).
Best overall white T-shirt
Three of our experts recommended the COS white T-shirt. "They have a chic Parisian cut, a slight roll at the sleeves, enough length to French tuck, and they're lightweight, so they hang off the shoulders nonchalantly," says Taymoor Atighetchi, CEO of Papier. "I'll wear a COS T-shirt to work quite often," says Finlay Renwick, deputy style editor at Esquire. "They're slightly slimmer and more suited to go with tailoring or any slim aesthetic, and look great under a blazer or a chore coat." Size-wise, they run from an XS to an XXL and are cut from a soft cotton. Restaurant PR Hugh Richard Wright praised the quality. "I love the slightly oversize cut — as a 'larger gentleman', but with good, broad shoulders, I like a T-shirt to be fitted, but not too tight. These are a slightly oversized cut, which I have to be careful with, as it can make me look huge with my build, but COS's doesn't do that."
Best thick white T-shirt
You might not have heard of Pro Club, but the U.S.-based wholesale clothing brand is fast becoming popular for its basics, and their white T-shirt is no exception. "Pro Club's heavyweight T-shirt is designed as functional workwear — they're heavy and wash well," says Sam Diss, head of content at Mundial magazine. "I took a punt buying one, and was blown away. The body is boxy and a little high under the armpits, which keeps the shape flattering. And the arms aren't too short, either, which is my T-shirt pet peeve — you want the arm to fall just after the crest of the bicep. The neck is also stand-out; tight and high, almost like a mock-neck. It elevates every outfit I have."
I myself own a couple of these T-shirts and can attest to their sturdiness, comfiness, and how well they wash. Even after a couple of years, my Pro Club T-shirt gets mistaken for pricier brands. Tayler Willson, fashion editor at Mixmag and a men's style consultant, has been a fan for a while, too. "They're an absolute steal at £14," he says. "They're made from 7 ounce heavyweight, 90 percent cotton and they have a nice, thick neckline."
Best long-sleeved white T-shirt
Photo: \\Coi-x12\E\PRODUCTION\PENDING JOBS\COI-005553-48-01468-20181109
Willson also loves Pro Club's long-sleeve white T-shirt, particularly for its sturdiness. "It's still slightly oversize and boxy, which I like, because I am, too." The reinforced, heavy-duty neck and cuffs ensure the T-shirt wears well over time. "The cuffs have real purchase and sit just above the wrist. Both the cuff and collar keep their shape, which is rare. Not only are these some of the best long-sleeved options out there, they're an absolute steal at £18." Like the short-sleeve T-shirt, these are stocked on Blacksmith, a British site known among the style-conscious for its championing of new and emerging menswear brands.
Best slim white T-shirt
Two of our experts loved the heavyweight T-shirt from COS's Scandi sibling Arket. "They wash really well. I know that's a lame thing to say but it matters," says Renwick , who also buys these in a size up for a roomier, casual fit on weekends. "I've had a couple of the same ones for over a year and they still feel brand new." Wright agrees. "They wash amazingly and the cut is fantastic." They're made from a jersey cotton and on the thinner end at about 220 gsm — that's grams per square meter, which is a metric used for measuring the density of fabrics (a towel, by comparison, is typically between 300–900).
Photo: retailer
Actor Russell Tovey told us that J Crew's crew neck T-shirts were a wardrobe staple – and that he owns over 30 of them in all sorts of colors (including white). "I find them perfect. They're deceptively simple, they wash well, and they're an amazing fit. To me, there's nothing better than a plain T-shirt that just works — the more you wash it, the more you wear it, the more faded it gets, the nicer it is."
Best multipack white T-shirt
Frazer Lawton, founder of music PR agency Ryko, which represents artists including Ella Eyre and MUNA, likes the multipack tees from ASOS. "I'm six-foot-three and quite slim so I need a T-shirt that's not too baggy or oversized but that also has a bit of room, especially on the arms and around the chest and neck," he explains.
"I was taking a meeting with one of my mates at Columbia records and he was wearing a really lovely fitting T-shirt. It was a perfect fit. I couldn't believe it when he told me it was just from ASOS because it looked more expensive. I ordered a multipack of them right away." Frazer, who takes a medium, also complimented the short sleeves, which can often be over-long in other brands or wider than usual for guys with bigger arms. The sizes run from XXS all the way to 3XL.
Chris Black likes to get his white T-shirts in bulk, too. "Save your designer money for something more timeless and long-lasting," he says. He recommends Gildan's six-pack, which you can get on Amazon. "They look good under a hooded sweatshirt, a cardigan, or even a suit."
Best boxy white T-shirt
Renwick recommends the white T-shirt from Noah, which was formed by the former creative director of Supreme and is having a bit of a moment among the style-conscious. "It's a boxy fit, and the cotton is thick and quite starchy, almost stiff, which gives you an interesting silhouette," he says. The brand's focus on sustainable production means the cotton is sourced from the discarded waste yarns from other manufacturers. "This isn't a day-to-day white T-shirt but the pocket detailing is nice and the logo is simple and interesting."
Best cotton-blend white T-shirt
Queer Eye's Antoni Porowski swears by the Sunspel cotton blend T-shirt. "The collar is really nice and thin, not too thick. The sleeves are just the right length where you don't have to roll them up, but you can and it doesn't look too much like a muscle tee," he says. He added that it lands right in the middle in terms of price — not cheap, but not too pricey, either, and was particularly impressed that it doesn't yellow or stain after wearing deodorant. "I study this shit. I'm very passionate about white T-shirts."
Photo: retailer
William Bracewell, first soloist with the Royal Ballet, says his go-to white T-shirt comes from M&S – he likes both their David Gandy for Autograph (which are currently sold out) and the regular Autograph options. "These are just so soft, with a bit of stretch, which I'm a big fan of," he says. Their sizing goes from S to 4XL, though some of the larger sizes are currently out of stock.
Best luxury white T-shirt
Photo: retailer
Wright knows his luxury T-shirts — after all, he paired an Acne T-shirt with contrast sleeves on his wedding day, worn under a blazer. "Acne prices always make me wince slightly but then as soon as you bite the bullet and buy it, the first time you put it on, you realise what you're paying for," he says. "Fit, style, quality, comfort and cool design. They feel fantastic." The sizing runs from XXS to XXL.
He also likes Dries van Noten, particularly as an alternative to the crew-necks, which might not suit everyone. "The clothes are a beautiful fit, and of all the big name labels I think it's the most realistically-priced. Also their sizing accommodates 6'3" men who weigh 18 stone and have 46" chest." Fit-wise, he says it has a slightly dropped shoulder and generous cut, as well as a scooped neck rather than a classic crew. "And the cotton is a lovely lightweight, it's really fluid, so it flatters any shape without being flimsy."
The Strategist UK is designed to surface the most useful, expert recommendations for things to buy across the vast e-commerce landscape. Read about who we are and what we do here. Our editors update links when possible, but note that deals can expire and all prices are subject to change.