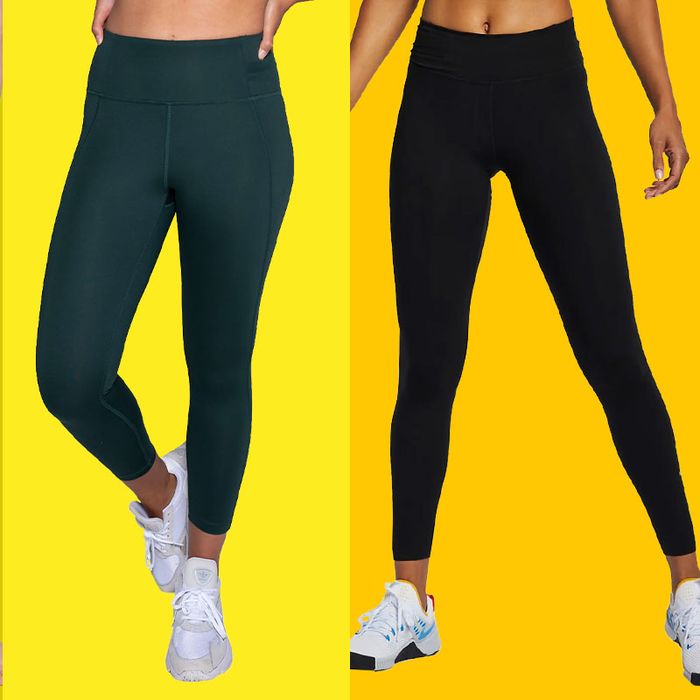 Photo-Illustration: The Strategist; Photos: Retailers
Whether you lift heavy at the gym or pummel your core to a Chloe Ting YouTube routine, you'll want the right pair of workout leggings. If you're a runner, those probably feature a pocket for keys, but if you're weightlifting, a thick fabric (that won't go sheer when you squat) is more important. To help you decide, we asked 11 fitness experts — including personal trainers and professional dancers — for their go-to pairs. We also looked back at our own fitness reporting, consulted Strategist staff and then price matched each pair across retailers from John Lewis to Sports Direct.
Size range: We're looking for ranges of leggings that suit every body type, including various heights. With that in mind, we've made a note of the dress size of each pair of leggings and flagged which offer different inseam lengths to suit both petite and taller frames.
Material: After size, a gym legging's material is the most important thing to look for. We're looking for fabrics with moisture-wicking technology that will dry fast and conceal sweat patches. We also want leggings that move with you, whether using compression (good for dynamic movements like running or dancing) or stretch (yoga). The leggings should pass an informal squat test, remaining opaque and not revealing your underwear. Finally, we've made sure to find out how well the leggings stand up to repeat washes, and how many years you can hope for them to last through frequent sweat soakings. You'll most often find blends of polyester, nylon, and elastane in your workout leggings.
Fit: This one's down to personal preference, and we've figured out options whether you're into a cropped hem, a higher waist, or an adjustable waistband. We've also identified which pairs have pockets and what they can really store.
Best overall | Best less expensive | Best for HIIT and running | Best for yoga | Best for dance | Best plus-size | Best sustainable
Best overall gym leggings
Sizes 6–24 | 25-inch, 28-inch, or 31-inch inseam length | Nylon and Lycra | High-rise
Our panel highlighted Lululemon a lot, which came as no surprise to us: They've been a firm Strategist favourite for years. But their Align Pant came out on top, highly recommended by four of our 11 experts. Tally Rye, a personal trainer and author of Train Happy, says that the leggings are "the softest pair I own — they feel like a second skin." She wears leggings for both training clients and solo workouts. For Maria Eleftheriou, head of barre at Psycle London, Align's allure is in the way they "hold their shape and quality during movements." Digme Fitness founder Caoimhe Bamber likes the way the "thick, high waistband helps you feel tucked in," while Courtney Murray, a barre teacher at triyoga, singles out these as one of the few black leggings that "remain completely opaque, despite constant washing."
The leggings gain their opacity from their sweat-wicking nylon and lycra blend, which makes them primed for twists and turns. Their impressive range of sizes runs from a UK 6–24, with a choice of three lengths: 25 inches, 28 inches, and 31 inches. We also like the compact hidden pocket within the waistband, which can seamlessly store a card or key without interrupting your range of motion. Their suitability for a range of exercises, inclusive size range, and the fact that they're truly beloved by fitness experts and Strategist staffers alike gives the Align Leggings our top spot for best gym leggings overall.
And while we think they're a truly worthy investment, we understand that £88 for black leggings won't fit every budget. Certain styles (including muted camo prints) do start slightly cheaper, at £69, and if you're on a tighter budget, it's worth keeping your eye out for the brand's regular We Made Too Much Sale.
Best less expensive
Sizes 4–26 | 27-inch inseam length | Nylon and Lycra | High-rise
Another highly praised option came from Nike. Three of our experts mentioned their One Luxe tights, including Rowen Aida, a Nike training coach and owner of platform Elevate by Rowen. She rates their soft material — a stretchy polyester and elastane mix, primed for high- and low-intensity workouts — and says that the super-high waist helps her to feel comfortable while teaching a spin class. "Their fitting makes me feel so good, I wear them outside of class, too; all the time." They were also the first pair of leggings I bought when I decided to upgrade from cheap pairs from Primark.
You can find the One Luxe in seven shades, but Aida tends to opt for the sweat-masking black shade, while my personal favourite is Bronze Eclipse. I can confirm that the leggings pass the squat test, remaining steadfastly opaque as I lunge and squat, and the three hidden, small pockets make it easy to store my keys and AirPods case (but are too narrow to store my iPhone 10).
At an RRP of £69.95, these are already a less-expensive alternative to the Lululemon Align. But real savings can be made over on the Sports Direct website, where we often notice the leggings available with hefty discounts of up to 50 percent.
[Editor's Note: Though Aida represents Nike as a training coach, she purchased the leggings herself.]
Best for HIIT and running
Sizes 4–26 | 23-inch, 25-inch, and 28-inch inseam length | Nylon and Lycra | High-rise with drawstring
Yes, there's more Lululemon, but three of our experts have testified these leggings are up to the challenge of running, circuit training, fast-paced HIIT classes, and dynamic stretches. "They're silky on my skin, as well as shapely and supportive," says Digme's Bamber, who has several pairs in different colours. They dry quickly after the sweatiest classes, according to Eleftheriou. Rye likes the "useful pockets on the back of the waistband and outside thigh, and thick, comfortable high waist," and thinks "they are great cost-per-wear: I have worn them two or three times a week for the past three years, and they are only just wearing out."
On the topic of cost, Rosie Percy, Strategist associate director of audience development, managed to pick up a heavily discounted pair in one of the brand's We Made Too Much sales. "Try as I might, I can't deny that they're by far the best running leggings I've ever worn," says Percy, who hails the added drawcord as a "godsend on particularly sweaty runs where other leggings would slip down." Despite picking them up in the sale, Percy attests that the leggings are "worth every penny, even at full price."
Best for yoga
Sizes 4–26 | 23-inch, 25-inch, and 28-inch inseam length | Nylon and Lycra | High-rise
If you're more of a Yoga With Adrienne type, Lululemon again has a pair of low-intensity leggings favoured by three of our panel. Eastnine coach Tashi Skervin-Clarke teaches yoga six days a week and finds these "the only leggings I feel comfortable in." Skervin-Clark practises a lot of yin yoga, and says these give her enough room to move around between seated and lying-down postures on the mat. Wunder Under comes in three colours, but Clark is drawn toward black, so she can transition from a "brightly patterned sports bra to boots and a nice top if I'm dashing out from teaching an evening class." They also wash well — Clark has had some pairs for more than three years and still gets comments about how well they fit.
Despite a much-reduced shade range, the Wunder Under tights still offer a size range of sizes 6–24 and come in three inseam lengths: 23 inches, 25 inches, and 28 inches. They also feature a small concealed pocket for slipping in essentials such as keys and fobs. If you're slightly taller, Eleftheriou says the Wunder Under in the 28-inch length has finally given her a pair of leggings that flatter her five-foot-nine height and "hold their shape during movements." Starting at £54, they're a relatively cheap option from Lululemon (and again, we've spotted them even cheaper in the brand's regular sales).
Best for dance
Sizes 6–20 | 24-inch and 27-inch inseam length | Polyamide and elastane | High-rise
"When I dance, I need to feel powerful, and Power 7/8 Gym Leggings help me do just that," says Bonnie Lister Parsons, founder of dance and fitness brand Seen on Screen. She rates their soft, body-hugging fit, which means they don't budge during her fast-paced classes.
The leggings, made from compression material, also come in a cropped style sitting just below the knee — plus there's a matching crop top. They're available in 20 colourways, including some vibrant prints. The leggings have a concealed side pocket to fit small essentials and a zip pocket in the rear that could hold an iPhone 10. On top of their vital sweat-wicking and four-way stretch, the leggings also feature some purely aesthetic subtle seams that seem to sculpt the bum.
Best for plus-size
Sizes 6–22 | 23-inch, 25-inch, and 28-inch inseam length | Spandex and polyester | High-rise
Julie Creffield, five-time marathon runner and founder of the website Too Fat to Run, spent years trying out different leggings during her training runs and racing before discovering Sturdy by Design. "I used to get terrible chafing on my thighs no matter what precautions I took," she says. But Wiltshire-based bodybuilder Charlene Harvey's brand emphasises durability and patterns for curvy and muscular body shapes. Now, Creffield has worn the Sturdy by Design for the last two years. "These leggings have lots of stretch, and you can do the squat test in them and not reveal your underwear." Highlights include the "massive" comfortable waistband and drawstring — a combination Creffield struggled to find in other brands — and the "incredible" graphic prints, which stand up to repeated wear and washing cycles.
The leggings are available in sizes XS–3XL, which translates to UK sizes 6–22, come in three lengths, and have a rear pocket that can comfortably fit an iPhone 10, as well as an optional thigh pocket into which you could slip small essentials such as a bank card or earphones. The leggings also feature a removable drawstring tie and, at an RRP of £36, they're the cheapest option on our list.
Best for sustainabilty
Sizes 4–22 | 24-inch, and 27-inch inseam length | Recycled polyester and elastane | High-rise
Rye raves about the entire range from Girlfriend Collective, the athleisure brand from Canada-born, US-based creative director Ellie Dinh. Her mission is inclusivity and sustainability (25 plastic water bottles are recycled to make each pair of leggings). "I adore this brand," says Rye. "They have a size range from XXS to 6XL and the quality is superb." For studio classes, Rye recommends Girlfriend Collective's Seamless Lite High Rise for their high comfort factor and ability to withstand multiple movements. Since we first featured these leggings, Girlfriend Collective have replaced their LITE line with the FLOAT line. Their FLOAT leggings have a similar elasticity to the LITE leggings, and are available in the same size range, XXS–6XL.
A note: Girlfriend Collective's medium translates to a UK 10–12; if you're between sizes, go down a size. The brand's US site has the full range of sizes and colours, with delivery starting at $12, and you must pay for the return; the Sports Edit in the UK stocks a limited range of Girlfriend Collective, with free delivery on orders over £60 and free returns.
Some other workout leggings we've written about:
• Rowen Aida, a training coach and owner of fitness and mindfulness platform Elevate by Rowen
• Caoimhe Bamber, Digme Fitness founder
• Julie Creffield, five-time marathon runner and founder of the website Too Fat to Run
• Maria Eleftheriou, head of barre at Psycle London
• Courtney Murray, a barre teacher at Triyoga
• Bonnie Lister Parsons, founder of Seen on Screen
• Rosie Percy, Strategist associate director of audience development
• Tashi Skervin-Clarke, Eastnine coach
• Tally Rye, a personal trainer and author of Train Happy
The Strategist UK is designed to surface the most useful, expert recommendations for things to buy across the vast e-commerce landscape. Read about who we are and what we do here. Our editors update links when possible, but note that deals can expire and all prices are subject to change.