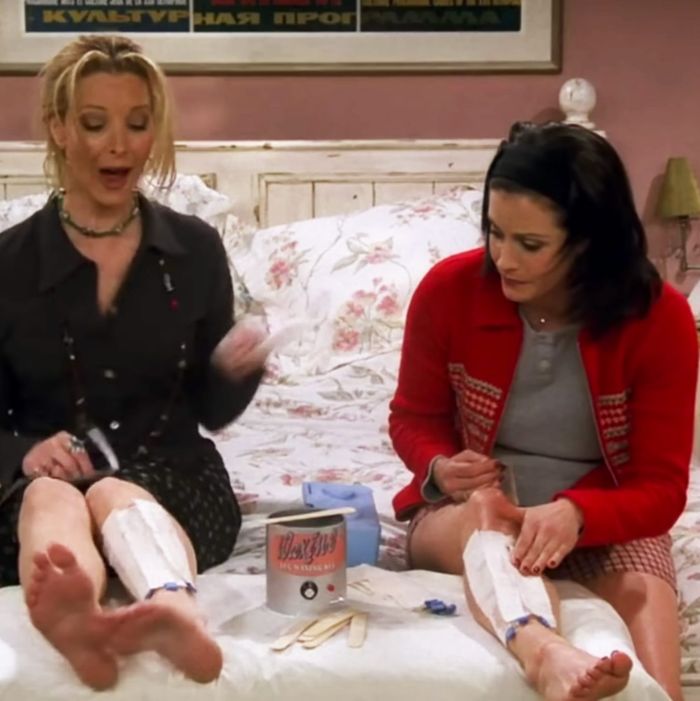 At the time of publication, we're four weeks into a government-ordained lockdown that has closed all businesses deemed nonessential, and instructed citizens to stay at home (with a few exceptions).
For anyone with any standing beauty appointments, not being able to get to your salon of choice for an indefinite length of time might be a little alarming. You can file and paint your own nails, you can do a DIY pedicure — but can you wax yourself?
We spoke to expert waxers from five salons — Ministry of Waxing, Aveda, Cowshed, Kim Lawless Wax, and FOUR London — to find out exactly what they'd advise. All our experts agreed that if you're not a regular waxer, now is not the time to start. "I would especially not advise waxing yourself if you've never been waxed before," said Vanya Volovse, a waxer at Aveda who has more than 20 years of depilatory experience. "There really is something to be said for just knowing what a regular waxing appointment looks and feels like, and being aware of the process. Also, if you have never waxed before, your hair will be very thick and strong and painful to remove." She continues: "A good wax should not be excruciating, and should only be uncomfortable briefly."
Preparation
"I would advise waxing after a warm bath or shower, as the pores will be relaxed, meaning the hair will come out much easier," said Nadiya Bekar Hill from FOUR London, who also suggested working in a non-carpeted area, or at least putting down towels to protect flooring if that's not an option. "For intimate waxing, you need something to support your back and a mirror in front of you so you can see underneath," she added. "If there's any moisture on the skin, it can affect how the wax adheres and possibly cause bruising. Wipe over with surgical spirit first, and at the most, I would advise just a bikini tidy-up, rather than a full Brazilian."
Warming the wax
Chloe Scriminger, a waxer from the Ministry of Waxing and Scriminger and Volovse both said hot wax was the best option, as it only adheres to the hair and not the skin, making the risk of damage to the skin lower. That's not to say hot wax is risk-free: All our experts said you'd need to invest in a wax warmer to ensure a consistently safe temperature. "I use the Hive 1000cc Digital Wax Warmer, which is reliable and comes with a timer, so you know when the wax is ready," said Kim Lawless, who's been waxing since the early 1980s.
Jessica Sproson, Treatment Developer at Cowshed suggested Cirepil brand wax, which she says is inexpensive but very efficient with minimal irritation. "You'll be able to tell it's safe and working by testing the temperature of the wax on the inside of your wrist, and the consistency by stirring with a spatula. You're aiming for a thick honey consistency," she added.
A good hot wax is pretty universal, as Lawless said that regardless of the hair type on your head, we all have pretty much the same intimate hair. "It's referred to as terminal, or coarse hair," she explained. While admittedly, some people's hair is still coarser than others, Lawless said, "The important distinction is when the hair was last removed. Ideally, you want four weeks of growth. Any less, it'll grow back too fast, and any more, and it'll be more painful."
Application
Exercise a lot of care and caution. Volovse notes that "sometimes you think wax is going to spread nice and evenly, and suddenly, it's gone everywhere! This is especially true if you have any moles or scarred, damaged or broken skin, which you must never wax. Volovse says to apply the wax thickly and evenly, as if you allow it to taper off towards the end of the strip, it will be nigh on impossible to remove — you almost need a little "tab" of wax at the end. Once applied, the wax will harden in around 30 seconds, Volovse explains: "Once you can tap it with your nail firmly, it's ready to remove."
Scriminger cautions: "You have to follow the direction of hair growth, and you'll notice with intimate waxing, the hair will not always be growing in the same direction, and you really must pull the skin taut." Scriminger adds: "If you're going to dilly-dally, you won't get the wax off in one clean sweep, and you will just break the hair rather than remove it. Wax can smell your fear, so go bravely and decisively or don't go at all."
Lawless says, "spatulas are cheap, so there's no excuse to double dip! And remember to sterilise your tweezers if you're going to pluck any strays. Boil a kettle, pour the water over the tweezers (I like classic Tweezerman ones) and finish with antibacterial spray and leave to dry."
Aftercare
When you're done, Volovse likes to soothe the area with aloe vera gel — she recommends Dr Organic Aloe Vera Gel — to minimise irritation, and to gently exfoliate the area a few days after you've waxed to prevent ingrowns, and to keep exfoliating up until your next wax. A glove is a good choice for exfoliating intimate areas, as some scrubs have fragrances or oils added that can cause irritation.
The Strategist UK is designed to surface the most useful, expert recommendations for things to buy across the vast e-commerce landscape. Read about who we are and what we do here. Our editors update links when possible, but note that deals can expire and all prices are subject to change.