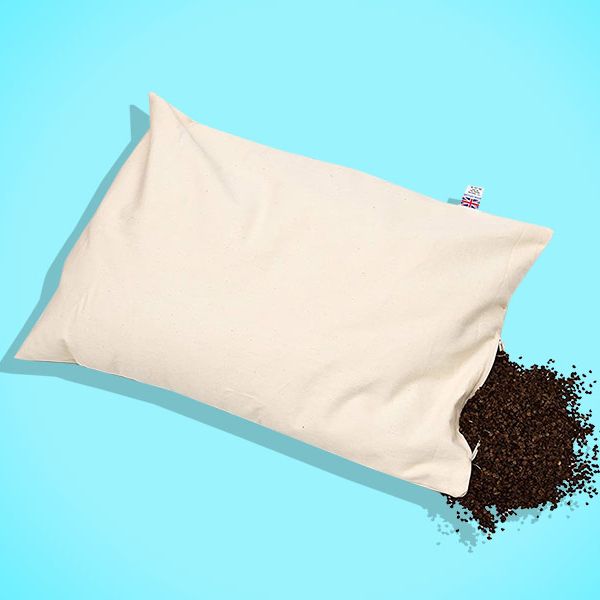 Photo-Illustration: retailer
In the summer of 2012, I moved from New Jersey to San Francisco to join a start-up accelerator program. It was my first job out of pharmacy school, and I could only afford to rent a windowless, underground room with a defunct fireplace that collected dust and spiders, which I shared with a roommate. My boyfriend nicknamed it "the dungeon." To save money on furniture, I bought a Japanese sleeping pad to lay on the floor instead of a full-sized bed frame. More often than not, I woke up with a cramp in my neck, which would last the entire day, sometimes two.
It wasn't much better at work. I spent 16 hours a day on my laptop, either sitting on a plastic Ikea chair, or else curled up on one of the cozy but dilapidated armchairs at my favorite café. If it was one of those days where I "woke up on the wrong side of the bed," the neck cramps would become unbearable. If I looked up too quickly — pain. If I stood up funny — pain. If I bent over to tie my shoes — pain.
I don't like research and I have a high pain tolerance. My attitude toward my various health ailments is to endure and hope they go away on their own. In this case, the neck pains (and later, back pains) only grew worse. So I finally did what any normal person would do: I Googled it. I learned from forums that the reason people wake up with neck pain is often due to sleeping at an awkward angle: Just imagine a stomach sleeper who uses a pillow that's too high, or a side sleeper whose pillow is too low. My research led me to discover the buckwheat pillow, which is basically what you'd get if you turned a beanbag into a pillow — it's filled with the small, hard casings of buckwheat seeds. The reviews were borderline hysterical with praise, claiming all kinds of healing properties, and I'm willing to try anything once, so I ordered it. It even came with its own specially fitted cotton pillowcase, organic, of course.
That first night, I felt like I was sleeping on a sack of rice. It made weird sounds when I turned my head, like wooden beads rubbing together, but not loud enough to keep me awake. It's also much larger than a normal pillow, which means that I, as a side sleeper, didn't have to worry as much about my head rolling off the pillow, which was a frequent problem with smaller pillows. It took a few days to get used to the unyielding firmness, but soon I was sleeping soundly, and most miraculously, I never woke up with neck cramps.
Unlike the traditional feather or memory-foam pillows, buckwheat pillows can accommodate all sleeping postures. All you need to do is shift the hulls around to suit your head, neck, or cheek, much like shifting sand while lying on the beach. If you need more support for your back, use your palms to push the hulls and make a higher "mound," which won't move when you lie back down. And if the pillow is too high, simply push the hulls to the edges of the pillow and you've created a little nest for your cheek. Most pillows even allow you to remove some of the buckwheat filling to reduce the overall loft.
I used this pillow throughout my year in San Francisco, but when I moved to New York, I bought a proper bed with a real duvet and two normal down pillows. The neck pain gradually returned, especially as I transitioned to becoming a novelist, which meant even more time spent on my laptop and hunched over books. Over the past few years, I even developed insomnia, and it wasn't until I moved to the U.K. two years ago that I remembered the magical pillow I first used in San Francisco. I immediately ordered one, and it's been a lifesaver this year through quarantine as I've spent a record number of hours simply lying in bed.
The buckwheat pillow is everything I remembered. It stays cool to the touch, which is especially wonderful during those few weeks in the summer when Cambridge has its hot, sticky evenings. It's also ecofriendly, as it is all-natural and plant-based. Now that all of us digital creatures do everything in bed — sleeping, eating, watching shows, and working — the buckwheat pillow even acts as a solid back support for typing on our laptops late into the night.
While I had originally bought the buckwheat pillow for myself, I noticed that my husband had started using mine more and more frequently. Now, two years later, we each have our own, and though we're often jealous of the gorgeous bedding at the hotels we visit, our envy has never extended to the pillows.
The Strategist UK is designed to surface the most useful, expert recommendations for things to buy across the vast e-commerce landscape. Read about who we are and what we do here. Our editors update links when possible, but note that deals can expire and all prices are subject to change.