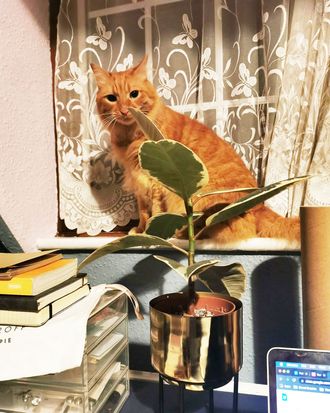 My cat (and co-worker) Curare.
Photo: Courtesy
My husband and I started our cat collection before we started our plant collection. We now have about 20 houseplants and only two cats. The number of houseplants is dynamic — sometimes they die off, and sometimes one of us comes home with three more in tow. The number of cats has held steady for over a year now. When we first started populating our home with potted plants, more than one met its end at the paws of our young cat, Curare. A beautiful ginseng ficus plant that was given to me by a co-worker was nudged from a high windowsill. Countless parlour palms have been bitten, chewed, swallowed, and spat out, their damaged stems unable to recuperate. Succulent after succulent dirtied our carpets with their soil, and Curare would bat around their broken leaves like a football. I nearly resigned myself to never keeping houseplants alive. Then it occurred to me: My cat can't knock something over if it's too heavy to knock over. I began to research sturdy, catproof planters. I found what I was looking for at M&S, of all places. I was picking up some loungewear (two pairs of leggings, and some fuzzy slippers) and was just a few pounds away from free delivery. While I was noodling around the website looking for something to bring the price over the £30 minimum, I stumbled upon the planter.
At £12.50, it was sturdier than more expensive varieties I had perused at local plant nurseries, and its minimal and elegant design created a zen zone in the chaos that is my desk. It even gleamed handsomely with a metallic sheen that offset the gold Umbra wall shelf in the room. But most important, when Curare strutted around my desk, fluffy tail and butt knocking into the planter, it didn't move at all. The surprising weightiness of the legs and the low centre of gravity kept it still through even the most stubborn of pushes. He may walk across my keyboard when Slack is open, sending rather questionable messages to co-workers, but he hasn't been able to knock over the planter or the thriving rubber plant that sits inside. I liked the planter so much that I went to buy a second, larger one (they were out of stock unfortunately, but seem to be back in stock now).
A few months after we got the planter, we also got a second cat. I'm pleased to say that the planter can stand up as well to two cats as it can to one. As a tiny kitten, Len wasn't able to knock a feather over. But now that he's outgrown his brother Curare, he enjoys pushing objects off of surfaces as much as any cat. They also like to chase each other around, sometimes running across my desk and sending pens, papers, and once a coffee mug, flying. Through all of this, my rubber plant remains alive and unperturbed. Indeed, it's positively thriving. The gold planter has contributed to its longevity and well-being by protecting it from my boisterous pets whilst also propping it up closer to the ambient light from the window.
Another reason I'm so keen to keep my plants away from the cats is that several houseplants can be toxic to both cats and dogs. Anything that has "lily" in the name, such as peace lilies, must be avoided at all costs, or else an expensive and distressing trip to the emergency vet will be inevitable. Of course, our preference is plants that are completely cat-safe, so that even if they decided to give one a cheeky nibble, no harm would be done. My personal favourites include palm ferns, Chinese money plants, and bromeliads. As for the rubber plant that sits in our M&S planter, it's not toxic enough to be fatal, but it's not completely benign either. Luckily, the large flat leaves are only toxic if consumed, and neither of our cats registers it as something that looks good to eat. Since it's moved into its gold planter, they also don't register it as something that deserves to be knocked onto the floor.
The larger planter that I've got my eye on next.
The Strategist UK is designed to surface the most useful, expert recommendations for things to buy across the vast e-commerce landscape. Read about who we are and what we do here. Our editors update links when possible, but note that deals can expire and all prices are subject to change.