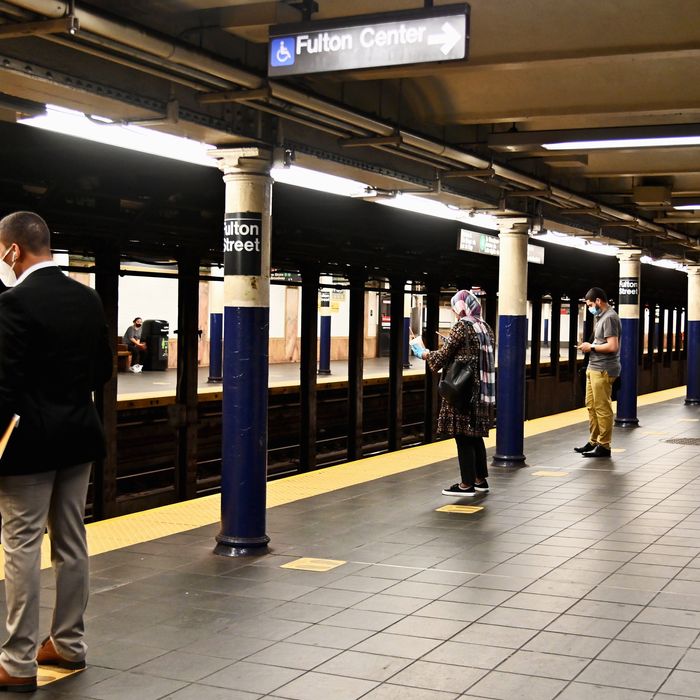 Photo: ANGELA WEISS/Getty/AFP via Getty Images
A version of this story originally appeared on the Strategist U.S.
With lockdown orders relaxing and expiring across the country, more and more people are beginning to travel — both for work and leisure. As of July 24, face masks are now mandatory in a number of public spaces, including shops and supermarkets, post offices, and indoor shopping centers (they have been mandatory on public transport and taxis since June).
To find out the safest way to commute during the pandemic, we checked in with a handful of experts — including Dr. Waleed Javaid, the director of infection prevention and control at Mount Sinai Downtown; Dr. David Hirschwerk, an infectious-disease specialist at North Shore University Hospital; Dr. Aaron Glatt, the chair of medicine at Mount Sinai South Nassau and a spokesman for the Infectious Diseases Society of America; and Dr. Syra Madad, an American pathogen preparedness expert and epidemiologist — many of whom we also spoke to in early March, around the time the coronavirus epidemic became a global pandemic.
Much of the advice they gave us back then — like maintaining social distance and keeping hand sanitizer, disinfecting wipes, and tissues close at hand — remains in place. But now, more than three months into the pandemic, the doctors shared some new best practices for travel and commuting. Arguably the most important: Wearing a mask in transit is essential to minimize the chance of spreading and contracting COVID-19.
Importantly, each doctor stressed that just because they are advising on the safest way to travel and commute amid the pandemic, that doesn't mean they endorse actually traveling and commuting amid the pandemic if you don't need to. "Trips should still be very limited," Javaid says. "Masking is always required, as is social distancing. If you don't have to, don't go anywhere. Even if you want to go to a grocery store, make sure you choose one where you can get everything you need." According to Javaid, because the disease has so many asymptomatic carriers, "logic should dictate our actions. An asymptomatic carrier can infect four or five other people who then may go see people over 60, and there's a high likelihood of those people dying." If you do need to travel or commute, it's a good idea to consult your local testing facility to see if they'd recommend you coming in. A note that, because many of these products are currently in high demand, we've seen that both the number in stock and price can change daily.
Photo: retailer
As we noted above, the doctors insist that wearing a mask in public, and while traveling and commuting, is the best thing for your own health and the health of everyone around you. Glatt says this guidance even applies to people living in areas where the transmission rate is currently low. "Because of the way we can travel in this country, you just don't know [if those around you have come from a high-endemic area]." The reason masks are so important, Javaid explains, is because our nose and mouth are "portals for viruses to get into [and out of] our systems." Because of this, Hirschwerk says that when we "find ourselves in enclosed spaces with other people, like on a subway, the best thing we can do to be kind to our fellow citizens is wear a mask." According to Javaid, wearing a mask should not be seen as "a personal choice," but "a public-health requirement."
We've been extensively writing about fabric face masks during the pandemic. When we spoke to Dr. Diana Gall from online service Doctor 4 U, she said to look for a mask "made of a thicker material, but one that is fluid-resistant or waterproof. It should also be a dense, tightly woven fabric that is breathable." This three-piece set from Boden is made using extra material from Boden clothing; the masks are 95 percent viscose and 5 percent elastane, and can be machine washed at 60 degrees. Each mask is triple-layered, with two layers of soft, jersey-style fabric and one layer being a nonwoven filter layer.
According to all of the doctors, it should go without saying that if you feel sick (currently recognized symptoms of COVID-19 include fever, cough, shortness of breath, fatigue, nausea, and a loss of taste and smell), you shouldn't be going anywhere at all. "The CDC's recommendation remains clear," Hirschwerk told us. "If you have an illness, you should not be in an area that can affect other individuals." Even if you feel sick and want to see your doctor, you should always call their office first for advice on whether you should be leaving your house.
That said, sometimes you just have to cough or sneeze unexpectedly. When that moment does come, our doctors recommended having tissues to cough into. Both Hirschwerk and Madad told us that using proper cough etiquette during travel is essential, which is where pocket tissues come in. According to Madad, if you find yourself needing to cough while on the go, "cough or sneeze into a tissue, then throw that in the trash. If a tissue isn't available, sneeze into your elbow."
If you're quickly traveling to and from a given place (say, to the pharmacy or grocery store), our experts recommend using hand sanitizer before and after entering those enclosed spaces. And if you don't have or didn't use wipes, you should use it when getting on and off subways, buses, and planes, too —especially before touching your face. According to Hirschwerk, "hand hygiene" is just as important now as it was in the early days of the pandemic, especially if you're traveling or commuting to "areas where there are crowds of people in indoor spaces that aren't well ventilated." These spaces, he says, are the subject of "ongoing attention and concern" in the medical community.
Editor's note: If coronavirus is your main concern, make sure you select a hand sanitizer with at least 60 percent alcohol content, according to the Centers for Disease Control and Prevention. With the threat of coronavirus, demand for hand sanitizer has been increasing, so stock has been constantly fluctuating at every online retailer we've checked. If you're so inclined, you can actually make your own hand sanitizer at home using aloe-vera gel and rubbing alcohol.
Photo: Courtesy of the vendors
According to Dr. Glatt, if you are going to travel, one underreported way to prevent catching the coronavirus (or any virus) is to cut your fingernails. "Nails should be kept at the shortest size that is comfortable to you," he told us, "because dirt under fingernails can carry viruses."
While Javaid says that wiping down each product you bring home from the supermarket may not be necessary, he told us it's a good idea to wipe down things like the tube handrails, plane armrests, bus seats, or any other surface that you'll be in contact with for a sustained period of time while traveling or commuting. For this, Madad recommends using wipes specifically designed for disinfecting, like these ones from Dettol. "People think baby wipes are enough," she told us, "but you need something with chemicals." A note that, because both of these brands' products are currently in high demand, we've seen that both the stock and price can change daily.
And back to those subway poles: Despite your gut instinct, if you're riding on the subway while standing, or taking stairs in the station, you should still grab on to the pole or handrail, according to our experts. "The injury you'll receive from falling because you aren't holding on is far more severe than the chance you'll protect yourself from infection by not touching a pole," Hirschwerk says.
Once you're back home — or, if you're commuting to an office, once you've arrived — all of our experts say you should wash your hands immediately. "Every time you see a sink, use it," Glatt implores. This advice is backed by data: According to Madad, during the 2008 swine-flu pandemic, people who washed their hands frequently saw their risk of infection reduced by between 30 and 50 percent.
As for how to wash your hands, all the doctors we talked to shared the same wisdom — wash for 20 seconds and nothing less — with Madad adding, "Use warm water, sing the 'Happy Birthday' song twice, and cover both sides of each hand completely." In our guide to washing your hands, doctors told us that any standard soap is fine — and dermatologist Jennifer MacGregor actually advised to "stay clear of antibiotic cleansers, which can lead to bacterial resistance."
The Strategist UK is designed to surface the most useful, expert recommendations for things to buy across the vast e-commerce landscape. Read about who we are and what we do here. Our editors update links when possible, but note that deals can expire and all prices are subject to change.