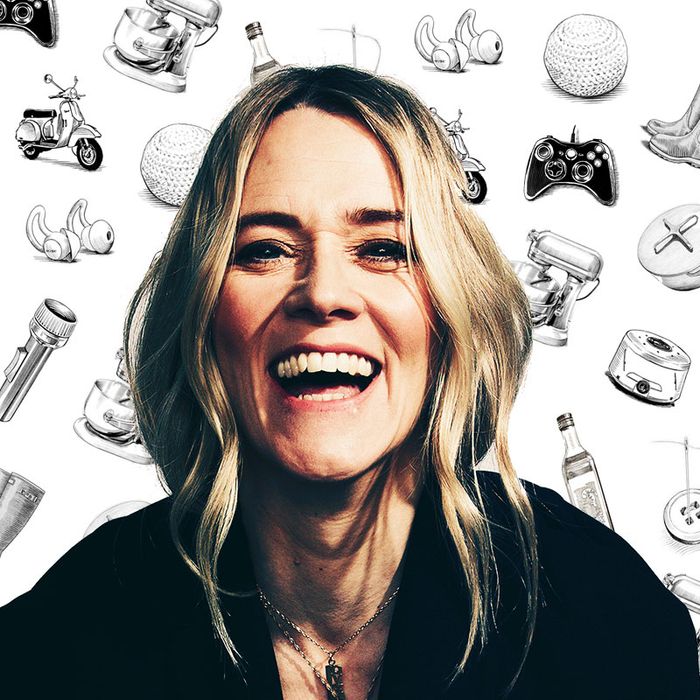 Photo-Illustration: courtesy
If you're like us, you've probably wondered what famous people add to their carts. Not the JAR brooch and Louis XV chair but the stain-remover pen and the tongue-cleaner. We asked broadcaster Edith Bowman, host of the Soundtracking podcast, about the vintage typewriter, lip balm, and kitchen cleaver she can't live without.
I use so much of this a day, I may as well keep it in a hip flask. They come in different varieties — I take the "ease" at night, which has notes of citrus, ginger, and turmeric. And in the morning I take "calm'," which is more minty. Lucy, one of my mum friends, got me onto it — she works in digital marketing, so she's a bit more clued up about this kind of thing. In terms of "ease." I actually have no trouble getting to sleep currently — I'm exhausted — but both of these still help me take the edge off things. They encourage you to relax your muscles, unclench your jaw, and just exhale a bit. I think we're all holding things in a bit.
Growing up, my parents ran a hotel in Scotland, so I'd always been in kitchens. Between this Christmas and New Year, I filmed an appearance on Sunday Brunch, and the chef doing a segment that week was Jeremy Pang (founder of the School of Wok). I love cooking, and new bits of kit, so when I saw him using this cleaver on some shallots I knew I had to find out where he got it. He sliced it so effortlessly, you'd think he was slicing through air. So I asked him, and it turns out, it's his own — he actually has a range of cookware and kitchen utensils. My mum must have been watching the show, because she bought me this for my birthday in January. It was quite odd, receiving a giant cleaver in the post, but I use it every day. I'm lucky enough to have no injuries yet. It actually comes with these great instructions to teach you about "spider-hand," which is the way you're supposed to hold food when you cut it, to avoid slicing your fingers. My relationship with cooking has changed in lockdown — there is just so much cooking to do for the kids — but this knife makes the process a little more enjoyable.
When lockdown was first announced last year, I went into a bit of a panic in terms of how I'd do my podcast and other kinds of work. Before COVID, I sort of recorded all over the place; sometimes a studio, sometimes at film junkets if a film star was in town, and then I'd sometimes go to people's house, too. So I did lots of research into what the best mics were, and Shure kept coming up. This model comes with a clamp that you fix onto your desk or table, and the mic comes over your head on this extendable arm. It's like being in a radio studio, I feel very professional. I've been doing so many interviews for the podcast, but I've also been doing BAFTA Q&As, and being able to do it with proper kit makes it feel a lot easier. It's proper broadcast quality, and I have so much trust with it.
This is a "gimbal'," or a camera mount, but for your smartphone. I bought it because, among many other jobs during lockdown, I have become cinematographer for my husband [Editors front man Tom Smith] — he has an album out next month with our friend, Andy Burrows, and in December they performed (remotely) on The Late Late Show With James Corden. You put your phone in, download an app, and it connects via Bluetooth. It actually only arrived the day we were due to film, so it was really last minute — I definitely felt thrown in the deep end. But it's really fun to use and it's quite neat and light to hold. We have a room in our house that's Tom's makeshift studio, where he can record, rehearse, and write. We dressed it up for the performance, we made it all Christmassy and with nice lights. So, yes, I'm also a set designer and prop stylist. It's a small room, so it was pretty tight, but this really gave us more opportunity to have more movement around the room.
We moved out of London about a year ago to Gloucestershire, and my friends out here have got me into wild swimming. Last year, when there was still the opportunity for people to merge households, my mum and dad were down from Scotland, and I took mum swimming with me.
A couple of my friends were wearing their dry robes, so I was enthusing about them to mum, saying they would be great for winter, and she got me one for Christmas. I have it in camo with the hot-pink lining. It's nice and fleecy inside, so perfect to throw on after a swim outside, but you can also wear it like a big coat — it's waterproof, and goes down to your ankles, so I chuck it on when I go for a dog walk. It's really come into its own with swimming, though; it absorbs the moisture so quickly, which has also been indispensable during the January snow.
My husband bought me this for Christmas — it's an Olivetti Valentine, and it's a really beautiful little thing. It comes in a carry box so you could take it with you (not that we've got anywhere to go). I really want 2021 to be the year I started sending letters to everyone — I'm just over the Zooms, I find Zooms quite hard. I just miss people so much. I thought writing to people might be a nicer alternative — it gives you the opportunity to be more reflective when you write things down. The first letter I sent was to my mum and dad, and my youngest son, Spike, has asked if he can send a letter to one of his friends in London, who he misses very much.
I always have super-dry lips, but not every lip balm does the trick. I've tried so many in my time, like the Aveeno lip balm, the Cowshed Lucky Cow one, and the Twelve Beauty hyaluronic treatment. But Vaseline? I eat the stuff. I have a big 250ml pot of this by my bed, and at night, after I shower, I put some on any dry patches and on my lips. It's just the best. It's not fancy, it's just a big old pot of jelly, but it works! You don't want to have to save a lip balm for a special occasion, do you know what I mean? The large jar lasts so long, too — I don't even remember when I bought it.
The Strategist UK is designed to surface the most useful, expert recommendations for things to buy across the vast e-commerce landscape. Read about who we are and what we do here. Our editors update links when possible, but note that deals can expire and all prices are subject to change.