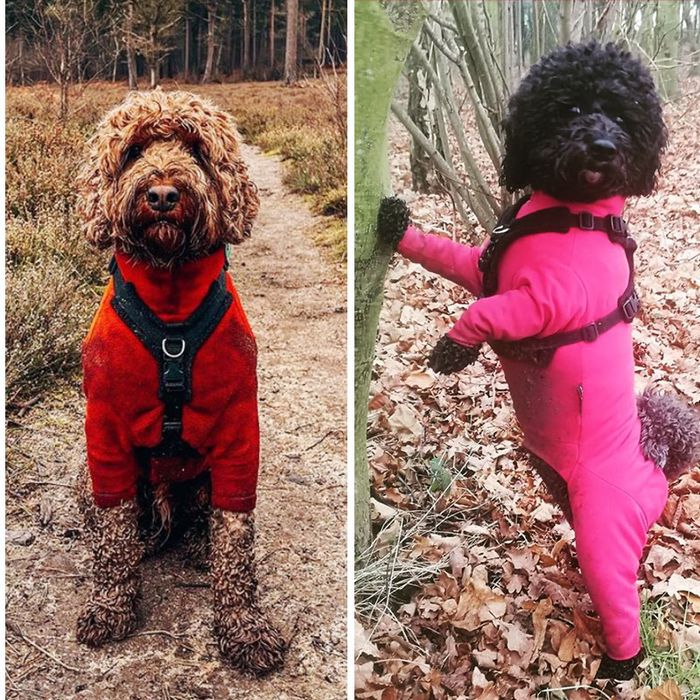 Photo-Illustration: The Strategist; Photos: Courtesy, Aneta Kozak, Moosethecockapoo, bertie_cockapoo_maisie_poochon
It was a particularly frigid November morning, and I was walking my lockdown puppy — Tayto, a fat, spud-shaped little pug — in the local park. Tayto is the first dog I've ever had to look after all on my own, and I was relatively proud of the tatty black puffer coat I'd got him for the winter, hastily purchased from Wilko once the temperatures dropped. As Tayto (a particularly friendly dog) zoomed his way to the rest of the lockdown puppies, I noticed two things. First, his football-manager-style puffer coat wasn't fitting right. It was the puffer's first outing, and it kept slipping off his little chunky body. Second, seemingly every other dog he kept trying to steal tennis balls from was wearing a striking, red, fitted jacket. A snappy little bichon frise. An uninterested lurcher. Two Labradors (chocolate and golden) frolicking together in a matching set. The realization came all at once: Tayto was the unfashionable dog in the park. He was, dare I say it, cheugy. Reeling, more embarrassed than that one time at work at i-D where I mispronounced Loewe, I asked the bishon frise's mum where she got the coat: "It's an Equafleece," she said brightly, smiling patiently at me as if I were a small child who had just asked if it oat milk was vegan.
From that day on, the Equafleece began to follow me around on my walks. I saw the red fleeces everywhere: at the pub, on the train, outside the Costa next to my flat. "We saw a few dogs with one on, so we just kept asking," said my friend Frankie, a fashion buyer whose lockdown puppy, a whippet named Pippa, is never seen without her Equafleece at the dog park in Thornton Heath. When I asked another friendly-looking stranger with an Equafleece-sporting Chihuahua at the dog park, I got the same answer. "We just kept seeing other dogs wearing it," she said while we ignored my dog trying to hump hers. Equafleece research and the weight of being the most unfashionable dog owner in London took over my life.
Someone having a smoke outside the East Dulwich Tavern told me (when I accosted them at random to ask) they'd picked it up in a dog shop in Brighton. On the hunt for answers, I called up the Brighton store they mentioned. Hannah, founder of the Pet Shed, said she frequently sells out of the Equafleece (her dachshund owns six in several colourways). It's worth noting that if you buy an Equafleece in store you'll be buying the company's Hotterdog line, which has fewer sizing options — the standard XS to XL applies rather than inches. Essentially, it might fit a cockapoo but probably not a dachshund or a Great Dane. If your dog would like a couture fit, you're better off going directly to the website, where you can purchase an Equafleece, which requires five different measurements, each accurate to the nearest centimetre or half-inch.
As doggy fashion goes, the mountaineering-style coat has a mid-range price point (averaging at about £30) and is waterproof and tick-preventative, and it mimics swaddling, which supposedly calms anxious and reactive dogs. The company offers a curated approach to canine clothing, kind of like a "made to measure," tailored outfit (the company's dog jumper comes in 52 different sizes). The result is a more sustainable, "made to last" product than your average dog fleece — in fact Equafleece claims its technology means you never need to reproof. In spite of its recent upsurge in popularity, the Equafleece is not new (in fact, the company is 20 years old this year). "There's no doubt that COVID has increased dog ownership and increased our growth", says managing director Mary Leigh. "Once we get two or three in an area, suddenly the whole area is outfitted in Equafleeces." It's worth noting here that owners (and Equafleece) seem to refer to the two products indistinguishably — during my reporting, I didn't come across anyone who called their doggy coat a "Hotterdog by Equafleece," despite several interviewees who had purchased a non-custom fit.
Eventually, I relented to the pressure of fashion (the amount I have paid to stroppy 14-year-olds for streetwear on Depop is also testament to this) and logged onto the Equafleece website to restore Tayto's precious dog-park social capital. But even if I could get my dog to sit still long enough to measure, it was impossible to get one. Demand was clearly high: Some styles were out of order on all sizes, with back-ordering by phone sitting at a three-week wait, while others were available in single-digit units. It was the Telfar bag of the dog world — but without the security programme. I shouldn't complain: I was warned after all. I'm still in line, but there is hope. It's not winter forever. With summer comes the first year of staycations for those lockdown puppies, and Equafleece has a summer range. Surely we can expect this summer's canine hypebeasts to be taking to the coastlines of the UK in the company's water-repellent and tick-proof summer suit. It comes in red, of course.
The Strategist UK is designed to surface the most useful, expert recommendations for things to buy across the vast e-commerce landscape. Read about who we are and what we do here. Our editors update links when possible, but note that deals can expire and all prices are subject to change.