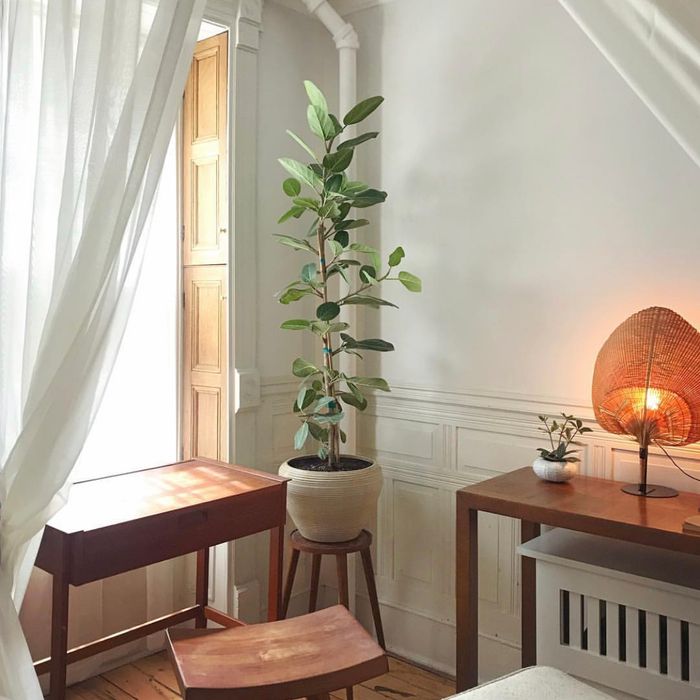 A tall Ficus Audrey in 'pole' form. You can also train it to look more like a traditional tree.
Photo: courtesy of @othertimesvintage
The fiddle-leaf fig has taken us all on a wild ride. It started popping up on Instagram around 2014 (the term began to spike on Google around that time as well). Then it went from West Elm catalogue cameos, to boutique-y plant shops, to basically being sold out everywhere (even though you could maybe still find one in a matte-white ceramic pot if you were willing to pay £250).
And yet, it endures. 'It's still our best seller, it's still huge,' says Rebecca Bullene, owner of the Greenery. The fiddle's novelty might have worn off for some, but according to Taryn Tavella, associate editor for lifestyles and interiors at trend-forecasting agency WGSN, it has reached the point where early adopters will "definitely start to want something new."
A few brave plants have tried to come for the fiddle's crown. The monstera almost staged a successful coup. The Chinese money plant never quite made it. The rubber plant sputtered out, too. While the fiddle-leaf fig remains a lovely plant, we wondered: What's the next status plant? To find out, we interviewed a dozen plant experts: owners of boutique online plant stores, local retailers, wholesale plant buyers, plantfluencers, plant historians, and trend forecasters.
The next status plant: Ficus Audrey
We asked each plant expert for a few top picks, and the one plant that was on nearly everyone's list was Ficus Audrey (a.k.a. Ficus benghalensis). 'The next big tree is Ficus Audrey, 100 percent,' says Bullene. Hilton Carter, plant stylist and author of Wild at Home: How to Style and Care for Beautiful Plants, says he's been seeing it 'here and there on Instagram,' and getting some questions about it on his book tour, so that's a sign that something is brewing. 'When people start asking about particular plants in my workshops, that's when I know they're really starting to blow up.' (Carter also loves Audrey: 'Who doesn't want a plant that already comes with a name?')
Our experts highlighted its low-maintenance and more forgiving nature when it comes to water and light, which is something Tavella thinks people are starting to prioritize. According to Bullene, Ficus Audrey is a much better fit for most people. 'Audrey doesn't have the same light requirements as the fiddle-leaf fig, so it's really more adept with filtered light. And with watering, it likes it more moist than the fiddle, but it's also okay drying out completely. The fiddle really responds negatively to any inconsistency, but Audrey is more tolerant.'
The fact that Ficus Audrey is relatively easy to care for is definitely the main appeal, but some were equally enthusiastic about its looks. Ficus Audrey bears a striking resemblance to the rubber plant, but it swaps out the glossy, moody, burgundy leaves for some that are small, matte, and emerald green; the leggy and dark trunk for one that's thick and white, almost birchlike. Bullene told us that you can let it grow straight up as a pole, or it can be (pretty easily) trained to take on a 'traditional tree shape,' leaf canopy and all. Plant Shed's Joseph Sharp — who we should note was the first one to tip us off to Ficus Audrey — thinks that surreal effect of 'having something that looks like it should be outside but inside' is what really makes it stand out. It will be hard to find it in tree form right now, but Roy Paar and Milana Naumenko, co-owners of Water & Light Plant Shop, told us that 'growers are very responsive to trends.'
Things are heating up for the new status plant. Water & Light's stock constantly sells out: 'We had to tell our staff they couldn't buy any because there wouldn't be anything left for the customers.' And Bullene says the same thing about the Greenery's supply. 'I just got 20 of our six-foot Audrey poles. I sent an email that they're back in stock, and they'll be gone in two days. Everybody is asking for these.'
Raven ZZ plant
It was honestly a really close call between the Raven ZZ and the Audrey Ficus. In the end, Audrey had a couple more votes. The Raven ZZ is a different beast entirely, but the plantfluencers are going crazy for this thing. 'This is my prediction for the next "It" plant,' says Erin Harding, the writer behind Clever Bloom and co-author of How to Raise a Plant: and Make it Love You Back. 'It's easy to care for, just like its green brother, and I can't wait to see how it's styled in homes!' And if you're thinking, Wait, isn't that just a regular ZZ Plant … but black?, well, you're right. All we can say is it had the second-highest vote count of any plant, and it had the highest exclamation-point count by far, so there must be something to it.
Philodendron pink princess
The philodendron pink princess came up a lot, and it ties in with the 'pink plant' trend that visual merchandiser Chikako Ishii Frank has been noticing. Others have been picking up trends toward colored foliage and variegated plants, so this rolls everything up into one. As is the case with most status-y plants, it's really hard to come by because the few stores that manage to get them sell out right away. Water & Light's Paar and Naumenko have been trying to get these in stock because they think people would love the thick splashes of color, especially in an easy-to-care-for philodendron. Darryl Cheng, author of The New Plant Parent, says this is one of his top picks. He likes its 'clean structure: a simple vine and big waxy leaves.' It's available on eBay, but for a steep price.
Bird of Paradise
The bird of paradise might be a little too exposed to be called the 'next' status plant, but if were to pick a plant at the height of its popularity, this would be the one right now. Benito Gonsales, plant buyer at Saifee Hardware & Garden in the East Village, says 'people are asking about it all the time' and it's one of their best sellers. 'Just give it bright light and water it once per week. It's a lot easier than the fiddle-leaf,' says Gonsales, adding that you can get it to flower annually 'if you take care of it.' We've noticed it popping up in new restaurants and boutiques the way the fiddle-leaf did a few years ago, and the huge tropical leaves definitely make a statement. Carter says it's still one of the 'hottest' plants, and it's one of his 'go-to suggestions for people with bright light.'
The Strategist UK is designed to surface the most useful, expert recommendations for things to buy across the vast e-commerce landscape. Read about who we are and what we do here. Our editors update links when possible, but note that deals can expire and all prices are subject to change.