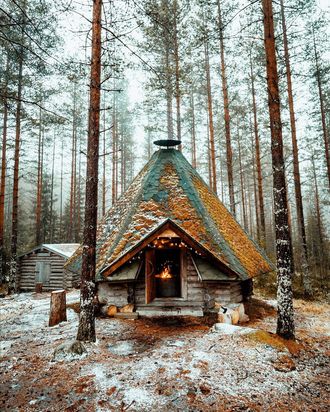 Photo: Courtesy Anna-Elina Lahti
Status can be a funny thing. Of course, its most obvious iteration comes with shiny hardware and easily recognizable logos, but it gets far more interesting as you narrow it down to the more opaque signals — the way you tuck your shirt, or what you eat for breakfast, or your particular brand of notebook. And of course, what counts as a status item varies wildly across human tribes. In our series Insider Goods, we're talking to tribe members (some with their real names, some anonymously) to find out the status items among, for example, drag queens, or classics professors, or brain surgeons.
This time, we hear from Anna-Elina Lahti, qualified wilderness guide and blogger, who spends most of her professional life in Lapland, hiking and camping across Northern Finland, Norway, and Sweden.
Every wilderness guide needs a good compass. When the weather suddenly changes and you lose visibility, you need a compass to stay safe. This Suunto compass is the most popular brand among wilderness professionals in Finland, and it's also used by people who do orienteering as a sport. It's durable, and its mirror allows you to find your bearing while keeping your destination in sight. I've used mine on several hiking trips on mountains or fells without trails. I also used it a lot while I was training at Ammattiopisto Lappia in Muoni. I graduated from their Nature and Wilderness Guide Programme (in Finnish: Erä-ja luonto-oppaan ammattitutkinto) last year. It's one of the oldest and best-known wilderness courses in Finland: Each year, they choose 25 students out of around 200 applicants.
Muonio, where I trained to be a guide, is above the Arctic Circle, so the Polar Night lasts for 24 days there. If you go further north, it lasts for 52 days. I found this headlamp, which is the best I've tried, by researching different models on OutdoorGearLab, which is known for its reliable reviews of outdoor gear. If I'm looking for the details of a specific product, I usually look there, and I also like to scroll through Amazon reviews. The Black Diamond Icon headlamp has a brightness of 500 lumens, and the light is adjustable. Lots of headlamps use disposable batteries, which can't withstand the cold weather, but this one uses chargeable ones.
Marttiini is the oldest and best-known Finnish knife brand, and their Lumberjack Carbon knife is a staple on the Finnish wilderness scene. Morakniv is a similarly popular brand in Sweden. I use mine to chop small bits of firewood, make feather sticks, and repair anything that breaks when I'm out in the wild. It's also really stylish: The handle is made from stained silver birch, and the blade is made from carbon steel. It generally stays sharp for a long time, but it's also very easy to resharpen and maintain. Most wilderness guides I know clip theirs to the outside of their trousers. I got mine as a gift from my mum quite a few years ago.
Kupilka is another iconic Finnish brand. Every wilderness professional in Finland has one of these mugs, and tourists are always asking us where they can buy one. It comes in four different colours, but the most popular one seems to be the original brown one. Kupilka are popular because of their traditional design and aesthetics as well as the ecofriendly materials and production methods that they use. Their large mug is big enough to use as a bowl, and it's also dishwasherproof.
Then there's the Kulpika spork, which is made from biomaterials. A few of the other guides on my training course had one, and I bought mine because it seemed so functional. It's my favourite outdoor cutlery for cold-weather conditions. Using metal cutlery is horrible in the cold — in Lapland the coldest recorded temperature is usually between -38°C and -42°C each year — in which plastic cutlery can snap easily. It doesn't usually stay that cold for long, but there can be several weeks of -30°C. The lowest temperature ever measured was -51°C in 1999, but that's rare these days.
I was introduced to the Primus Lite stove during my training programme. I use it to heat up soups, which I make in advance and freeze-dry in the oven. All you have to do is pour in the freeze-dried soup and add a bit of water, and you've got yourself a hot lunch.
But you don't always have time to cook on a stove, especially when the weather's bad and you want to keep moving. I love the Primus food container, which keeps food warm all day. Lots of other guides and people working in the wilderness field use this model. Primus is a popular and well-established brand in the Nordics, and I really trust the quality of their products. Last year, I filled mine with boiling water before I went to sleep in -30°C conditions and the water was still warm the next morning.
When I was looking for a cruelty-free Merino base layer, I used a Finnish Wilderness Professional Facebook group for recommendations, and they led me to Icebreaker. Icebreaker are a cruelty-free brand who don't use mulesing techniques to shear sheep. I use the Icebreaker top and leggings as camping pyjamas. Last year, they kept me warm through -38°C nights.
Fjällräven is a very well-established brand in the Nordics, so I've been familiar with their products forever. Loads of wilderness guides and companies that offer backcountry trips in the North use Fjällräven's Abisko Endurance tent. It's a four-seasons tent, which means it's usable all year round. And it has a big porch, so you can cook inside when the weather's bad. Lots of Finns put a reindeer skin on the floor to keep it insulated, but nowadays people use space blankets too.
The Strategist UK is designed to surface the most useful, expert recommendations for things to buy across the vast e-commerce landscape. Read about who we are and what we do here. Our editors update links when possible, but note that deals can expire and all prices are subject to change.