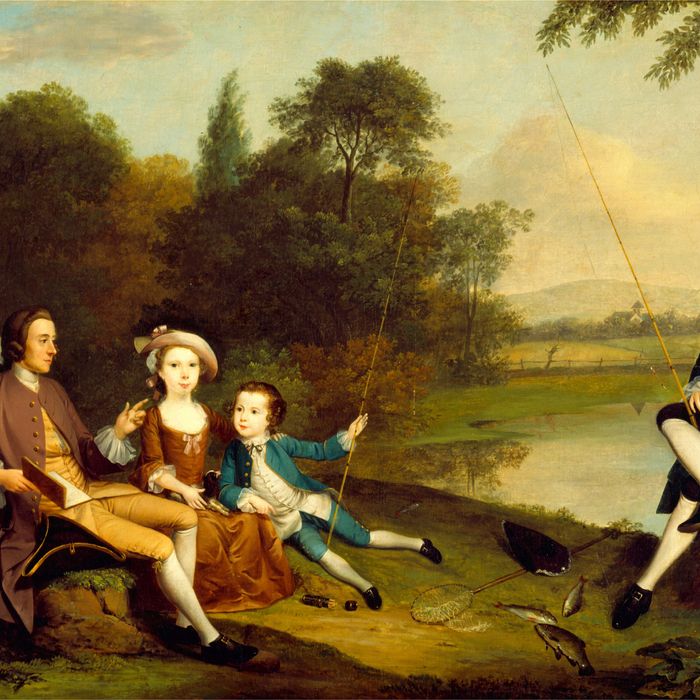 Photo: Getty/Universal Images Group via Getty
If you've developed a sudden desire to cast a line upon a lake, you're not alone. Fishing for leisure has grown more popular in the last 18 months, according to Chris Sayer, a travel writer and social-media manager based in Cornwall. "Natural mindfulness, be it hiking, cold-water swimming, or fishing, has really taken off after an extensive period spent stuck indoors. It's meditative, you can't look at your phone, and it requires you to focus." Meanwhile, TV shows like Gone Fishing, with Bob Mortimer and Paul Whitehouse, have shone a spotlight on the pastime, according to Sayer, who has been fishing since he was a child. "Social media has definitely made it more accessible, too."
One thing that puts people off getting started, however, is the sheer list of equipment involved. Unlike other hobbies you may have picked up in the last 18 months (like roller skating or playing tennis), fishing is not something you can just dive straight into. But Brett O'Connor, a master fly-fishing instructor with 40 years experience, says the amount of things you need will vary depending on how seriously you're going to take it. "You don't have to break the bank to get going," he says.
In fact, according to architect Susan Skrupa, who has been fishing for the past 12 years, the best place to start is by joining taster sessions in your local community. "It's a very challenging sport as the barriers to entry are a little bit costly, but also the knowledge required is high. It's one of those sports that you'll easily get frustrated if you haven't had some instruction. Things like getting the fly to present on the water is tricky, so a lesson is a really nice way to start." Taster sessions will often provide equipment, too, meaning you can develop an interest without spending hundreds of pounds.
Read on for advice from Susan, Chris, and Brett on everything else you need to start fishing, from rods and reels to the best lures, as well as permits, waders, and the best equipment for saltwater and freshwater fishing.
What's the difference between saltwater and freshwater fishing?
In short: cost. Saltwater fishing is becoming more popular in the U.K. largely because it doesn't require a permit. Fishing in rivers and ponds, on the other hand, can be expensive. "Lakes are less expensive than rivers, generally," says Brett. "But it all depends on the kind of ticket you buy. Some areas will have a 'two fish ticket,' or a 'four-fish ticket,' which permits you to catch a certain number before you have to go. So you can scale down slightly to spend less money."
However, rivers are typically more expensive than lakes, as they are often on private land. "Depending on which part of the country you're in, prices change quite dramatically," he says. "In the U.K. and London areas, specifically around Hampshire, you might be looking at spending £200-£400 on a day's river fishing. But you can go to Wales in an equally beautiful stretch of water and it would cost £8 for the day."
Chris recommends saltwater fishing for beginners for this very reason. But if you are looking for a fishing permit, our experts suggest going through the local branch of your post office or through the Environmental Agency's website. The rules on what you need to fish differ between England, Wales, Scotland, and Northern Ireland, and you can be fined up to £2,500 if you cannot show a valid rod-fishing license when asked.
Saltwater and freshwater fishing will also require different equipment due to the different kinds of fish in the areas. "You can't beat local knowledge," says Brett. "Whether you're on the coast or in the Lake District, go to your local fishing tackle shop, or speak to guides in the area, and they'll be able to tell you the best locations to go, and what to expect."
The best fishing rods for beginners
The kind of tools you will use for fishing will depend on your environment. "You can either be on the river, on the bank, or in the water," explains Susan. "And there are different rivers – in New York State, where I'm originally from, there are rivers that are a mile wide, and in the U.K, they can be two metres wide."
All our experts suggested speaking to local fishing-supply stores near where you plan on fishing in order to get advice tailored to your environment. "Fishing is about talking to people, because ultimately, these products are going to last a long time, and you want to have relationships with suppliers if they break, or are planning on upgrading to the next piece of kit," says Susan.
Brett suggests a price point of between £100-£200 for your first rod, depending on what you can afford. "If you're not sure that you'll stick with it long term, you can pick up excellent secondhand rods on eBay, too."
Photo: retailer
Susan recommends a five-weight rod, which is an excellent all-rounder for beginners, and says to look for either a 9-foot or a 9-foot-six option. "Fly rods are weighted zero to about 12, and a rod's given weight will be based on both the type of fish it's designed for, and the type of environment it's going to be used in," she explains.
"This Clearwater rod is for beginners, but it's one that you can grow with. The price point might be higher than with other manufacturers, but the benefits are twofold: one, the 25-year warranty, which is excellent. And two: it grows with you. I still use this rod myself, and I'm far more experienced." She added that their replacement service is second to none, noting that when hers broke a new one was sent to her within a week.
Chris has upgraded to a slightly more substantial model himself from Recon. "This rod has the lightweight feel but the solid construction I want through a cast, and has great species versatility, too."
While not recommended by our experts, this inexpensive rod on Amazon is highly rated. 71 percent of the reviews are five stars, and while browsing the comments, we noticed a lot of people recommending it for beginners due to its compact size (one budding fisherman said he could fit it in his backpack). Many people bought it to learn the ropes before investing in expensive kit, but it might serve occasional fishing enthusiasts, too – one reviewer included a photo of a 12-pound pike he caught using this kit. As well as the rod, this kit comes with a reel, a carry bag, and a 120m fishing line, as well as a variety of lures. It also comes with a one-year warranty.
The best reels for beginners
Once you have your rod picked out, you'll need a reel. Susan says most brands sell rod-and-reel bundles (known as "outfits"), which can make it a lot cheaper. "The Clearwater comes in a bundle with a reel of the same name – this isn't what I use specifically but I would recommend it as it's good value, which is useful when you're starting out."
Photo: retailer
This set includes a Clearwater 6-weight rod, a reel, and a line. It also comes with "backing," an extra-strong polymer that connects your line to your rod (our experts told us this was like an "insurance policy" in case you run out of line while fishing).
Susan likes this specific reel by Battenkill because of the drag system on it. "It allows you to fish smaller scale fish, but also you might be able to catch a whopper, too. It's not necessarily for fish like trout. But it offers a little bit of flexibility, and it's a little bit more expensive because it's got a drag. And the design is beautiful!" [Editor's note: Susan recommends this with a Battenkill Three rod, but these are currently sold out.]
Both Chris and Brett warn that contact with saltwater can ruin your equipment over time if you don't take care of it. "I use this entry-level Clearwater reel to save a bit of money, knowing the saltwater is gonna kill the reel eventually," says Chris.
The best fishing lines for beginners
The fishing line you will need depends on the environment you're fishing in, according to our experts, but it's worth investing in quality. "Spending money on a good line is like spending money fixing your roof; you never feel like you can see the rewards of your spend, but without it, you're in serious trouble," says Chris. Lines come in floating, intermediate, or sinking varieties. Chris suggests visiting Farlows, an outdoor pursuits store in central London, if you need advice.
But like reels, if you're saltwater fishing, expect salt buildup on your line. This can be treated by a soak in hot water. "If you do that, you'll not have much trouble with the lines. But, if you do leave the salt on there, there will be loads of residue, and that will start to eat into your equipment," says Brett. "You just need to run a bath, dunk your equipment in there, and let everything dry off for a day after that."
The best flies and lures for beginners
You'll need to entice the fish with something, which is where fly lures come in. Flies come under two main categories; "imitators," which are designed to resemble the natural food sources for your target species of fish, and "attractors',"which, due to their bright colours, provoke the fish and encourage them to strike. Flies are made from materials such as hair, fur, or feathers, which, when in contact with the water, will display lifelike movements.
What fly you might need, however, is where fishing gets highly specific. "A lot of the time, the fly you need will change depending on the time of the year," says Brett. "We call this 'matching the hatch' – if certain insects are hatching in March and April, you've got to choose flies that replicate that. If you tried to use one of those in August, however, the fish would likely ignore it because those insects aren't hatching at that particular time of year."
This might sound frustrating, but our experts said it was part of the appeal. "You never quite know what the fish will go for. So you start making more calculated guesses," says Brett. "It's about problem-solving. That's the beauty of it."
If you have a limited supply of flies in your tackle box, Brett and Chris both suggest checking your surroundings, to see what kind of (real-life) flies are trapped in nearby cobwebs.
Chris says he likes Clouser Minnow as "a general all-purpose fly," as well as "Deceiver in Blue and White, which imitates a small mackerel and looks cool." He gets his flies from Fulling Mill, which he describes as "a one-stop shop and the proverbial candy shop for fly-fishers of all persuasions."
An inexpensive tackle box for storing your flies.
The best fishing taster sessions for beginners
Susan recommends dipping a toe into the water via a taster course. Fishing supply stores like Orvis do free beginner courses across the U.K. between March and October, while Into the Blue offers courses across the country, from the Lake District to Brighton. These cover salmon, trout, and saltwater disciplines, and both group and individual lessons can be arranged. Sportfish offer courses in specific disciplines, such as fly tying, casting, and courses for specific environments such as chalk streams.
Our experts also recommended visiting Keep Fish Wet, which features catch and release practices for beginners, advice on preventing the spread of invasive species, and advice on everything from photographing fish to how to handle them correctly when caught.
The best fishing accessories for beginners
Since our experts agreed saltwater fishing was the best way for beginners to get involved, many of the other tools that fishers use – such as waders, bags, and nets – won't always be necessary. If you do need waders, all our experts suggested getting them fitted in person. "They'll know what fit you need better than you do," says Susan. "Too tight, and the seams will rip. Too loose, and you could hurt yourself. Rivers can be treacherous territory, the rocks are slippery, and they're hard to navigate. Beginners should probably stick to the bank."
Both Chris and Brett recommended Orvis waders, like these ultralight ones, which Chris wears with a pair of old boots.
Susan says when it comes to waders, she is fond of the brand Sims (which we've also seen worn by David Letterman) as well as Patagonia.
"If you're fly-fishing for trout, you'll definitely need a net," says Brett. "You can manage without, but if you've bought the kit, and you've caught the fish, but you can't land it, you're going to be kicking yourself." He says there is a larger push for sustainable and safe materials in netting, and to avoid any with plastic. Instead, look for rubber-based nets; these are kinder to the environment and cause less friction against a fish's scales.
"You should have polarised sunglasses, because the polarised lens cuts through the water, so you can actually see the fish," says Susan. "In the U.K., most of the days you're going to fish are going to be grey and overcast, so I'd suggest looking for a yellow lens, which will help enhance your surroundings and help you see the fish in the water. It's remarkable how much better you can see in the water when you put polarised sunglasses on."
As well as sunglasses, a hat is essential for both sun protection and to protect you from getting hurt by hooks, says Chris, which can come into close contact when you're pulling a line back in.
"Every time I go fishing, I always have a head torch and I always have a flint – I'm a survival girl," says Susan. "It can get dark when you're out fishing, especially if you're saltwater fishing, because the fish behave differently and you have to know a lot about monitoring tide levels; even if you have a watch, you can easily lose track of time. I haven't needed it that often, but my father taught us about wilderness survival as kids, so I've never forgotten it."
Photo: retailer
Susan also suggests bringing snacks for long periods, and says that, after trying "thousands" of protein bars, she settled on these by RX. "They're really tasty. And they got quite a lot of protein in them. They stick to your teeth, but they're really good."
The Strategist UK is designed to surface the most useful, expert recommendations for things to buy across the vast e-commerce landscape. Read about who we are and what we do here. Our editors update links when possible, but note that deals can expire and all prices are subject to change.