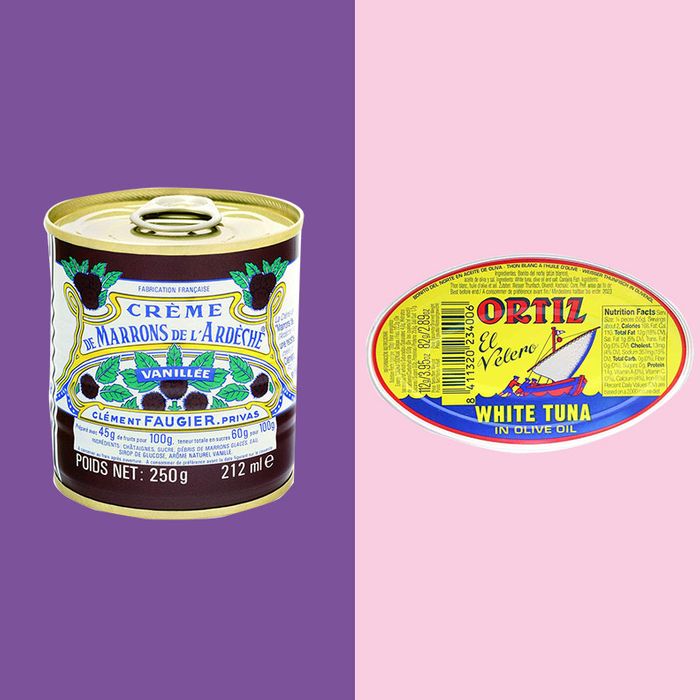 Photo: Courtesy the retailer
There are two sorts of cook in this world: There are those who enjoy cooking for cooking's sake, who relish the palaver of it, the challenge of mastering new culinary techniques, for whom lunch and dinner are art and craft. And then there are those who are more into it for the instant gratification, who cook quite simply because they love to eat — and eat well. My work is writing about food, I'm a cookery author (my first book, A Table in Venice, was published last year) and contribute recipes to publications round the world, and yet it's fair to say that I fall firmly into the latter category: I love good food, but better still if it's intuitive and fast to throw together. Below are my store cupboard staples: ingredients that I buy in bulk and keep on hand, so that I can improvise supper for two or 20 with delicious ease.
Ortiz tuna
There is tuna and there is tuna in this world. This is tuna: so much more flavoursome than the cheaper tinned varieties, and certainly worlds away from anything that comes in brine. Add to pasta with a splash of tomato sauce, toss through a bowl of wild rice or Puy lentils for a light salad — or quite simply drain and eat the fish as is with mint, parsley, and a tablespoon of capers. Also: Can we talk about the fabulously retro Ortiz tins?
Truffle honey
Any plain old honey will of course do, but I discovered truffle-scented honey in the food hall at Fortnum's a couple of years ago and haven't turned back. When friends come over for dinner, I put the pot out with chunks of hard cheese (pecorino, manchego, or something similar) for dipping to enjoy as nibbles over drinks. Otherwise, make brie or gorgonzola crostini and drizzle over with gay abandon — or use it to make the best-ever toasted cheese sandwiches.
El Navarrico Judion Beans
I specify this particular brand of butter beans here largely because I am seduced by the beautiful jars they come in — but also because these are especially tasty beans to eat. Unlike dried pulses, which require time and some degree of patience when it comes to cooking, these ones are plump, buttery, and ready to go: Toss through salad with glossy spinach leaves, a few shimmering pomegranate seeds, and a healthy glug of olive oil; or fry up with salty pancetta and serve with fried or scrambled eggs.
Cherry Tomato Passata
A really good tomato passata is absolutely essential. It's good with pasta, of course, but also for making 'uova in purgatorio,' where you gently poach whole eggs in rich tomato sauce with a dash of chilli and spice — heaven for breakfast or a cosy, quick weeknight supper. I like the kind made with cherry tomatoes, because it tends to taste sweeter — almost buttery — but traditional tomato sauce of any variety works.
Preserved Lemons
These look so pretty on the shelf, just shimmering hypnotically in their glass jars, but they also pack a lot of flavour. For a quick fix, I coarsely chop the lemons and serve sprinkled over a plate of creamy burrata with a drizzle of olive oil. They're also divine mashed up with butter and smeared all over roast chicken.
Amaretto Biscuits
I always have amaretto biscuits on hand: They're just useful. You can use them in trifle or tiramisù in place of the sponge fingers (a great gluten-free option), crumble over chocolate pudding — or even over carrot or pumpkin soup for a slightly more exciting variation on the theme of croutons. Failing all else, serve them as is with a pot of strong coffee for pudding after dinner.
Sweet-Chestnut Purée
Whenever I spot tins of this — usually in French delicatessens — I buy as many as I can carry. It tastes irresistibly like fudge, and I devour it by the spoonful — though strictly speaking not quite how it's meant to be served. Also heaven in chocolate cake, spooned over vanilla ice cream, or served with whipped cream and crumbled meringues for an improvised Mont Blanc.
Dark Chocolate
Proper dark chocolate makes the world a better place. Fact. I'm particularly partial to Green & Black's 70 percent cocoa variety: It's just the right balance of bitter and buttery, plus they sell it in ready supply at our local corner store so I never run out. My secret obsession is for chunks of chocolate on hot toast with a sprinkling of salt and a drizzle of olive oil. I can't tell you how unbelievably good it is.
The Strategist UK is designed to surface the most useful, expert recommendations for things to buy across the vast e-commerce landscape. Read about who we are and what we do here. Our editors update links when possible, but note that deals can expire and all prices are subject to change.