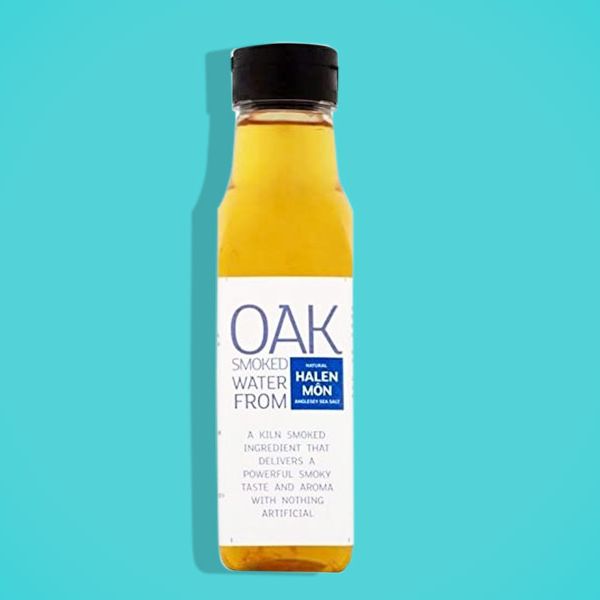 A few years ago, while feeling particularly homesick, I spotted an unusual item in my local deli. I would have walked by it if I hadn't seen the Halen Môn (Sea Salt) logo. I grew up in West Wales, minutes away from the Pembrokeshire coast. Wherever possible, summer dinners were taken beachside and consisted of local ingredients slightly burned over a driftwood fire spiked with oak chips. Then I moved to one of the most landlocked cities in the U.K. for three years, and from there to an East London first-floor flat without a balcony.
The minimal ocean-blue square and white font on the bottle reminded me of home: the sea, the white spume at the fringe of the waves. Upon further inspection it read, "Oak Smoked Water," and the ingredients were simply "water, smoke from oak chippings." My hopeful thinking was, as I was a vegetarian at the time, it'd help me add depth and umami to a vegetarian mince. As soon as I got into the car, I opened the bottle and caught memories of sand, samphire, smoke, and sea. I knew this would become so much more than a Quorn-enhancer.
Halen Môn is a sea salt–maker originally, a Welsh answer to Maldon — its salt is used everywhere from Green & Black's to the Fat Duck. It was actually Heston Blumenthal who spurred the idea of the smoked water. Halen Môn has been the Fat Duck's supplier of sea salt and smoked sea salt for years. One day, Blumenthal phoned asking if they could put water in their smoker to make a liquid that he could use for risottos. After months of trial and error, they figured out how. It's very similar to barrel-ageing alcohol — the water is circulated through piping that contains wood chips and dust (both of which you can buy on its website) for ten days, and consequently the water takes on its smoky flavour.
Photo: retailer
[Editor's note: this product is currently sold out on Amazon].
Off the top of my head, I have used Smoked Water in or on baked beans, soups, risottos, jackfruit, aubergines, courgettes, lettuce, asparagus, samphire, salads, marinades, fish, Bolognese, chilli, shakshuka, stir-frys, ramen, mayonnaise, butter, cheese, cocktails, ice cubes, and ice cream. I buy a bottle for almost everyone's birthday, every year. It's something that sounds like nothing, but has become a pantry staple. Something that routinely makes people go: "Are you sure that asparagus is vegetarian?" and, "It tastes like BBQ!"
It's a small bottle, but it will last you a long time. More than a tablespoon per portion is going to make any dish taste like a bourbon barrel that caught fire (I use three teaspoons in a mushroom risotto that serves four), and it is arguably more useful than fish sauce and Worcestershire sauce combined. Its application is pretty simple, just chuck a few drops on the food you'd like to add smokiness to. If you want a more subtle, umami touch, you can also add it to the pot. And if you're from the coast, maybe have a sniff each time you miss home.
The Strategist UK is designed to surface the most useful, expert recommendations for things to buy across the vast e-commerce landscape. Read about who we are and what we do here. Our editors update links when possible, but note that deals can expire and all prices are subject to change.