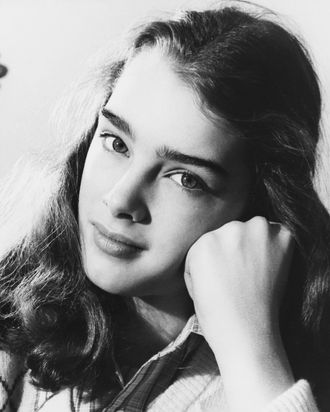 Photo: Getty Images/Getty Images
A version of this story originally appeared on the Strategist US.
In recent weeks, many of us have found ourselves attempting to become adept in beauty tasks we typically don't complete ourselves, in our living rooms — from clipping our fringes, to removing our acrylics, to learning the finer details of an at-home manicure, to what is arguably the trickiest of them all: maintaining eyebrow shape. To find out the right tools and tips to create the perfect arch at home, we reached out to Benefit global brow expert Jared Bailey, who broke down how to "brow map" (a necessary skill, he says, when it comes to maintaining or creating a brow shape) and explained why tweezers with a tight closure are the only way to go.
Before approaching your face with tweezers, it's important to sort out what shape you want your brows to look like. Jared recommends employing a technique called "brow mapping" to do this, which he calls "the easiest way to tailor any brow." To find the start of your brow, measure from the dimple of your nose (this is where your nose dips before curving into your nostril) to the beginning of your eyebrow and mark it — this is temporary, you'll wipe it away once you're done tweezing — with a brow pencil like the Benefit Precisely, My Brow Pencil, which he says isn't too waxy or creamy. This, Jared says, helps to balance the eyes and has a slimming effect on the nose. Next, you'll need to identify your arch. Starting at the end of the nose, measure diagonally, passing through the pupil to the highest point of your brow. This will give your eye area a lifted look, but can be customized to your personal tastes. Finally, measure from the outer edge of your nose to the outer corner of the eye and mark that off. This tail placement will give the face a more oval look, says Jared. Once you've created the general shape, sketch a few lines to connect the marks on the top and bottom of the brow. Any hairs outside of those lines should be tweezed and anything inside should be left alone.
Before going crazy with the tweezers you should brush your brows up and trim them — this is an important step for creating that crisp, freshly done look. To do this, Jared recommends brushing your brows upward (you can use a brow brush, or the brow gel brush) then applying a clear, flexible brow gel like this one, to keep the hairs in place without leaving them unnaturally stiff and straight. "If you brush up your brow hairs then apply a gel that is super viscous, with an ultra-strong hold, it gets very easy to over trim them," he says. "Flexible gels allow the hair to be redirected but still maintain its natural bounce and bend so you can see the wispy pieces that need to be trimmed away."
On the topic of brow trimmers, you'll need a good one. Personally, I prefer scissors like these, which are sharp, precise, and easy to handle.
Natural lighting is key to getting good brows because it helps you to really get a good look at what you're doing. In the absence of natural lighting, the next best thing is a lighted beauty mirror — its lighting mimics daylight, and its head is large, allowing you to see your entire face at once.
You'll also need a pair of sharp, slanted tweezers like these. "It's really about finding tweezers with a tight closure, as brow hairs can have a light coat of oil on them and tend to be a little slippery," he says. The tapered end of the Tweezerman tweezers also makes it easy to grab hairs one at a time without having to apply too much pressure. Following your brow map, pluck the hairs outside of the lines, being careful to grab one hair at a time. Grabbing multiple hairs at once — called "power-plucking" — could result in patchy and holey brows. When tweezing Jared also warns against plucking your brows in the wrong direction which can stop the hair from growing in that spot altogether. "You must hold the skin tight with one finger and then tweeze the hair in the direction it is growing. Typically that direction is upward or toward the temple, rather than straight out," he says. "It's really important to work with Mother Nature."
If your skin is sensitive, Jared recommends putting cotton pads in the fridge before you start, and using them to calm any irritation or redness that follows.
The Strategist UK is designed to surface the most useful, expert recommendations for things to buy across the vast e-commerce landscape. Read about who we are and what we do here. Our editors update links when possible, but note that deals can expire and all prices are subject to change.