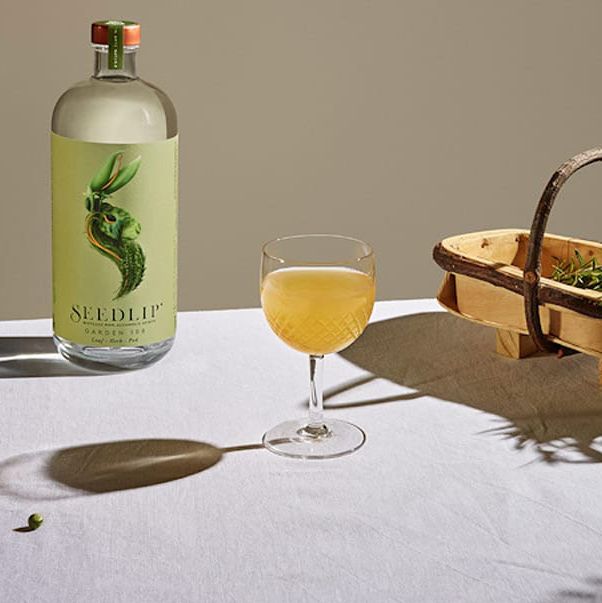 Photo: Courtesy of the vendor
It's nice to have the option of a nonalcoholic drink that isn't lemonade. A strong cocktail or IPA can be a satisfying way to take the edge off a stressful or anxious day, but an increase in nonalcoholic options means you can still enjoy a drink without any of the side effects. "There's been a notable shift in the amount of people choosing to opt out of boozy cultural pressures and take a more mindful approach to drinking," says Fiona May, a PR director working in the food and drink sector. "Simultaneously, there's been an upsurge in alcohol-free drinks that are starting to catch up with the shift in drinking habits."
"In the hospitality industry, we needed to find a different way to make our guests feel that we understand them," says Hugo Ribera, from hospitality group The Initiative (which includes bars Deli Cat & Sons and Shaman). This has meant an increase in nonalcoholic spirits, so you can make a Negroni or a martini that tastes just like the real thing.
And while there are specific products made for people who don't drink alcohol, it's worth remembering that existing items in your cupboards can make excellent substitutions, too. "There are some excellent botanical products out there," says Richard Godwin, a writer and author of cocktail book The Spirits. "But you can just as effectively make a nonalcoholic drink by cold-brewing tea."
So we asked nine experts, from drinks industry specialists to discerning folks who practice mindful drinking, to tell us what their favourite nonalcoholic drinks are, from spirits to craft sodas.
The most recommended nonalcoholic product across the board was kombucha, a fermented tea drink, which five of our experts chose. "Of all the newish drinks that have come along, the one I love the most is kombucha," says Godwin. "It's got a lot of flavour and complexity, and it's really delicious. It goes surprisingly well with food; it does the things you want wine to do, in that regard."
Though most commercial kombuchas contain 0.5 percent alcohol, this is low enough for it to be classified as nonalcoholic (though the percentage will vary by brand, so it's worth checking). The most popular brand was Jarr, as recommended by Godwin and Rosamund Dean, deputy editor of Grazia and author of Mindful Drinking: How Cutting Down Can Change Your Life. "It's packed with antioxidants and good bacteria; I love the ginger flavoured one, which is made with freshly juiced ginger root. It's a warming, fuzzy drink," she says. Godwin says Jarr, which is stocked in Shoreditch House, is a better option than fruity kombuchas, which are often made with more sugar. "I would look for one that is explicitly 'tea' flavoured, instead," he says. "Jarr is also designed as something to go with food. It is expensive, but not compared to a bottle of wine."
May likes Willy's blackcurrant kombucha, made with apple cider vinegar. "It's at once both sweet and dry," she notes, saying she often drinks it as an apéro. "It has a black currant-y zing to it, and the fermented element gives it a hint of booziness without any alcohol. The ACV flavour also gives it some acidity, like you'd get it in a glass of red wine, so this is a great option to drink with red meat or heavy pasta dishes, due to the rich flavour."
For a drink similar to Kombucha, two experts suggested Shrb, a soft drink company that steeps aromatics in apple cider vinegar. "This one uses apples, cinnamon and nutmeg, which results in a refreshing drink with a vinegary kick and a delightful fizz," says Dean. "For so long, alcohol-free drinks have been laden with sugar. But this tastes like something an adult would drink." Journalist Kat Brown agreed; "ACV and soda is a great go-to, randomly. My taste runs pretty dry, but I figure if you want sweets, go to the children's aisle."
Seedlip came recommended by three of our experts. "This is the first and best known of the current crop of alcohol-free spirits," says Dean. "It doesn't taste like gin, but, if you're trying to drink less, it delivers a refreshing hit." She suggests lengthening it with tonic and adding a sliver of cucumber.
Bartender Ryan Chetiyawardana says that the grassy notes give it a dryness that makes it an easy substitute for gin, but it can also substitute for vermouth or even white rum in cocktails. "But the best thing about Seedlip is you can just lengthen a measure of this with soda, and make a highball," he says.
Ribera favours Seedlip's spiced version, which features Allspice berry and cardamom notes. "It has a soft grapefruit touch, with a spicy aroma," he says. "I mix with a splash of tonic water in a highball glass, and top it up with homemade cold brew."
Lyre's, an Australian-based drinks company, recently launched in the U.K., comes recommended by Camille Vidal, founder and CEO of La Maison Wellness. "They're my favourite nonalcoholic spirit — the closest possible match to the taste, bouquet and palette of a spirit," she says. They do all kinds of nonalcoholic spirits, including Absinthe and Ameretti, but Vidal likes the white cane spirit, which mimics the flavours of a white rum. "They make the best mojitos," she says.
May, who is "a self-confessed coffee snob," says Lyre's coffee liqueur is her go-to both as a stand-alone drink and mixed into an alcohol-free espresso martini. "It has notes of deep, roast coffee, burnt caramel, dark chocolate and fig, as well as high notes of toasted nuts and French vanilla. I can slosh an espresso martini with my friends at 1 a.m. and have absolutely no hangover."
Chetiyawardana says nonalcoholic aperitivos can still offer "complexity" and "a bittersweet profile". He selected Aecorn's bitter flavour as a good substitute for an amaro (also known as a digestif). "It's less concentrated than a distilled product, but it has a pleasing grip, finish and roundness," he says. "It's a brilliant addition to have in your home bar, lengthened with soda to make a spritz."
"When I gave up drinking, I was especially worried about what I'd drink during rosé season," says May. She says this 0 percent sparkling rose by Richard Juhlin is such a great alternative to wine; "great to have at a dinner party, or an event where you might be celebrating. It has the key rose features — it's dry, peachy, has subtle notes of sweet berry, citrus and apple, but it's complex enough to handle the 'Champagne moments' you might need it for, too."
Godwin says that the simplest nonalcoholic drink is the most common: brewing your own iced tea. "I usually have a jug of it at my desk anyway," he says. Fruit or herbal teas only need steeped in cold water for two to three hours, he says, but loose-leaf black tea, like oolong, would need about 12. "Cold brewing brings out different flavours than using boiling water. The result is a really delicious, completely non-sweet drink, which you can use as a mixer, or in punch, but it's also nice on its own, with fresh lemon and sugar syrup." He says jasmine tea is particularly nice, as cold brewing brings out the "light, perfumed notes".
Square Root is a "craft soda" brand that started out making ginger beer. "They have a nerdy dedication to brewing apparatus and sustainable supply chains — they even self-identify as 'soda jerks'," Dean says. "Now they produce all sorts, but I like the nonalcoholic Negronis and their delicious Artemisia Tonic, which is perfect on its own or as part of your alcohol-free gin."
Strategist U.K. editor Ailbhe Malone likes San Pellegrino's SanBitter red. "It's perfect for a nonalcoholic apéro — you get the dryness of a Campari soda, with no alcohol," she says. "Plus, they come in these dinky bottles, which I like to reuse for flowers.
Ailbhe also bulk-buys the seltzers from Something and Nothing. "They're made in London, and come in flavours such as Yuzu, Cucumber, and Rose and Hibiscus. I like the Yuzu best, but if I'm drinking alcohol, I'll mix it with a Sochu to make a kind of Chu-Hi."
Strategist contributor Isabelle O'Carroll rates beers over on her Instagram page, and told us that Mikkeller's nonalcoholic beers were a definite standout. "Mikkeller Limbo is part of their 'Flemish Primitives' style of beers — it's a great example of something that might seem like a novelty because of the blueberry flavours, but it really works," she says. "Some nonalcoholic beers have a disappointing lack of 'bite', but the fresh acidity in this light beer is perfect and the fruit flavours don't overpower. I love to have this served alongside tacos; the fruity acidity really works."
"A lot of alcohol-free beers lack a satisfying mouthfeel, i.e. the body and bite of a 'real' beer," O'Caroll adds. "But this beer, which is Japanese but made with German malts and American hops, has a great pale ale character, with lovely soft apricot flavours."
Some (Strategist-Approved) Home Bar Tools
When we asked experts to tell us how to stock the perfect home bar, this Boston shaker was the one that came recommended. Felix Cohen, founder of Manhattans Project, specifically recommends a Boston shaker. "This is the style with two tins that you bang together. You can pop the small tin inside the larger one for a really ad hoc strainer, and the metal tin is great for stirring drinks in."
This ice tray from W&P design has a useful silicone lid that makes transporting the tray from your kitchen sink to the freezer a lot handier, and came recommended from four of our experts.
"Squeezing with an elbow squeezer gets you all the aromatic oils from the skin of your fruit, too, which in turn makes much more delicious drinks," Cohen says. "It's also a lot less washing up." There are a number of different size options, including ones for lemons, oranges and limes, but we like this lemon-lime combo squeezer.
The Strategist UK is designed to surface the most useful, expert recommendations for things to buy across the vast e-commerce landscape. Read about who we are and what we do here. Our editors update links when possible, but note that deals can expire and all prices are subject to change.