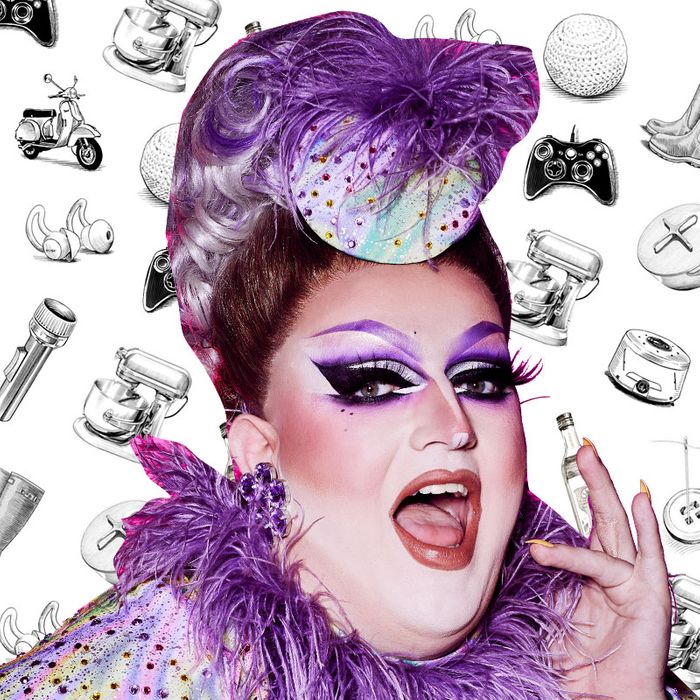 Photo-Illustration: Courtesy
If you're like us, you've probably wondered what famous people add to their carts. Not the JAR brooch and Louis XV chair but the stain-remover pen and the tongue cleaner. We asked Lawrence Chaney, whose book Drag Queen of Scots is out now, about the eye shadow, sewing machine, and pasties they can't live without.
Basically, this is my favourite makeup product ever. That's a bold statement to make as a drag queen. But it's my favourite product because it's this glittery pigment that's like liquid. You put it in your inner crease, and it's perfect for cutting your crease, especially if you're in a rush and you're slapping your makeup on. That shadow is so clean and precise, and it cuts your crease for you. It's shiny. It's silver. It's chrome-y. It doesn't transfer, it's the ideal product. And it can be used not just for drag, but probably a little bit dabbed on as a highlighter, because it's buildable and blendable. It's a godsend — I'm wearing it on the cover of my book. Foundations, they come and go. This is the one thing I've never found anything else like from other makeup companies, this one just works.
It smells like heaven. It's like a cotton-candy-land festive Christmas breeze. This shows how insanely in love with it I am: It's only available at Christmastime, so I bulk buy it. Even before Drag Race I was doing this as well. You look at drag queens, they're over the top, glamorous — this smell matches with that vibe as well. When I wear it I feel like I smell good. In drag, out of drag, on your gusset: wherever you want!
I was recently looking for a new suitcase. I went to this shop, that shop, and then I stopped in my tracks when I saw Greggs and went to get a sausage roll. That's when you know you have a problem. When they're warm, they're amazing. When they're cold, they're actually all right. I hate those refrigerated ones that you get from shops. They always need warming up. But something about the Greggs ones, the taste of the meat is just better. Also, I'm not going to lie, I like the vegan ones as well. I will have a vegan one if I'm feeling spicy. But if I feel like a greasy slut, I'll have a normal Greggs sausage roll. You don't handle the crumb situation, you let it crumb all over you and then you pick up the pieces. I do eat them in drag because dealing with crumbiness is easier than if you eat something like spaghetti. Say a wet dish lands on your cheek, it's over, then your face looks like a crime scene. But flakes — they can be powered off. It's dragproof.
I have this auburn-browny colour Doc Martens bag. In the front compartment [I have] all my receipts from taxis. Inside, it's big enough that you can carry a change of clothes or a new set of shoes. Or if you've just bought 700 bottles of Snow Fairy from Lush, you can hide them in there. It's a really handy big backpack. It's vegan, so you're not carrying a dead animal all around the shops and sort of showing it off. It's one of those functional pieces. I'd say if you want a good backpack, just get a Doc Martens one. It's been really thrown about — used like me in the bedroom — and it still works. I bought this one four years ago, and I use it every day. On tour, everywhere.
It tastes … what is the taste? (It's like Dr Pepper, what the fuck does that taste like?) It's bubblegum-y. It's a very artificial taste. It's obviously not very good for you, that's why I have a six-pack of that, and I don't have a six-pack anywhere else. Obviously, they sell it down south (not just in Scotland), and whenever I taste it, it feels like home. If I'm ever having a long slog or a long tour, I just pop a can of Irn Bru.
This isn't the sewing machine I started with. I started with a kids' one, one of the tiny ones that you can get from Argos for 20 quid. But this is the one [I use] when I moved up, and I still use it to this day. I got this one when I was about 14, and I'm now 24, so it's an old, old machine. But it really works. There's lots of settings for stitches, say if you're sewing with stretch or a leather fabric where you need to change your stitches, it's ideal for that. You can change the tensions, and it's easy to thread up. It might not work for you, but it works for me. It puts up with the shit that I've fired through it. I fire sequins through there, velvet with padding with more velvet, so it's had a lot of wear and tear.
I'm literally wearing them right now. There's no faff of "oh my laces have come undone, let's stop." I live a fast-paced life — if my laces come undone, I'm not stopping to do them up. In school, I was bullied for having Velcro shoes, and I've not changed: I've gone for the easiest shoes to put on. But they're comfy, and they're ready to go when you get them. I bought these ones about three days ago, and wore them out of the shop. Mine have also lasted ages. Because they are a wee bit pricey for shoes, I do think that they last a longer amount of time for shoes that are, say, Primark. You can do a lot of things in them, and trust me, I've done a lot of things in them.
I have it on vinyl, I have it on CD, I have a signed CD — and I obviously have it on Spotify (I don't just walk around on tour with a vinyl in my backpack). Before Artpop, when I saw Lady Gaga on the come up, I sort of thought, Are you just using weird to make loads of money? Some of us are actually weird and get bullied for it. I didn't know if she was for me. I thought, Is she almost faking it? And then she released Applause — that's when I was like, You freaky bitch! When I saw people starting to slag her off, it showed me that she was saying "I don't care if you like it, I do this because I want to." And I do drag because I want to. If I didn't want to do drag, I wouldn't. It was also the first tour I saw, the ArtRave. I saw her in Glasgow twice. One time, I remember crying. When you see concerts on TV, you think, Oh, that's lovely, but seeing her rhinestone corset outfit — I could see the glints from my seat up in the gods — I couldn't believe it. Also hearing Lady Gaga say the Scottish chant, "Here we, here we, here we fucking go!", that was bliss as well. What I would tell you is, there's not a single skip. I love Gaga's albums before and after, but there are always skips. The energy on Artpop is insane.
It's the one thing I've splashed on since Drag Race. I still love a Pot Noodle and a mug of soup, but I splashed out on a Gucci tracksuit. I went for the more simple one, with a modest logo design, and then the strapping. I'm a woman on the go, from the airport to a taxi and all sorts, and this is so stretchy and comfortable. When I tried it on, I was like, Ah, that's why it costs so much! It's a really thick, stretchy fabric, but it's got Airtex, which means it's not sweaty. It's really luxurious, I feel like a right posh wanker in it. If you spend that much money on something, I think you're crazy if you don't use it all the fucking time. I use it all the time, it's done me well. So here's to many more years of wearing it.
I was always really bad at English and spelling. I used to think, It's such a shame I won't be the next Steven King (or Steven Queen). But actually, the truth is, if you've got good ideas, a good sense of humour, a good story, it's about what you can bring to the book. As soon as I got rid of that embarrassment, I thought, Right, let's have a crack at it. I read Bianca's book, Trixie and Katya's book, I read Willam's book, and I saw that they were all very different from each other. So it did give me more confidence that I didn't have to do mine to any formula. One of my favourite books is by Joan Rivers, and it's called I Hate Everyone, Starting With Me. She lists people, things, and things about herself that she hates. She's so self-deprecating and so funny. When I saw her writing in a way that she was speaking, I read that and I thought, I'm going to write this as if I'm speaking. It's written in Scots, but there's a glossary at the back if you're not Scottish, if you struggle understanding the slang. They said [about the audiobook], "Oh Lawrence, would you be comfortable doing it, or should we get someone else?" I said, "You are not getting someone else to do my audiobook, are you kidding me on? Lawrence Chaney's life needs to be told by Lawrence Chaaaaaney!"
The Strategist UK is designed to surface the most useful, expert recommendations for things to buy across the vast e-commerce landscape. Read about who we are and what we do here. Our editors update links when possible, but note that deals can expire and all prices are subject to change.