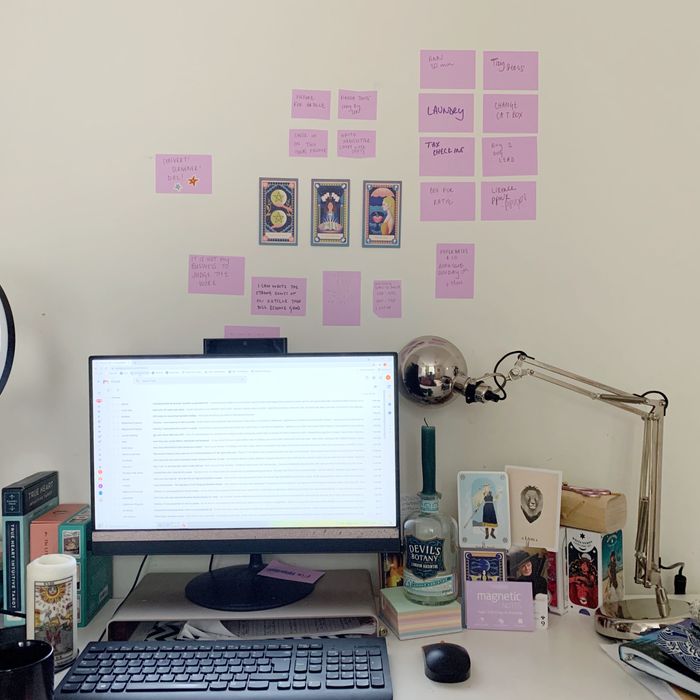 My lavender sticky notes in action.
Photo: Courtesy Chelsey Pippin
Finding a way to organise my thoughts, to-do lists, and ideas has been a lifelong goal for me. I've tried it all: planners, bullet journals, spreadsheets, at least six different apps, the classic writing on the back of the hand. But sticky notes have always been my favourite method of organising my thoughts and tasks. They let me step back and see the big picture and are great tools for colour coding ideas, tasks, and priorities. When I need to sort my life out, or plan an article, story, or big life event, I always feel better once I've stuck my thoughts all over the wall and taken them in.
The big problem — and the reason I keep cycling back to other methods like planners and apps — is that sticky notes rarely live up to their name very long. Even the top brands lose their stick quickly — sometimes in a matter of hours. Humidity, the quality of paint on the wall, cheap adhesive, the heaviness of ink, the breeze, and the existence of cats are just some of sticky notes' worst enemies. My sticky(ish) note mind maps just can't seem to stay intact on the wall for more than a day. And if I want to shuffle them around, like the aspiring novelist I am? I'm doomed. Peel it off the wall once and it never really gets its groove back.
But in early April, during my first government-sanctioned visit to my favourite stationery store in six months, I found something I always knew I needed but never knew existed: magnetic notes. These babies stick to anything, using static charge rather than adhesive. The packaging promises they'll cling to almost any surface — for my part, I've tried them on the walls of my humid basement flat, pages in notebooks, and window glass.
They don't leave behind any sticky residue and they never fall: I wrote a quote on one and stuck it on the wall next to my computer three weeks ago and it's still there. You can move them around and they keep their charge — I rearrange mine into different columns most days and only one note has ever lost its cling. Plus because the corners don't flutter (the whole note is charged, as opposed to the strip of adhesive you get on common sticky notes), my cat is much less likely to play with them or knock them down. The notes come in a range of 13 colours (I'm partial to the pastel purple), and three different sizes, and are very, very satisfying to crumple up when you finish a task. In other words, how could any self-loving stationery lover resist?
I've been using these notes daily for a little over six weeks now, and I'm hooked. They're exactly what my scattered brain needed to build a dependable, easily accessed to-do list, and my creative brain loves shuffling them around when writing. While I haven't branched out into using different colours or sizes yet, I really appreciate that because the notes are clingy all over instead of just having one weak strip of adhesive along one side, I can arrange them horizontally and vertically, which helps me differentiate between tasks. They're also easy to toss in my bag if I want to take them on holiday or to the office — and are just as useful for work tasks as they are for writing and life admin. I've never once found one loose at the bottom of my bag, rendered useless by lint.
The standard size retails for 3.99 for a pack of 100 sheets. And while that means they're a little pricier than the average sticky note pack (200 Post-it sheets sell for the same price on Amazon), I think it's well worth it, since the notes are so reliably clingy that you never have to rewrite the same note twice. For once, I have a reliable method of organising my thoughts in a way that also makes me feel creative. I'll never go back to Post-its, which has admittedly devastated the cat, but has been a sanity-saving hack for me.
The Strategist UK is designed to surface the most useful, expert recommendations for things to buy across the vast e-commerce landscape. Read about who we are and what we do here. Our editors update links when possible, but note that deals can expire and all prices are subject to change.