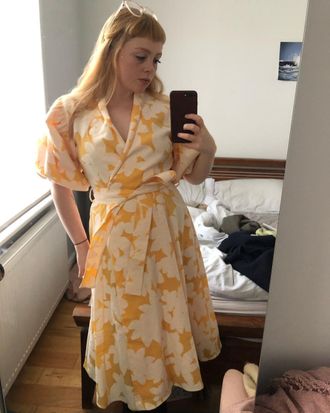 You may have seen the Strategist editors share their hauls, jibber-jabbering about their favorite purchases – whether that's the result of canny sales shopping, real-life necessity, or a particularly good trip abroad.
To get that same personality and taste insight (via receipts), we occasionally invite interesting friends of the Strategist to run down their own buys. For this installment of "Guest Strategist Haul," author and New Statesman columnist Megan Nolan (whose debut novel Acts of Desperation is published on March 9 by Little, Brown) tells us what she bought in February.
Photo: retailer
An early-morning impulse buy, and despite its silliness, still not even in the top five silliest of jackets I own. I'm not really a bag or shoe person, but I am addicted to frivolous outerwear, and when I saw this it made me think about late-spring evenings and bright eye shadow and life beginning again, so I had to have it. I hated clubs and music festivals in pre-COVID life, but my social starvation is currently so acute I'm fantasizing about both, and this jacket seems a good segue into my new life as a past-it "It" girl.
I don't understand anything about skin care and I don't actually believe it does anything significant aesthetically to my face, given the range of bad lifestyle habits I have never once tried to curb. But once I bear that in mind, I'm still able to enjoy the products for the luxurious way they make me feel when I apply them, especially this really smooth, delightful serum which you apply under your eyes with an adorable little spade.
I love this album so much, but I've found it hard to listen to because Destroyer was the last gig I saw before lockdown, at Brooklyn Steel. I was on a date with my sweet friend Eli, and before we went to see the show, we ate pizza and an abundance of really good lettuce in Leo's in Williamsburg. Little did I know I was living in heaven! Anyway, this record makes me sad because of these circumstances, but I bought it on vinyl to try to create a new relationship with it and to make my frozen heart start to thaw.
When I turned 30, I panicked and bought an exercise bike and started getting this vegetable subscription-service delivered. They rescue the fruit and vegetables which would otherwise be thrown away for being ugly or surplus. I shuddered in sympathy upon reading this. What I like about it, besides the fact I can smugly tell MyFitnessPal that I have met my daily nutrient targets, is the lack of choice. There is simply too much choice in the world and having a set bunch of wonky veg you have to use up is a good way to cut down on all my meal agonising.
Photo: retailer
Koya is my favourite restaurant in London, a small and serene noodle bar in Soho where I always feel perfectly at peace. Usually I'm in Soho for an obnoxious reason, like meeting my agent, which I only do so that I can loudly say, "I'm meeting my agent in Soho," when somebody asks what I'm up to. Coming to Koya and gazing into a bowl of mixed seaweed atsu-atsu afterward calms me down. Until I can return, I have their meal kits and am happy that the broth is just as smooth and nourishing, the noodles as delightfully springy, as they are in-house.
After I watched It's A Sin — the Channel 4 Russel T. Davies series about a group of gay friends in AIDS-era London — and read some interesting critiques of its approach, I realised I have consumed shockingly little cultural material about AIDS and HIV so have been picking up some novels and films and histories lately. I really loved this novel by Sarah Schulman about a love triangle in New York between Kate, a painter, her husband Peter, and Kate's lover Molly, a lesbian who gives much of her free time and energy to supporting Justice (an ACT-UP cipher) and people with AIDS. There is also a quasi-Trump villainous property developer buying up apartment buildings with high gay populations in anticipation of their deaths. I found it very moving and very real, particularly Molly's exhaustion at having to confront the ugliness of unaffected people and their indifference.
I've just moved flat so that I have an outdoor space for the many outrageous garden dinner parties I am anticipating hosting when lockdown ends. I've never taken care of a garden before, but I have kept three plants requiring medium intensive care alive for the past year so I'm ready to spread my wings. My mother is a great gardener and has posted me some seeds to get me started and will direct me over video calls until I get the hang of it. The idea of growing some little tomatoes and then making a dressing with the wild garlic, which is already thriving, is making me very happy.
The Strategist UK is designed to surface the most useful, expert recommendations for things to buy across the vast e-commerce landscape. Read about who we are and what we do here. Our editors update links when possible, but note that deals can expire and all prices are subject to change.