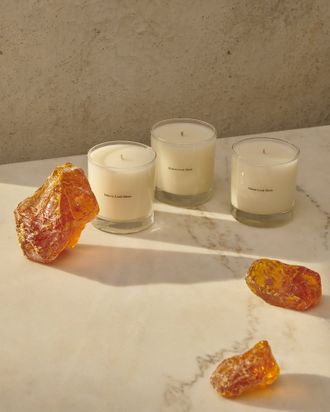 During a year of lockdowns, restrictions, and working from home, candles have been having a moment. "Candles have always been a coveted homeware item," says Savannah Scott, creative researcher at strategic foresight consultancy the Future Laboratory, "but what we're seeing as a result of the pandemic and lockdown, is a shift away from candles being just a decorative everyday object, to them playing an essential and elevated role in our daily rituals."
"As more people are working from home and reevaluating the importance of their spaces and what a new routine might look like," Scott tells the Strategist, "candles will be an outlet for modern meditation and self-discovery through scent." Interior designer Vanessa Agyemang agrees, noticing that a lot of her customers have been focused on how to make their homes more comfortable, "because obviously a lot of people aren't going back to work, or they're working from home."
While you may already know about the brand names seemingly synonymous with stylish candles — Neom, Diptyque — you may be more interested in some below-the-radar finds. So we asked interior designers, influencers, brand designers, and store owners to recommend their favourite established and up-and-coming candles from the coolest brands, from Boy Smells to Loewe and Fabrek.
Two new status candles
Photo: retailer
Jordan Cluroe and Russell Whitehead, founders of London-based interior design studio 2LG, recommend fashion brand Loewe, which has recently launched a new candle collection. "We went for Ivy," they tell the Strategist, "largely because the vessel is pink but it does smell beautiful — very floral." The Ivy, like the rest of Loewe's candles, comes in a small, medium, or large size, in a glazed terra-cotta vessel. Simeon Thompson, founder and interior designer at London-based JSJ Designs, also recommends the Loewe collection, which he says "looks destined for cult status." Simeon especially likes the Scent of Marihuana candle, which burns for between 30 and 80 hours, depending on the size. All Loewe's candles are made from 100 percent vegetable wax, and other scents include beetroot, oregano, coriander, and liquorice.
Cluroe and Whitehead also recommend the candles from Boy Smells LA (our US colleagues agree). Founded in 2016 and "conceived beyond the gender binary," Boy Smells' scents are branded and packaged in an (already-signature) bright Barbie pink — Cluroe and Whitehead tell the Strategist that "above the cool vessel, they really do smell amazing. We always have an extra few in our cupboard for impromptu gifting!" The candles are developed and mixed in the Los Angeles home of founders Matthew Herman and David Kien, who only use all-natural oils, beeswax, and coconut wax.
Though the official Boy Smells site only ships to the US and Canada, UK retailers such as FarFetch and Liberty stock several candles from the brand. "Our friends always comment on how lovely our place smells," Cluroe and Whitehead add, "and 90 percent of the time it's a Boy Smells candle!"
More notable candles
Interiors blogger Jasmin Roberton, a.k.a. @brickdustbaby, recommends Maison Balzac, which "has all the key ingredients for a status candle brand." She was first introduced to the Sydney-based company when her fiancé bought her one of their candles as a gift, purchased from Wick Candle Boutique, in Hove. "As ex-Sydney-sisters, we're always passionate about representing brands from home," Wick co-owner Anna McAllan tells the Strategist. "We were drawn to Maison Balzac's aesthetics, their unique artistic collaborations, fabulous fragrance and the marriage of Australian-French style and sensibilities founder Elise Pioch Balzac brings to her brand."
Made from soy wax, many of the scents also come in the form of incense sticks, scented water, and essential oils. "I'm a big fan of the classic lavender essential-oil candle, Bonne Nuit, as well as the floral bouquet Sainte T, which fills a room beautifully," Roberton says.
[Editor's note: This price has been converted from Australian dollars, and does not include shipping costs.]
Roberton also bought "Woody Office of Daddy" by Lola James Harper in Wick — and calls it "one of my all-time favourite scents." Lola James Harper's French-made vegan candles are crafted from a mixture of mineral, sunflower, and cocoa wax, and Jasmin's favourite has notes of mahogany wood and sandalwood. She tells the Strategist: "I've since gone back and repurchased the candle three times in the last year — plus the room spray. I'm obsessed."
[Editor's note: Lola James Harper is stocked at Selfridges and John Lewis, however stock fluctuates. If you want to buy direct from Lola James's website, be aware that prices are in euros.]
Nicole Ramson, London-based designer and founder of Chelsea Creative Studio, recommends Maison Louis Marie's No.4, which is the signature scent always burning at her friend Emily Mander's Bath hair salon. Nicole tells the Strategist that Mander discovered the scent while in Australia, and found that the "heavy, earthy sandalwood fragrance, with a spicy cinnamon-nutmeg complex" aptly accompanies the "beachy, mod-'60s vibe of her salon." The candle jars feature understated, simple designs, and each scent is also available as a perfume oil, body and hand lotion, body oil, body and hand wash, and deodorant, alongside the candle. Maison Louis Marie is an L.A.-based French brand which "dates back to 1972, but is now led by Marie du Petit Thouars, who has built upon her family's history with luxury candles, perfumes and a skincare range that focuses on 'illustrious scents imbued with unique floral fragrances'."
Interior designer and self-described "absolute candle addict" Eva Sonaike recommends London-based boutique candle brand Imọlẹ, especially one called Osun, which features notes of mandarin, sandalwood, and orange blossom. Sonaike likes to reuse the handmade concrete jars, of which she tells the Strategist: "You can close the lid once the candle is off and the jar looks like a piece of modernist art, and once the candle is burnt down, the jar can be used as plant pots, pencil holders or as makeup brush storage."
Sonaike says that the founder of Imọlẹ gifted her a candle as a thank-you after borrowing some of her homeware brand's cushions for a product shoot, and Sonaike has been a loyal customer ever since. Sonaike also notes the meaning behind the brand's name: "The word imọlẹ (pronounced ee-mo-lee) is a word derived from the Yoruba language — which is my native language — meaning light, insinuating that when light comes, darkness disappears. What a perfect name for a candle brand." Imọlẹ's "divine" candles are made with soy wax and British-Nigerian oil blends.
Vanessa Agyemang, founder of interior design studio Copper Dust, recommends the Dawn and Dusk collection from Martyn White London, an interior-journalist-owned brand. "What I like about this one is that they have a scent for earlier in the day, and then they have a scent for later in the day," Vanessa tells the Strategist. "You can kind of differentiate in the day, what kind of mood you want to create — and they use unusual scents. Earlier in the day it's rock salt and driftwood, and then for the evening it's pomegranate and leather." The brand also offers scents within the collection such as damask rose and oud, orange blossom and sandalwood, and midnight leaf and spice. Agyemang recommends using the softer, lighter scent in the day, and then "I'd switch to the more heavy, luxe scent in the evening. It works well, especially if you're going to have a bath, or you kind of just want to decompress."
Juliet Da Silva, of vintage store Pelicans and Parrots, currently cannot get enough of the candles from Danish company Fabrek, which she first spotted on Instagram. "They have the most beautiful ombré twisted dinner candles in the creamiest pastel colours of lilacs, pinks, and baby blues," she tells the Strategist. "Such an easy, affordable injection of colour to your dinner table, or a mantle. I really love how there is a return to dressing dinner tables with candles, using amazing candleholders and matching linen."
I have found that interiors follow fashion, and I've been seeing the trend for pastel colours to spill into homeware," Da Silva says. "I think with the lockdown everyone was very aware of their surroundings — the need to surround yourself with beautiful objects and be more house-proud, whether you were in a flat share or a big house."
[Editor's note: This price has been converted from Danish kroner.]
The Strategist UK is designed to surface the most useful, expert recommendations for things to buy across the vast e-commerce landscape. Read about who we are and what we do here. Our editors update links when possible, but note that deals can expire and all prices are subject to change.