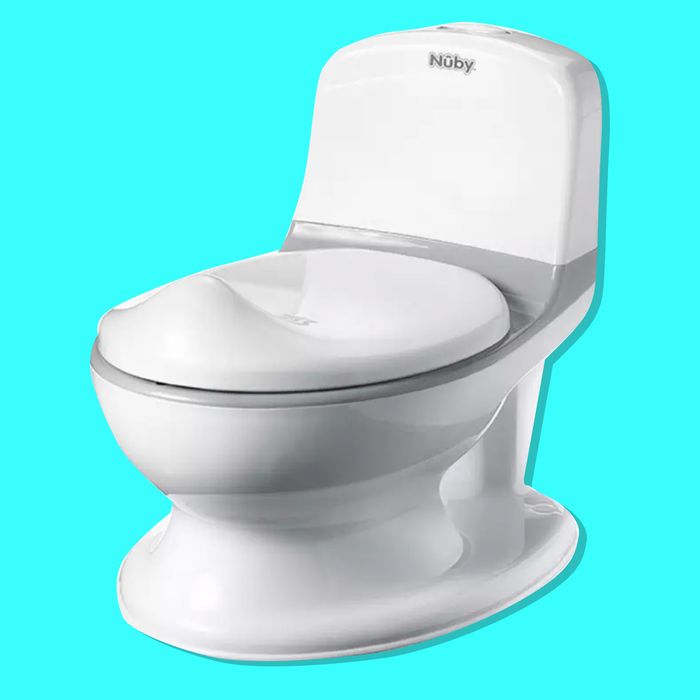 I went into potty training pretty clueless. When we entered the first lockdown last March, my daughter had just turned 2. It seemed like the perfect opportunity to tackle the process. I mean, a month or so stuck in the house was as good a time as any. I ordered the first generic potty that came up on Amazon and presumed all would be well. However, a house full of wet floors, a constant stream of laundry washing, and a very empty potty later, I was ready to give up. But I knew I couldn't keep her in nappies forever, so I started doing some research. After going down another Amazon potty rabbit hole, I came across a whale-shaped potty which I thought might be a success. It was not. Although the whale potty piqued her interest a bit more, she found the idea of actually peeing in it ludicrous.
Exasperated, I WhatsApped a fellow mum friend, whose daughter is marginally older than mine (and who had just successfully been potty trained), to ask her if she had any miracle suggestions. She immediately told me about the Nuby Potty, My Real Mini Size Toilet With Lid and Flush Sound. Her neighbour had recommended it to her before she started, saving her the taxing trial-and-error process I'd just gone through. The key to the Nuby's success is that it looks just like a real toilet, she explained. It had a pretend flush button so enticing that her daughter had apparently taken to it straight away. Mine arrived the next day. At first, my daughter enjoyed lifting the lid up and pressing the flush (which makes a nonirritating, realistic sound). Then, here's the staggering part: Within just two hours of it arriving, my daughter had gone to the toilet on the potty.
There are a couple of reasons why the Nuby potty persevered where others didn't: The design means that it's higher up and sturdier than the other potties I had bought, so my daughter didn't have to struggle to sit down on it, enabling a degree of independence. It also looks like the toilets in our house (which helped her understand the concept), but it's perfectly toddler height. Despite its bulkier design, the Nuby is very easy to clean. The inside pot is removable, so you wash it out (just like a normal potty), and there's also a splash guard to avoid any accidents. There's even a handy compartment at the back to store tissues or wet wipes for easy access.
There was naturally still the odd accident after it was introduced, but they were few and far between. And though I wouldn't go as far as to say it's stylish, as far as potties go, I didn't mind having the Nuby lying around the house. We kept our Nuby downstairs, and if we were ever in the garden or spending time upstairs, we would just carry it with us. For the six or so months we used it, its novelty value drew smiles whenever we had people round in the garden, and the lid meant we could shut the top whenever we liked. Additionally, it's a hot ticket amongst the toddlers in our area. Whenever my daughter's toddler friends were over, they were beguiled by the Nuby and would clamour to use it. Now the Nuby is in the loft, waiting to be used by my second child. But it's good to know that even when it's not in use, it's got a dual purpose. For a while, when she was finishing potty training, I often found my daughter sitting on the Nuby of her own accord — it turns out it doubled up as a handy cartoon-watching chair.
The Strategist UK is designed to surface the most useful, expert recommendations for things to buy across the vast e-commerce landscape. Read about who we are and what we do here. Our editors update links when possible, but note that deals can expire and all prices are subject to change.