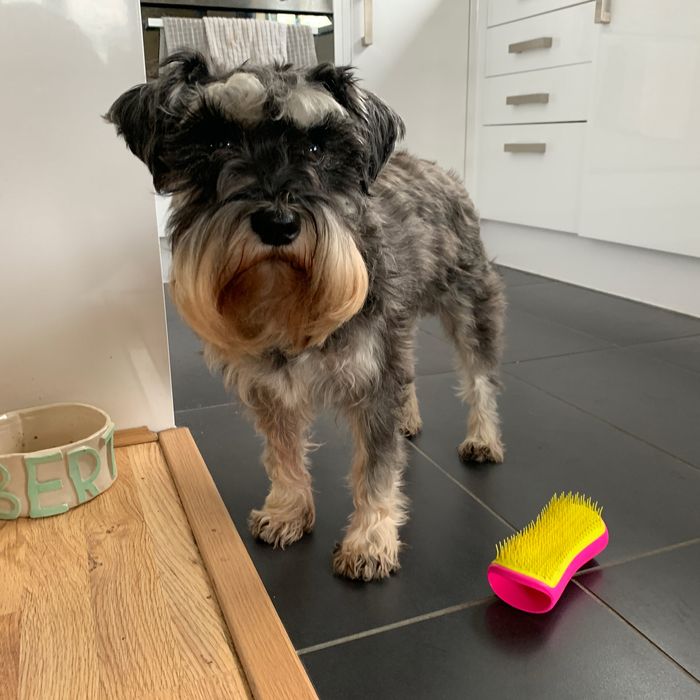 Since my boyfriend and I adopted Bert, age five, just over a year ago, we've Googled the best foods to give him, which toys will keep him entertained while we're working, and why he pants so much when we play with him (turns out, he's laughing!). But the greatest hurdle was how to care for his coat. Bert is a miniature schnauzer, salt and pepper with big, bushy eyebrows and a majestic white beard. He's at his cutest when his coat is long and slightly shaggy, but that's also when grooming becomes somewhat traumatic for all involved.
Miniature schnauzers have what's known as a double-layer coat — a soft, fluffy undercoat and a thicker, more wiry outercoat that acts as a protective layer (Labradors, pugs, and golden retrievers all have the same). On paper this sounds great, but in practice the two have a stubborn habit of tangling and knotting.
Every dog forum, grooming site, and YouTube tutorial told us to brush Bert regularly — at least every other day — to stop this from happening. But as we quickly found, there's nothing in this world that Bert likes less. We're not alone in this — the schnauzer sub-Reddit is full of dogs who also flee at the very sight of a brush. We tried various brushes and combs, including pin brushes (effective but far from gentle) and slickers (good at breaking up knots, not for daily maintenance). At our lowest point, when Bert was looking particularly dishevelled, we resorted to clipping him short. He was not impressed.
One day, while visiting family in Birmingham, I watched as my aunt used a Tangle Teezer on her three young girls (she and 35 million others swear by them). Absentmindedly I Googled "dog Tangle Teezer," wondering if anybody had tried one on their pet. To my surprise, I found that the makers had recently introduced a dedicated Pet Teezer specifically for our four-legged friends.
We bought the standard-size detangling brush (there's also a de-shedding brush and small versions of both). When it arrived, we were astonished to find that not only would Bert tolerate it, he seemed to enjoy it. Like him, the brush is double-layered — there are long teeth that reach down into the undercoat and remove dirt, and short teeth that smooth the outercoat. Both have a certain amount of flex, meaning they don't pull too hard when going through thick or unkempt fur.
Every other day, we brush Bert all over using short but firm strokes. When we do find a matted area (this isn't a miracle worker — they still happen), we use the edge of the brush to go over it backward, gently easing the hair out of the knot until it has been broken up completely. It works particularly well on his beard, which is quite sensitive. The brush goes everywhere he does, even if it's just an overnight stay. As a result of all of this, we're now Pet Teezer evangelists. Every new schnauzer-owner we meet in our local park hears about it, and a few have told us they've bought one thanks to our recommendation.
Some other pet products we like
Strategist contributor Abby Driver is a dog bathrobe convert, thanks to her golden retriever Monty. "At 34kg, Monty is a large golden retriever and the size XL fits him perfectly; you don't want to be stingy on sizing here, as it's the material that gets them dry."
"The Litter-Robot changed my life", writes Jonathan Van Ness. "She's a little bit pricey, but I like it because you really can't smell your cats — and I have four cats, so that's important. It has a motion detector in it, so after the cat jumps out of there, it waits a minute and then it rotates and all the clumps of cat waste get sifted into this drawer underneath the Litter-Robot. Then the clean litter just kind of sifts back through. So it cleans the poo like every time the cat goes in and out of it."
The Strategist UK is designed to surface the most useful, expert recommendations for things to buy across the vast e-commerce landscape. Read about who we are and what we do here. Our editors update links when possible, but note that deals can expire and all prices are subject to change.