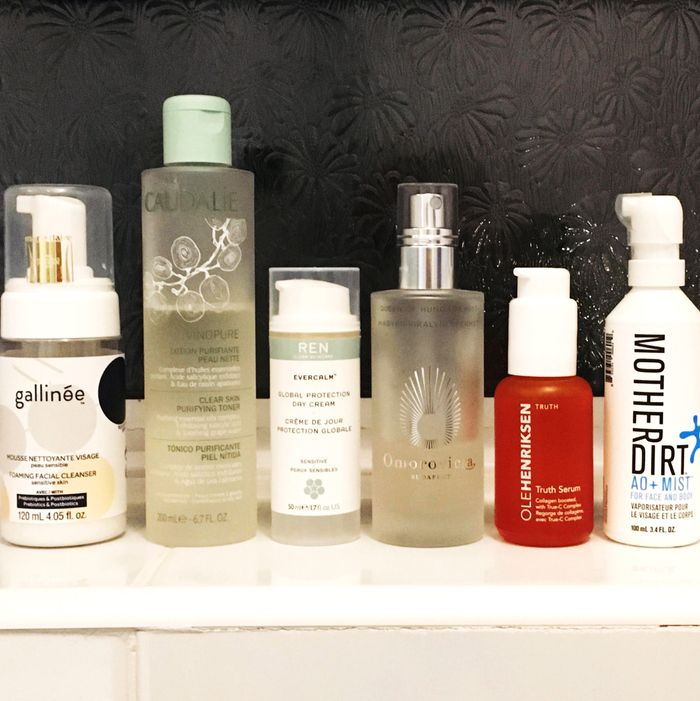 Everything I use on my post-Roaccutane face.
Photo: Courtesy Laura Hunter Thomas
Even on the most virulent, stubborn acne, Roaccutane can perform miracles. However, it can also change your skin dramatically — and permanently. For me, after taking Roaccutane, my skin produces way less oil than before, but it's also incredibly sensitive and prone to random bouts of irritation: Every so often, my face will just break out in violent hives, like an overtired child having a spontaneous supermarket meltdown.
"Cetaphil and a moisturiser" (which was the extent of my dermatologist's aftercare advice) just weren't going to cut it, so I started experimenting. Two years later, I've finally got my skin care routine locked in. Below, the seven products that give me great — not just clear — skin post-Roaccutane.
The cleanser
This foaming face wash is really gentle and doesn't strip my skin, and it also contains prebiotics to support the skin microbiome (the ecosystem on your skin's surface that can determine everything from how effectively your products absorb to how severely you might suffer from eczema). Plus it has a significant aesthetic effect: After using it, my bare skin looks plump, fresh and glowy — everything you hope for from a French beauty product, really. It's not dirt cheap, but given that a single bottle will last me well over a month, sometimes two, I think it's pretty great value for money. You can buy it from online stockists like lookfantastic, but I usually order it directly from the Gallinée website.
The facial mist
The worst thing about my post-Roaccutane skin is that it's now prone to random bouts of irritation. If I wash my face with water that's too cold, for example, I can break out in hives. When this happens, I spritz on this mist (which I first discovered in a Harper's Bazaar beauty box in a total happy accident), and I can literally see it calming my face as I watch, the hives shrinking and the redness fading. The hives will be completely gone in 30 minutes max, and the mist leaves my face looking balanced and dewy for the rest of the day. It's pretty expensive at £55 (for the full-size version), but it's my life-after-Roaccutane hero product, and I'll buy it until either I die or Omorovicza stops making it.
The serum
According to dermatologists, vitamin C — a skin-brightening antioxidant — is a key ingredient in tackling acne scarring. This is because many acne 'scars' aren't actually scars at all but rather marks that can be effectively faded by a good vitamin-C serum. I like this one from Ole Henriksen because it's much gentler than some of the others I've tried, and it's brightened my skin overall considerably as well as erased most of my acne scars. I use it every night after cleansing.
The day cream
I actually don't like to moisturise every day because it makes my skin oilier, but when I feel like my skin needs a bit of hydration, I'll use this cream. It reduces redness and doesn't leave me looking shiny. It has blackcurrant-seed oil, seabuckthorn oil, and camellia oil in it, which are supposed to nourish, soothe, soften, and replenish the skin.
The bacteria spray
Mother Dirt, the US-based brand that makes this live bacteria spray, has been getting a lot of press for leading the charge in live bacteria-based skin care, which is how I heard about them in the first place. (I read an article about the science behind their products in The New York Times Magazine and found it convincing enough to order a bottle of the spray and experiment on myself.) The idea is that the spray helps repopulate your skin microbiome with good bacteria, which helps your skin function more robustly. The result, for me, is less reactive skin (so fewer incidents of breaking out in hives). I apply it every night as the final step in my skin care routine. Though Mother Dirt is an American brand, its products are sold in the UK by Content, a kind of boutique department store specialising in natural and organic products. They'll ship the spray to you at no additional cost, or, if you're based in London, you can pick it up in-store.
[Editor's note: Unfortunately the Mother Dirt mist is currently out of stock, but Content Beauty says they will replenish their stock soon.]
The toner
If my skin starts to look a bit dull or congested, blackheads sprouting across the surface of my nose, that's typically my cue to exfoliate. I can't tolerate the acid masks I used before Roaccutane anymore, so I use this toner instead (after cleansing, no more than once a week). It's gentle but still does the job, leaving my skin smooth and free of dead cells.
The face mask
This face mask gives me 'rich-girl skin'. The sort of poreless, completely even-toned complexion that's the facial equivalent of a cloudless sky on a summer's day. It's absurdly expensive (£90 a tub), but a little goes a long way. I apply a thin layer once a week as part of my everyday routine, as well as before special events for the instant aesthetic payoff.
[Editor's note: The Dr Barbara Sturm Mask is out of stock, but you can sign up the waiting list on Cult Beauty.]
The Strategist UK is designed to surface the most useful, expert recommendations for things to buy across the vast e-commerce landscape. Read about who we are and what we do here. Our editors update links when possible, but note that deals can expire and all prices are subject to change.