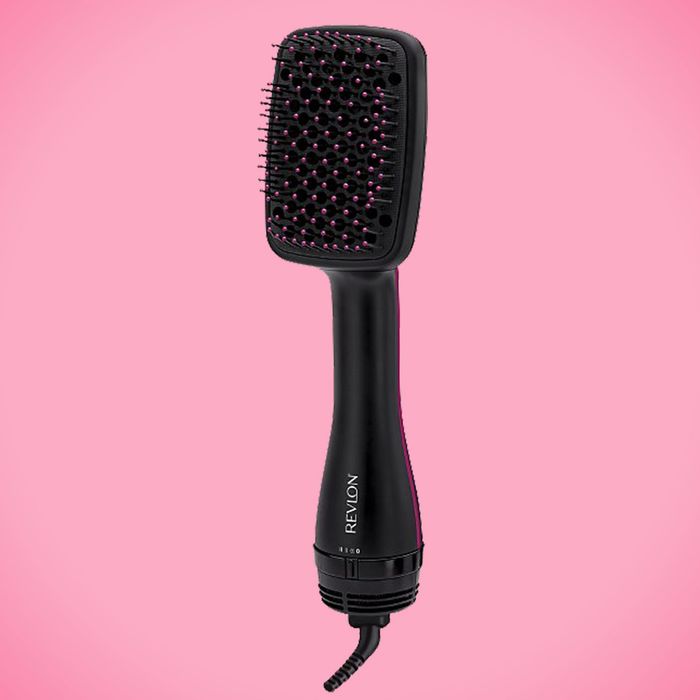 Photo-Illustration: retailer
Up until June of this year, I'd never had success blow-drying my hair on my own. All my life, my sisters and I had relied on our mother to do it for us. You see, to blow-dry my natural hair (which is on the kinkier end of the spectrum), I need a minimum of three hands: tighter, dense curls require careful sectioning for even attention, lest your hair ends up damp in hard-to-reach places. To get the best results, you can't just hit it with hot air: It needs to be sectioned first for even heat application. Then you have to brush each section with an afro comb or brush whilst you dry. Holding a dryer and a brush means no hands left free to section, so, as a process, it's fairly easy to do on someone else's head, but not on your own.
As an adult, I'd pop over to my mum's house around once a month, distracting myself with the television whilst my mum blow-dried. Even with her help, it was tricky — combing tongs snapped, harsh heat would singe my ears. Solo attempts were worse: I found it impossible to complete the brushing, sectioning, and drying motions myself. My curls would be left tightened and difficult to separate, and I couldn't secure the blown-out texture needed to aid other styles.
But then came March. I was unable to travel to my mum's during lockdown, and I was forced to review my natural-hair practices. I frantically searched online for the best potions, lotions and products to help tend to my hair. So when browsing YouTube and landing on Blake Jael's channel, I noticed a strange-looking pink-and-black contraption that seemed to fly through her hair: the Revlon Pro Collection Salon One-Step Hair Dryer and Styler. The dryer combines a hair dryer with a brush, sending out air from vents in between sturdy, smaller bristles. Lo and behold, here was a dryer that didn't require an extra pair of hands.
Discouraged by memories of smoky-smelling tresses and scalp pain, I put off buying it. But as I continued to explore videos about natural hair on YouTube, I kept seeing the dryer, and comments under videos often sang its praises. It was the Amazon reviews that eventually convinced me to buy it. I saw fellow Black women raving about its efficiency and how easy it was to use. And once I'd purchased it, I was hooked: It didn't snag at my hair at all. With my other hand free to help section as I went, my hair was left fantastically blown-out, without a hint of dampness to be found. To check against the claims made by YouTubers, I even set a timer: My hair dried in around 25 minutes, far less than the hour-long attempts I suffered through before.
Now, four months on, my drying routine is locked down: After washing and detangling, I quickly dab hair with an old T-shirt till strands are damp instead of wet. Section-by-section, I apply a spritz of a heat protectant and a light leave-in moisturizer. I try to avoid high temperatures (Afro hair can be damaged by heat if not careful), so I tend to use the medium setting when running the dryer through my hair, giving an occasional switch to cool when I want to bring temperatures down.
Once I was allowed to visit my mum's house again, I took the dryer with me. I was sure she and my sisters would share my excitement, and my mum would appreciate a day off drying duty. All went well, until I had a squabble with my older sister. After I took the dryer out of my bag, she'd demanded to know why I'd gone into her room, and taken her hairdryer. Turns out, we'd both bought the same one.
Some hair products I like
I like black-owned products like Dizziak and Afrocenchix's water-based puddings that provide slip and moisture.
The Strategist UK is designed to surface the most useful, expert recommendations for things to buy across the vast e-commerce landscape. Read about who we are and what we do here. Our editors update links when possible, but note that deals can expire and all prices are subject to change.