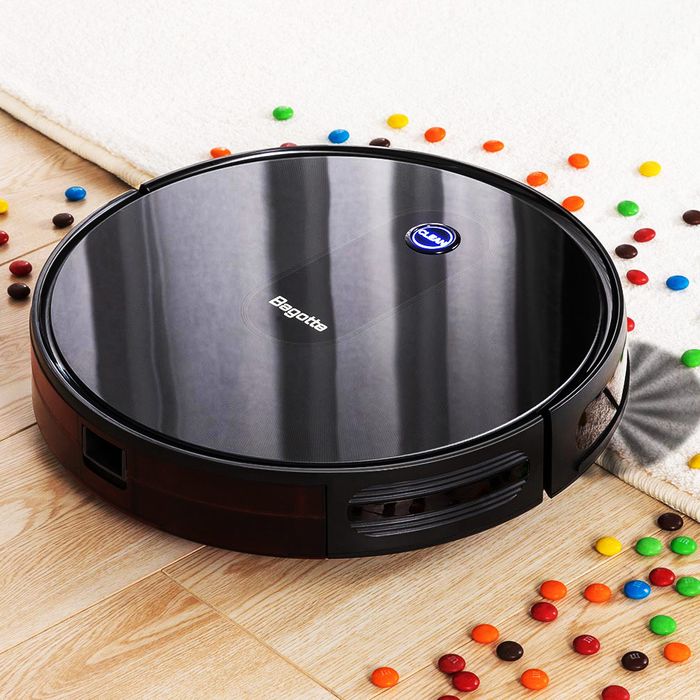 Here at the Strategist UK, we like to think of ourselves as obsessive (in the best way) about the stuff we buy, but as much as we'd like to, we can't try everything. Which is why we have People's Choice, in which we find the best-reviewed products and single out the most convincing ones. (You can learn more about our rating system and how we pick each item here.)
And whilst we've covered lots of technology before — including water flossers, smart TVs, and treadmills — here, we've rounded up the best robot vacuum cleaners for everyone, as praised by the most enthusiastic reviewers on Amazon.
Best-rated overall robot vacuum
A total of 104 reviewers said they would recommend this model to anyone considering a robot vacuum cleaner, and 77 percent of all reviews were five stars. Eufy says this model boasts 1,500 pa suction power (pa, or pascal, being the measurement of atmospheric pressure), which is about average for a carpet-sucking vacuum (those on hard surfaces may only need a pa of about 800). Despite this, 180 positive reviews mentioned the suction power, including the "smart clean" function, where the vacuum senses what surface it is on and varies the power accordingly. It was considered easy to use in 182 reviews, with one reviewer saying it was a game changer for cleaning her four-bedroom house. Another noted that even after vacuuming her carpet-and-wood-floored home with a Dyson, this robot vacuum spent an hour picking up dust and debris she had managed to miss. One weakness reviewers mention is battery life. Though it lasts an hour, the vacuum's battery takes an hour and a half to fully charge. One customer also noted that the suction power stops when the vacuum is low on battery, too — so it often misses areas if it's a bit tired.
Best-rated (less expensive) overall robot vacuum
Photo: retailer
Though Eufy's 11S MAX is technically more expensive than the Eufy vacuum above, it's consistently on sale (in fact, it's remained at the current price for well over a year). It's also very popular, with 78 percent of reviews at five stars. The suction power is higher on this model, at 2,000 pa, and customers praised the cleaning accordingly, especially on carpets. One reviewer said that after the vacuum finishes its nightly 30-minute clean, she has never once had to follow up with her vacuum cleaner to catch any stray bits. Another says they have been left mortified at how dirty their carpets used to be after seeing how much this vacuum managed to pick up, while one homeowner (who also has two black cats) said they've never been able to see as much of their white carpet before. As with the Eufy 30C above, not everyone was impressed with the long charging time: According to one reviewer, it could take up to five hours, but it can be programmed to charge up at a convenient time (such as during the night). Twenty reviewers noted how quiet it was, especially compared to other models.
Best-rated robot vacuum for pet hair
Thanks to the 3,000 pa cleaning power (in other words, double that of the Eufy 30C vacuum), this Proscenic cleaner can handle anything, according to reviewers. One customer says it allowed him to stop sweeping up after his cat every day, while another said the extra mopping function was useful, as their new puppy had been leaving mucky paw prints all over their kitchen tiles. The suction was mentioned in 71 reviews, though several noted that despite the impressive power, it still pales in comparison to a traditional vacuum cleaner — an issue many robo-vacuums face. Seventy-one customers highlighted the mopping function (including one who said it was the sole reason she bought the Proscenic) — though the water tank needs to be replaced frequently, reviewers generally found it a huge time-saver. One woman said her floors were gleaming after leaving this to clean while she went to bed, while another said it did such a good job she's reconsidered hiring a cleaner. But one reader says the vacuum can't distinguish between a hard surface and carpet when mopping, so caution is required if you don't want the vacuum mopping your carpets, too.
Best-rated robot vacuum for battery life
All the robot vacuums we've listed here share the same charging feature: After whizzing around the house (or wherever you've asked the device to hoover), it will return to its dock and charge itself back up for next time. The average battery life before recharging tends to be around one and a half to two hours, but for those with larger surfaces to clean, a longer time between charges may be preferable. This Coredy model holds a full charge for up to 120 minutes, and 31 reviewers spoke positively of the battery life, with one claiming the vacuum covers both the upstairs and downstairs of their home on a single charge. Another customer says they can clean their entire bungalow in one go — they also say how well this device can find the charging dock from anywhere in the house. It's worth noting that if you're using one of the more intensive cleaning modes (the modes include spot cleaning, edge cleaning, max vacuuming, single-room cleaning and manual cleaning), the battery may drain more quickly, as it'll be using more energy. However, 76 percent of reviewers gave this Coredy model five stars, with 70 buyers confident that it's easy to use. The device comes with six brushes in total, an extra set of filters, a remote control with batteries included, the charging dock, and a power adapter.
Best-rated quiet robot vacuum cleaner
Generally speaking, a vacuum's noise level will correlate with the power — the harder it's sucking, the louder it's likely to be. But this model by Ecovacs had many readers shocked at how quiet it was even when working hard. The suction power is just 1,000 pa, the lowest here, but customers remained satisfied by its performance. One said it worked away while she caught up on TV shows and she didn't have to reach for the volume, while another described this as a "discreet" cleaner that he often forgot was even cleaning his flat (this customer also said it was a pet-friendly vacuum — so much so that his cat liked to sleep atop the docking station while it charged at night). It was also described as easy to use by many reviewers, with one even reporting that their toddler got up and turned it on without anyone in the house waking up.
Best-rated robot vacuum with room mapping
The more affordable robot vacuums can't map out spaces automatically; they typically include magnetic strips that limit where the vacuum goes. However, models such as this one by Honiture instead have sophisticated "room-mapping" technology that helps them map out where they're going. One customer, who had been using cheaper models for two years, said this was perfect if you wanted a vacuum that wouldn't clumsily bump around rooms and waste energy going back over places it had already cleaned. Another said it was particularly adept at cleaning under his parrot's cage, which would frequently get messy depending on how excited his parrot was. One customer, writing about the multi-zone function (which allows you to set different cleaning routines for different rooms), said his vacuum was able to focus on messier areas (like the kitchen) and ignore high-risk areas (such as his gym or garage). You can change the suction strength for areas you might expect to need a more thorough tidy-up. This model also comes with a mop function, and thanks to the larger docking station, is able to empty the bag directly into the tower (which Honiture says can fit 30 trips' worth of dust).
Best-rated robot vacuum with mop
As a robot vacuum, this model by Ultenic is highly rated — customers consider it easy to use, and both the battery life and suction power were mentioned as excellent by several reviewers. But the mop function was what made this model stand out — it actually has three mopping modes, and can mop and vacuum simultaneously. Seventy-one customers wrote about the effective mopping, many of whom had given their robot vacuum a pet name (Nigel, Rufus, and Roberto being among the most popular names). The 2,500 pa suction helped this model stand out from other two-in-one vacuum mops, several of which were reported to only lift light marks. Customers said that with a tiny bit of cleaning solution (like Flash Powermop solution) in the water tank, this model could lift even dried-on food stains from tiles or wood floors.
The Strategist UK is designed to surface the most useful, expert recommendations for things to buy across the vast e-commerce landscape. Read about who we are and what we do here. Our editors update links when possible, but note that deals can expire and all prices are subject to change.