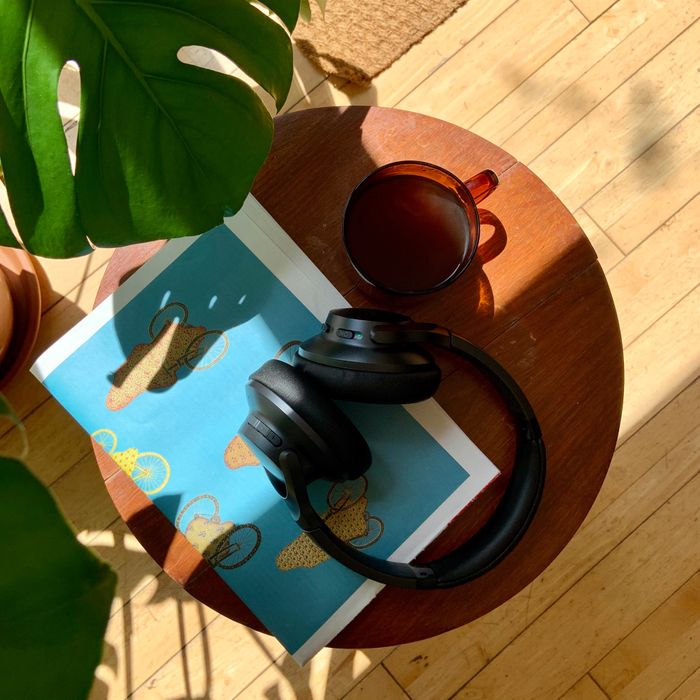 Photo: Jill Chuah Masters
Noise-cancelling, wireless headphones are not news to everyone. But for me, they always seemed a little too expensive to indulge in or a little too cheap to trust. Besides, my five-year-old earbuds did the trick on an evening run or a crowded bus. Then, three months ago, like so many others, I began to work from home. It became clear that my earbuds no longer passed muster. I would crank them up to ear-splitting volume and sit down to work, but all I would hear was my next-door neighbours nattering and my upstairs neighbour learning to play Star Wars themes on the trumpet.
Looking for respite, I started to scroll over-ear headphone reviews. That's when I found the Soundcore Life Q20. For me, they were the first pair of bells-and-whistles headphones that hit that sweet spot: a reputable brand with a well-reviewed model weighing in at less than £50. They'll set you back less than £40 if you're a student — and you sign up for a free StudentBeans account via Soundcore's website — or you snag one of their regular discounts, which Amazon appears to price match. I slammed the buy button and haven't looked back.
The Q20s have all the usual benefits of great headphones. They're easy to use, comfortable, and (for the price) have excellent sound quality. The noise cancelling is even good enough to dull sirens and block rush-hour traffic noise in my bedroom, which overlooks a major London road. Plus, the foam ear pads are big enough to fit snugly around my ears. (No small feat, I assure you.)
The headphones' battery lasts for four full days of desk work or — if you prefer this metric — a weekend of nonstop streaming. And the battery life doubles if noise cancelling is switched off. The Bluetooth signal stretches the full depth of our three-bedroom flat, so I can charge my phone in the kitchen, flick on a playlist, and tidy the whole place without the signal dropping out. It's made the endless cycle of lockdown cooking and cleaning infinitely more bearable. With noise cancelling, I chop and blend and dash to the garden for herbs without missing a word of my audiobook. I dance around, shelving clattering dishes and listening to crystal-clear Charli XCX. Chores feel like silent discos, giving me time to listen to more new albums than ever before. I've never been less grouchy at the kitchen sink.
But the headphones' real merit has been in their impact on my focus at work. I'm the kind of person who needs total silence (or loud, lyric-less music) to get in the zone. The slightest rustle, or just the feeling of someone approaching, is enough to make my ears perk up. And if there's a discernible conversation happening near me? I can't tune it out. Normally, I work in a library — evidently that's not an option right now. But now, in a loud part of East London I put on my Q20s and instantly, I'm less sensitive to sensory changes, less keyed up, able to shrug off distractions and get into a productive flow. Even if I've got no music playing, I can switch on the headphones and finally (blessedly!) enjoy the quiet.
The Strategist UK is designed to surface the most useful, expert recommendations for things to buy across the vast e-commerce landscape. Read about who we are and what we do here. Our editors update links when possible, but note that deals can expire and all prices are subject to change.