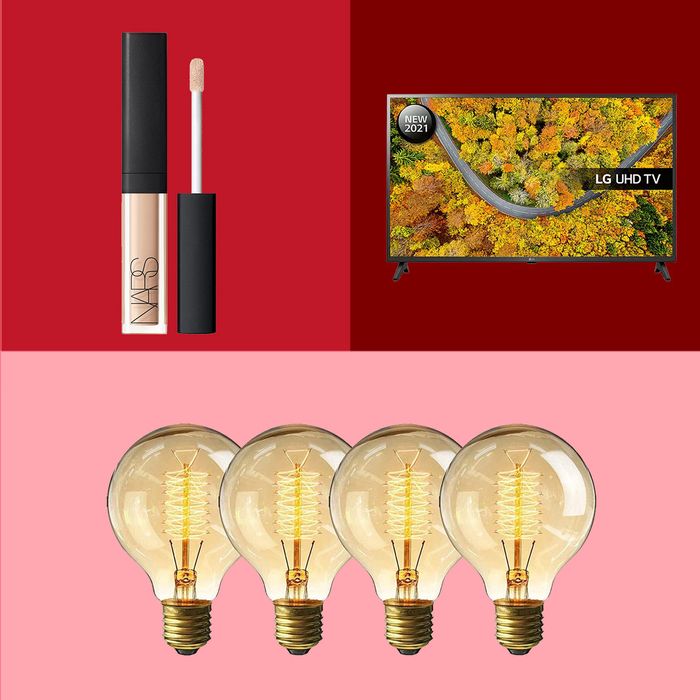 Photo-Illustration: retailers
If you follow our monthly feature "Your Shopping Cart," you know we have some eerily good intel on what you all are buying. Which led us to think that, as Strategist editors, we could turn the tables and highlight all the things we've been buying for ourselves. As you'll notice, it's both a blessing and a curse to be a Strategist editor; we're picky, but sometimes we just have to get on with it. (It's online-shopping expertise meets IRL needs.) Below, what we all bought in September.
Rachael Griffiths, writer
When Marc Jacobs's Heaven revealed a pair of shoes in collaboration with Dr. Marten, I knew I had to snag a pair. I already have a pair of Dr. Martens boots, which I've worn regularly for years with no sign of wear and tear, so I was already a fan of the black leather and yellow stitching. This pair however, with flower shaped eyelets, croc-embossed leather, and a subtle Heaven logo, are the most stylish pair of shoes I've ever worn. They're also exceedingly chunky (with a one-and-a-half-inch soul) and comfy: Between the built-in gel pads and lack of rubbing on my feet, I've not had the Dr-Marten-breaking-in experience I was dreading. Whilst they are currently sold out everywhere, Heaven has a second drop scheduled for mid-October, so I'd recommend checking back for more stock then.
Ailbhe Malone, senior editor
I went to my first wedding since 2019 at the start of September. With a week to go, I realised that I hadn't done any kind of "big" makeup since before the pandemic, and it was probably worth practising before the day itself. I'm glad I did, as my first attempt was atrocious, and also showcased some gaps in my makeup bag. (I did a thorough purge of my makeup bag in April 2020, and recently found that I was short a full-coverage concealer, and a tinted moisturiser). I grabbed a Nars concealer and Laura Mercier tinted moisturiser from Cult Beauty. I've used both of them before, so I knew I could rely on them — but as I'm still not really sure what kind of base I want to wear long term (or if I even want to wear any), I bought both items in a travel size.
I own an extraordinarily flappy linen bedsheet — no matter how I tuck it in, by morning it is ruched up alongside me. I had accepted this, and relegated it to the back of the bedding drawer, when I wondered if there was in fact a solution. I can't remember what exactly I searched for (probably something like "sheet clips"), but after a little hunting, I found what I wanted: a set of four stretchy bands by Luxbon that acted as suspenders for my sheet. There are a couple of styles available — I chose the option that would mean the least hooshing for my mattress, but there is a kind of octopus situation that looks incredibly grippy. I tried the Luxbon clips the other night, and even though I thrashed around, miserable with sinusitis, the next morning, my bedsheet had not moved a jot.
Chris Mandle, writer
When I suddenly needed a new lightbulb for one lamp (after kicking it over while half-asleep), I realised most of the lamps in my flat could do with softer lighting, too. While browsing light bulbs online, I recalled podcaster Arman Neifi (who used to be creative director at the Chateau Marmont) telling me about the filament bulbs he swears by. Not only does he have them in his home, but he takes a box of them when he's travelling in order to improve the often unsatisfactory lighting in hotels he stays at (he even takes them to his parents house when he visits). On a whim, I ordered a four-pack. I can see exactly what he means; these bulbs give off a really ambient light, somewhere between pumpkin and copper in hue. With working from home looking likely throughout the rest of the year, it's particularly nice to transition from a sharper light at my desk to a softer hue that signals it's time to wind down for the night.
It was my niece's second birthday this month, and though I wanted to buy her something large and ludicrous, I settled on a book, as she loves story time. A parent friend gave me a good tip: If you know a child has a favourite book, gifting more by that author is always a safe bet, as the artwork and style will be more familiar to them. When my niece was born, I was in San Francisco visiting friends, and a shop assistant in Folio, a bookstore in Noe Valley, recommended I Want a Dog by Jon Agee. Agee's books are a little surreal but illustrated with big broad brush strokes, so they're nice to gaze at. After perusing a number of Agee's other books in Foyles, I opted for Lion Lessons, in which a young boy learns (from an actual lion) how to roar, pounce, and look fierce. When my niece is older, I want to get her Agee's book on palindromes called, appropriately, Go Hang a Salami! I'm a Lasagna Hog.
I've been threatening to splurge on some nice plates for about a year now, yearning for something a little more grown up than the plain white Ikea ones I've owned for several years. I'd been ready to pay a little more, too, until a recent trip to the big Sainsburys, where I saw their Habitat homeware selection included some soft grey plates that were exactly what I was after. They have a slight lip and, despite the ceramic finish, are dishwasher safe. Better still, four of them cost me just £15. They're a solid dupe for the lipped plates I'd seen at Cox & Cox and Monoware, and cost a third of the price of a similar-looking set from Our Place.
Rosie Percy, senior audience-development manager
This month I went through a breakup, which quickly changed my shopping priorities, and top of the list was a new mattress. My prior experience of mattress-shopping was limited, but luckily I work for the Strategist, and my colleague Ailbhe recommended Emma for their consistently high reviews. Even better, I found the Emma Original — the brand's signature memory foam mattress — on sale.
It arrived in just a few days, complete with instructions and a handy cutting tool to release the vacuum-packed mattress from its thick plastic. It was unboxed and unwrapped within ten minutes and was fully puffed up within half an hour, whereas the last vacuum-packed mattress I bought required 24 hours of re-inflating. It was so efficient that I could put on my favourite linen bedsheets and sleep on the mattress that night. It's a bit firmer than I like, but Emma offered to send me a softening mattress topper free of charge. I also have 200 nights to trial the mattress and return if it's still not right, which is reassuring when investing in something as important, and expensive, as a mattress.
Another thing that needed replacing was my television. The previous TV was an eBay buy from four years ago that had started to show signs of wear with darkening pixels and dodgy connections, so I wanted something fresh — especially with new seasons of Sex Education, Drag Race UK, and The Great British Bake Off coming up.
LG had ranked well in our roundup of the best-reviewed Smart TVs, so I found one of their 2021 models on John Lewis that included an additional five-year guarantee. I had never set up a TV before, but this one couldn't have been easier — all I had to do was push the legs on, plug it in, and turn it on. All major streaming apps and catch-up platforms are pre-installed, so within minutes of connecting to the internet I was watching what the students at Moordale were up to. I especially love the branded buttons on the remote for streaming services including Netflix, Amazon Prime Video, and Disney+. Just one press from standby turns the TV on, opening on the platform you've chosen, all within seconds. I'll be spending the time I save on loading and buffering on binge-watching another episode.
On the occasion that I forget my favourite Bramley hand sanitiser and have to use provided pumps in the supermarket, I'm left smelling of pure alcohol and feeling sticky. But then I tried Noble Isle for the first time when I visited a local independent store to buy a birthday card. An absent-minded pump quickly turned into me obsessively smelling my hands and sniffing the sanitiser bottle to make sure I'd got it right.
The official scent of this hand sanitiser is wild samphire with base notes of moss and cedar wood, but to me it's more like a cross between a sea breeze and a man I'd like to date. Imagine Harry Styles on the Amalfi Coast. It's fresh and clean, but with an undertone of an expensive aftershave. The gel contains 75 percent alcohol to effectively kill germs and bacteria too, and sinks in easily without leaving a tacky trace.
The Strategist UK is designed to surface the most useful, expert recommendations for things to buy across the vast e-commerce landscape. Read about who we are and what we do here. Our editors update links when possible, but note that deals can expire and all prices are subject to change.