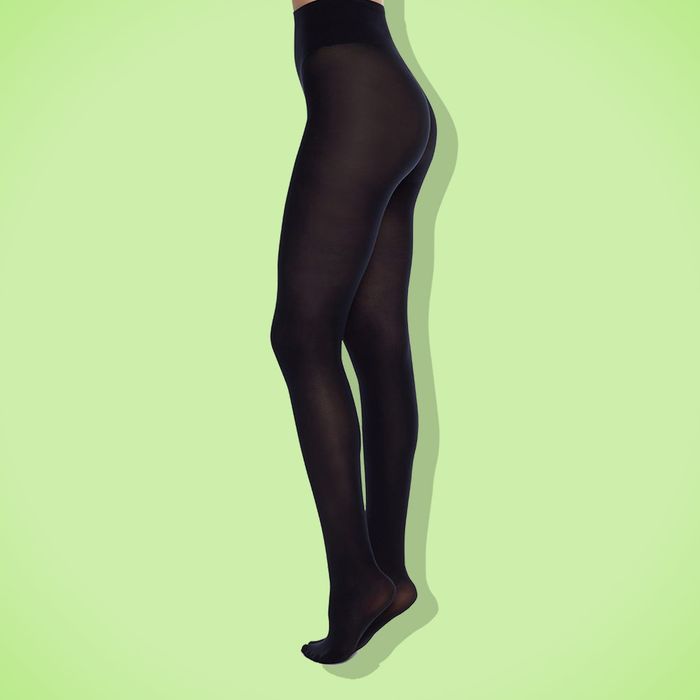 Photo-Illustration: The Strategist; Photo: Retailer
Many years ago, I made the mistake of buying a six-pack of stockings from Costco. Although they were very cheap, they tore at the slightest agitation, sometimes even as I was putting them on. The material was itchy, and they twisted uncomfortably throughout the day. After all six pairs fell apart in less than a week, I vowed to never buy stockings at the supermarket again. Following that experience, I overcompensated by picking up my first pair of tights from the luxury Austrian brand Wolford for around £40. It was the most I'd ever spent on stockings, but I felt justified for their durability and how comfortable they were. I bought a few more at around £30 to £40 a pair, and they all lasted me a long time.
Fast-forward to earlier this year, when my last pair of Wolford stockings finally ripped. With no real need for £40 stockings in the dead of winter during the lockdown, I opted for something a little less strenuous on my bank account. On the recommendation of a friend, I ordered some tights from Swedish Stockings, each pair between £15 and £21. The self-proclaimed "only sustainable hosiery brand worldwide" uses recycled yarn to make their products in an effort to save nonbiodegradable nylon from planned obsolescence and landfills. I loved the idea, and the many patterns and colours they came in, and couldn't wait to test them out for when the weather became stocking-appropriate.
Sure enough, as spring rolled around, I put them through their paces with a few unintentional tests. The first of these came on a jaunt near London Bridge with my bubble. One sunny afternoon, I showed off a pair of handsome navy-blue tights as we walked down to the sandy shore of the bankside beach, trailing along the south side of the Thames and skipping small stones. When it started to get colder and darker, we ascended stone stairs to street level, only to find that the small metal gate at the end was locked. Not wanting to double back, we climbed over a boulder that acted as a fence. I'm not the most graceful person at the best of times, so lumbering over a large rock was anything but a smooth move. When I managed to climb down on the other side, my tights were caked with dust and sand, but a light brushing made them as good as new, without any tears.
A few weeks later, buoyed by my newfound ardour for injecting a bit of adventure into walks, we wandered around Wapping in London, along the Thames Path. I wore comfortable black net tights that were not nearly as garish as one might assume. They looked like regular black stockings from afar, revealing their intricate patterns only upon closer inspection. We walked underneath the dockside buildings, close to the water. Then disaster struck: The tide, which had been low enough to allow a metre or two of walkable space, suddenly rolled in and splashed as high as our knees. We turned back, shoes drenched as we screamed in both mirth and terror. The water continued to rise in waves, and I wondered if we were going to be swept away by the fierce tide. But we made it back up, our legs and shoes dripping with Thames water. We sat in the sun and dried our attire, laughing at the ridiculous situation we got ourselves in, as if we were teenagers again. My tights dried quickly, and despite the challenges I threw at them, they were completely intact, ready for more adventures.
Now here's a shameful little secret about me: For all my enthusiasm about sustainability, I'm terrible at doing the laundry. I've never separated my clothes by colour, I sometimes throw woollen knits into the dryer, and when my clumsy self spills something colourful on my garbs, they sit in my laundry basket for about a week before hitting the wash. A good percentage of my loungewear have a weird stain on them that will never be removed. On the flip side, I've also been complimented for my skirt that is "such a nice grey-blue colour," an item of clothing that had previously been white before a particular washing mishap. I have plans to change my ways, but for now, my clothes suffer quietly through every laundry cycle.
Swedish Stockings offer advice on how to care for their products, and although I've read them, I'm dreadful at following through. More relentless than boulders or rising tides, my laundry habits have caused the downfall of many less sturdy items of clothing. But these tights have gone through several washes now, and every single one is still completely intact. I might treat myself to some Wolford stockings as the world opens up again — and special occasions call for special tights — but Swedish Stockings withstand the test of my capricious everyday use.
[Editor's note: Whilst Sandy's exact black net tights are currently out of stock, we spotted this similar style that's available now.]
The Strategist UK is designed to surface the most useful, expert recommendations for things to buy across the vast e-commerce landscape. Read about who we are and what we do here. Our editors update links when possible, but note that deals can expire and all prices are subject to change.