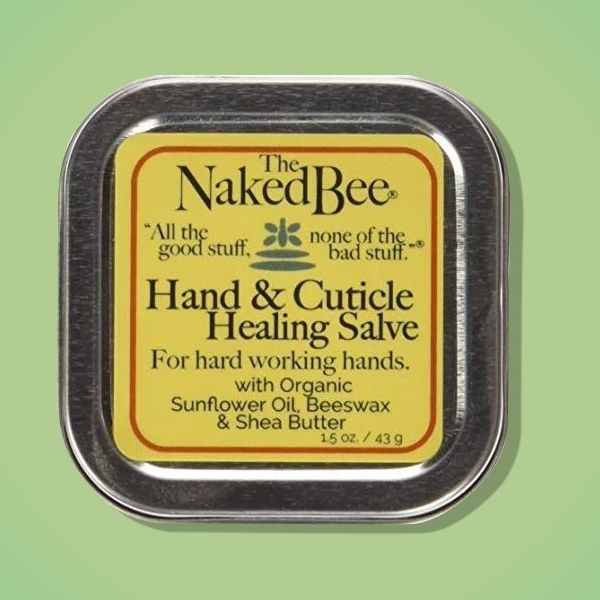 Photo: Courtesy of the vendor
I've had stress-induced eczema my whole life, and outbreaks range in severity from a mild, raw itch to complete boiled-lobster level, and they always last a few weeks, if not longer. I've had it on my legs, my scalp, and on my arms, but I get it with the most frequency and intensity on my hands, which are, of course, the most inconvenient place to have a painful sensitivity to touch! (You try rummaging through your wallet for your Oyster card when your hands are on fire.) When I'm at my worst, I use a prescribed steroid cream, but I avoid it when outbreaks are milder because it's greasy, smelly, and ends with me leaving icky fingerprints on my keyboard, the fridge handle, the doorknob, my clothes, you name it. So when the steroid isn't absolutely necessary, my hero is the Naked Bee's Hand & Cuticle Healing Salve.
Funnily enough, I was first given a pot of this by a doctor! Full disclosure: That doctor was my sister-in-law (shout-out to Marie!), and the salve was offered as a nice, pampering souvenir from her trip to Colorado and not in any way, shape, or form as a prescription for helping out with my eczema problem — I'm not even sure Marie knew I had eczema at that point. But help it did.
All natural and made from beeswax, as you could probably guess, it's also got sunflower oil and shea butter. It comes in a pocket-friendly metal tin, and I've found it the perfect solution for my flayed hands.
I use it most days, in the morning and before bed. When eczema rears its angry red head, I apply it a bit more liberally and at concentrated spots. A few weeks ago, I had a really funny, small breakout (one fingertip, almost below the nail; how annoying is that?) and it was driving me crazy — to the point where if it spread, I was definitely going to have to pop to the pharmacy for the greasy muck that is my steroid cream. But some extra care with the Naked Bee helped keep it in check, giving me a nice little layer of protection that absorbed into the skin over time. Now that it's healing, I just rub the salve into my hands as usual, and the skin is re-softening over time.
That pot that Marie gave me two Christmases ago is still going strong, even though I go through periods of using it several times a day. But when I am ready for a refill, I won't have to trek to Colorado to get it, thank God — it's online, and trust me when I say I'm going to stock up. For £12.39, it's value for money — the rare beauty product that literally does what it says on the tin.
The Strategist UK is designed to surface the most useful, expert recommendations for things to buy across the vast e-commerce landscape. Read about who we are and what we do here. Our editors update links when possible, but note that deals can expire and all prices are subject to change.