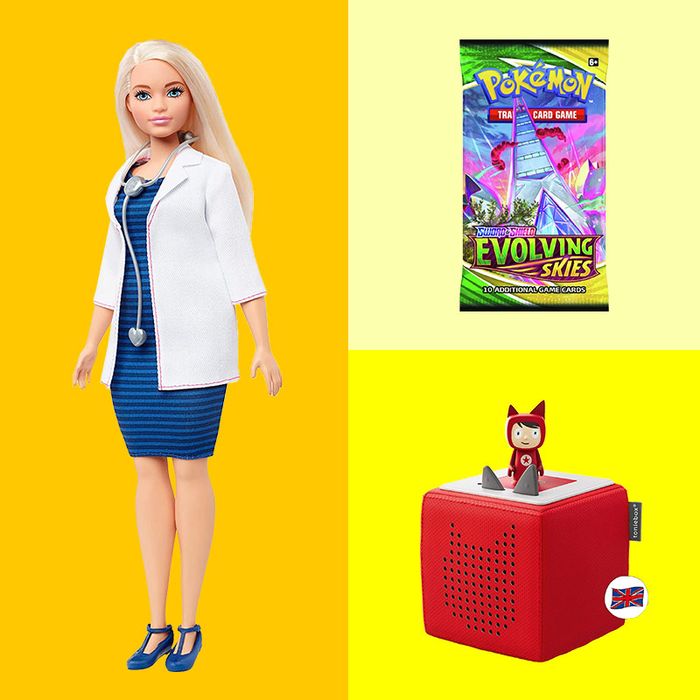 Photo-Illustration: The Strategist; Photos: Retailers
Whether you're a parent, a sibling or a godparent, you're probably working your way through your Christmas shopping list for the little ones in your life. Every December there's a rush on toys, but this year it could prove especially difficult to get hold of the most popular toys due to "a perfect storm" of supply issues, according to Rachael Simpson-Jones, editor of trade magazine Toy World. "Container shortages, staffing issues, a chronic lack of HGV drivers… added up, these could lead to challenges when it comes to finding and buying the most sought after toys this Christmas," she says. Her advice: "Shop early!"
We've spoken to nine experts — including trend forecasters, parent group founders and toy shop owners — to investigate which toys are going to be at the top of kids' wish lists for Christmas (and festive birthdays) this year. Plus, we've also got gift guides for younger kids, including 6-month olds, 1-year-olds, 2-year-olds, 3-year-olds, 4-year-olds and 5-year-olds. Read on to find out which toys you'd be wise to add to your basket sooner rather than later.
Just FYI: To prevent disappointment, we have checked the shipping times for each item to make sure that they'll arrive in time for Christmas. Take a look at the delivery notes on each toy for specific details.
This year's hottest overall toy
Tipped to be the sell-out toy of the year by three of our experts, "Magic Mixies is unlike anything else on the market," says Simpson-Jones. "It offers kids magic and excitement in a way they won't have seen before." Magic Mixies are similar to L.O.L. Surprise! Dolls (which featured in our story on 2020's hottest toys) in this respect, as they are both "unboxing" toys (play that involves opening layers to reveal surprise elements). But with Magic Mixies there's an extra enchanting element, as children must cast a spell to reveal the cuddly toy, as Peter Jenkinson, CEO at Toyology explains: "You add the magic ingredients, wave the wand over the top and the cauldron starts to mist over. Then there's a rumble from the bottom, the mist settles and a toy appears from nowhere."
Simpson-Jones adds: "It really is impressive to behold and I think it'll be on many a letter to Father Christmas this year. What's more, refill packs mean kids can enjoy the magic again and again." Further evidence this will be the toy of the year comes from the US, as Frédérique Tutt, global toys-industry analyst at market-research group NPD, notes: "Walmart's online store is already out of stock of one of the two colours."
Last date to purchase: December 22. Whilst both Amazon and Smyths offer two-working-day shipping for this item, Smyths recommend ordering at least a week in advance of Christmas in case of any unforeseen delays.
This year's hottest Lego
"Building sets continue to be super popular and we think that will continue again for Christmas," says Tutt. "Lego Harry Potter has been fueling the market." This 6,020 piece Hogwarts set is packed with intricate details as well as 27 microfigures, including Harry, Hermione and Ron, who can dine in the great hall, visit the Whomping Willow and battle the Basilisk in the Chamber of Secrets.
Last date to purchase: December 22. For all of its products, Lego advises ordering from Lego.com before the 20th of December for guaranteed Christmas delivery with standard shipping. (With express shipping, this date is slightly later, on December 22.)
Playing with Lego usually involves creating physical structures, but with the Vidiyo range children can create their own music videos using augmented reality. Sarah Riding, research and trends director at The Insights Family, thinks these sets will prove very popular, as they combine the traditional fun of Lego building blocks with an added creative digital element, which allows children to make something unique.
This year's hottest electronic toys
"A PlayStation is the second most desired new 'toy' after Lego for kids aged 6-16," says Riding. "The lack of availability last Christmas for the new PlayStation 5 is likely to have further fuelled the desire for ownership this Christmas too."
Since its UK launch in November 2020, Sony has struggled to keep up with demand for the PS5 due to a shortage of microchips that are needed to make the console. So, if you find a PlayStation 5 available to buy it is worth snapping it up straight away, as it frequently sells out on Amazon, GAME and Argos whenever there is a restock. [Editor's note: This product is currently out of stock, but we're checking retailers frequently, so watch this space].
Portable "carefully connected smart speakers" for children are having something of a moment, according to Riding, so she expects to see two among the bestsellers this Christmas. Sonia Whiteley-Guest, strategic business consultant and founder of All About the Doll, believes this is because Coronavirus lockdowns have led to a renewed interest in screen time alternatives and more traditional activities like listening to audiobooks. The Toniebox speaker was mentioned by Riding, Whiteley-Guest and Jenkinson. It is easy for young children to use, as to start the audio you simply place a figurine of a character, (such as The Gruffalo, Spot or Paddington), on top of the player. There is also the option to record yourself reading a story to be played back.
Last date to purchase: December 15. Whilst shipping times between Amazon sellers vary, the 14th of December is the last day to order for guaranteed delivery before Christmas. From Toniebox directly, this date is the 15th of December.
Instead of a figurine, the Yoto Player uses cards that are preloaded with stories or music, and you can also record yourself telling stories onto blank cards. The Yoto is predicted to be popular this Christmas by both Riding and Nigel Clarke, CBeebies presenter and founder of Dadvengers. He likes that it features a pixel display, which "really brings books to life" by showing pictures of characters and changing as the story develops. "It helps get children interested in books and reading in a really lovely way," he explains. There are just three buttons, so it is easy for children to use. Plus, unlike the Toniebox, it can be used as a bluetooth speaker to play music from streaming services and children can access a daily free podcast and Yoto Radio.
Last date to purchase: December 23. Both Amazon and Yoto offer expedited two-day delivery on this item, so customers should purchase before 3 p.m. on the 23rd of December.
This collection of audio cards features six stories by Julia Donaldson, including Zog, Stick Man, and The Highway Rat.
Last date to purchase: December 23.
This year's hottest PAW Patrol toy
Jenkinson predicts this huge 91cm tall playset will be "one of the toys that sell out the quickest" this Christmas. "It's expensive and it's as big as a small Christmas tree," he says. "But there's a trend for buying fewer, more considered, purchases that have got longevity and The Paw Patrol tower is a good example of a toy that has longevity because aunts and uncles can buy figures to go with the set."
Last date to purchase: December 22. This item is currently sold out, but Smyths expects it back in stock between the 11 to the 17 of December (as above, it also advises customers to order around this time, in case of any unforeseen delays). In the meantime, Amazon has a two-day-delivery option, so customers have up until the 22nd to order.
Last date to purchase: December 19. Amazon is currently predicting delivery in around five days for this toy, so customers should order on or before the 19th of December.
This year's hottest dolls
"Barbie is still huge," says Jenkinson, and Simpson-Jones concurs: "Barbie has enjoyed a really good year. We're hearing from some retailers that Barbie sales are well up, particularly the Careers line. The dolls are more diverse and representative than they have ever been. The brand's ethos is 'You can be anything', and that message really resonates with today's kids." Once thought of as solely "girls' toys", Barbie's fanbase is also becoming increasingly diverse. "Lockdown restrictions led to more sibling play and boys and girls have influenced each other and their choice of toy," explains Riding. "Barbie's focus on creating aspirational role models, which align with the values of young children today, are likely to make this toy a must-have this Christmas and not only for girls."
Last date to purchase: December 22. This toy is available with two-day shipping on Amazon.
Pamela Djima, founder of Our Kids Trove, which stocks toys from black-owned businesses, says she has noticed customers are now looking for "more meaningful toys". "They're really thinking carefully about the messages that are conveyed by different toys," she explains. "For example, we've noticed a lot of interest in this doll with vitiligo. A lot of parents are drawn to it because even though their child may not have vitiligo themselves, they want to convey those messages of being inclusive and that beauty takes different shades and hues."
Last date to purchase: December 17th. Our Kids Trove advised customers to place their orders by the 17th, to ensure Christmas delivery.
This year's hottest STEM toy
GraviTrax is one of the toys that is most frequently mentioned by children in The Insights Family data, according to Riding. It's a buildable marble run that allows children to experiment with gravity, magnetism and kinetics. Clarke describes it as being "like Domino Rally, but less frustrating, as if you build it right, it works every time". You can follow instructions or build your own creation, and with expansion packs featuring fun elements like little trampolines for the marbles to bounce off, Clarke says this toy "has longevity" and is one parents will find fun too. "My son and his mates like to challenge each other to build things," he says. "So it's a good way for children to bond with their mates as well."
Last date to purchase: December 23. John Lewis has next-day delivery on this item, but its cut-off points do vary, so it advises customers to purchase sooner rather than later.
This year's hottest fidget toy
Natalie Duvall, Black Mums Upfront podcaster and co-owner of March Muses, supplier of Black Christmas decorations, expects "fidgets and squishies" will be popular this year. In particular, this "ever-popular fidget selection box designed to relieve anxiety" is predicted to be a top seller, according to Joanna Feeley, founder and CEO of Trend Bible, as parents will be "opting for sensorial toys that soothe and calm children".
These toys – designed to keep hands busy and minds calm and focused – have been the surprise success story of recent times, with a fidget popper advent calendar among Amazon's best-selling toy calendars this year. "I will never understand what they do with them, but it keeps both my daughters busy for hours," says Duvall.
Last date to purchase: December 22. Amazon is offering two-day shipping on this item.
This year's hottest collectibles
Collectible dolls and figurines always do well at Christmas and "this year there's a new kid on the block in the shape of Among Us," says Simpson-Jones. Simpson-Jones says it has been "huge throughout the pandemic" and "the digital game's success has translated into toy sales." You can buy these 4cm figurines individually or in sets of up to eight – and there's a surprise element as at least one figure is always hidden from view in the pack, so you won't know which you've got until you've opened it.
Last date to purchase: December 22. Amazon is offering two-day delivery on this item, as is Smyths.
The L.O.L. brand has been around for five years now, but "it is still going to be really hot this year," says Jenkinson as "people who have been collecting it are going to want more to expand their sets". To tie in with the newly released Netflix movie there is a new mega playset which contains an impressive 70 surprises and 12 dolls to unbox. The packaging even becomes a movie studio with four stages and a green screen movie theatre. A mobile phone tripod is also included so children can film their own movies, with their new dolls as the cast and crew.
Last date to purchase: December 19.
This year's hottest jigsaw puzzle
"We actually sold out of this puzzle last Christmas and it continues to be really popular, so I think it will be a big hit this Christmas," says Djima. "Parents and carers are drawn to it because it's fun but also educational as it has landmarks on it. It's also a great conversation starter as parents can say: 'Our cousin lives here. My friend is there'."
Last date to purchase: 17th December.
This year's hottest cuddly toy
NPD has noted an increase in sales of plush toys and Tutt says this is in part due to the popularity of Squishmallows. "I think retailers are really struggling to get enough of them because the brand is on the fire in the US, it has gone viral on TikTok and social media," she says. "So if you want to buy your child one, just get on with it straightaway."
Last date to purchase: December 22. Smyths is offering both Standard (3-5 days) and Premium (1-2 days) shipping on this item.
This year's hottest stocking filler
"Pokemon is the number one programme in the world, there's nothing that sells more," says Tutt. The success of the trading cards is down to "the playground 'marketplace' and word of mouth" which have been driving trends this year, according to Simpson-Jones. "We know the swappability of these among friends is a huge part of the fun," she says. "Never underestimate how powerful kid-recommendations can be."
Last date to order: December 23. Amazon is offering fast-track shipping on this item (with some areas benefiting from same day delivery), but slots are filling up fast so as always, don't dillydally.
The Strategist UK is designed to surface the most useful, expert recommendations for things to buy across the vast e-commerce landscape. Read about who we are and what we do here. Our editors update links when possible, but note that deals can expire and all prices are subject to change.