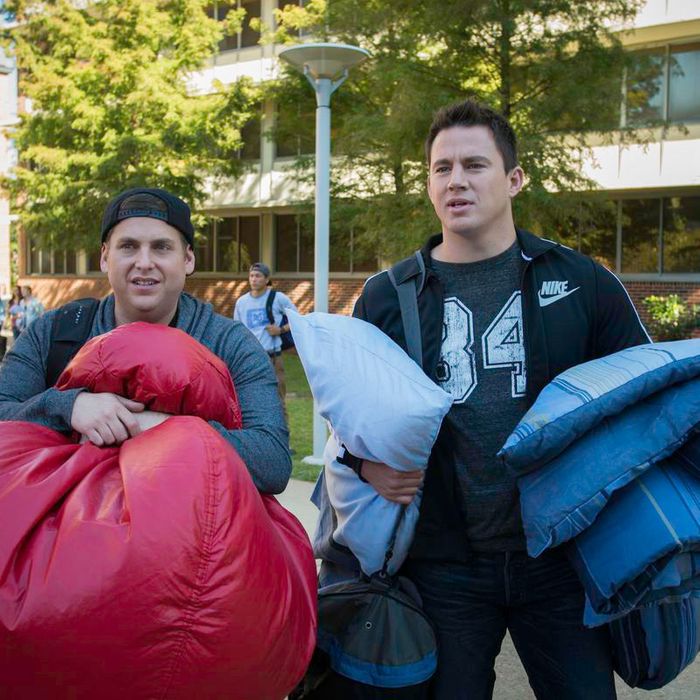 I spent the summer before university thinking about TOG ratings. My 18th-birthday party was haunted by the unit used to measure the insulation rating of a duvet. I spent sleepless nights calculating the average climate difference between Liverpool and Durham (up to five degrees, if you're interested) and desperately seeking suitable TOG-age. With the benefit of a degree and four years of hindsight, it's clear to me now that my anxieties around moving away manifested themselves — rather potently — around my bedding.
I found myself poring over dozens of "freshers survival guides" online, stressfully attempting to square what I actually needed to pack for the big move. However, I found that as someone with a basic grasp on how to be a human already, guides reminding me (for the umpteenth time) to pack a pen, a towel, and some batteries were less than helpful. Whilst it's obviously important to pack the essentials, there were lots of bits and bobs that I found myself sorely missing during those first weeks of halls. In the first week, I had to beg second-year friends to deliver Bonjela to my dorm, and on a second-week (tearful) call to my mum, I'd already begun to scribble a list of items I'd definitely be packing for term two.
So, without further ado, here is that list of items that you absolutely should not forget to pack for uni, from a recent grad who wishes that she'd remembered them herself.
Photo: retailer
If you want to avoid the ick of communal living, it is crucial that you invest in some sliders. This especially rings true if you're sharing a bathroom with others; as someone that shared a shower with eight other women in my first halls, I cannot stress enough how easy it is to pick up athlete's foot from even one shower. As they were a bit of an afterthought, I picked up the first pair of sliders I found in the Durham market hall, but ended up having to repurchase that year due to the absolute battering they were subjected to. At the start of second year, I splashed a bit more on a pair of Adidas slides, and they endured for a respectable two years, all the way up to graduation. They're waterproof, easy to clean, and actually sort of stylish, meaning that you won't cringe when having to dash outside in a pair to meet the Deliveroo guy.
In addition to being disgusting, people are also thieves. Even the most well-meaning flatmate can be tempted by a big bag of Sensations, or perhaps confuse your bottle of rosé for their own. Simple storage boxes are ideal for keeping your best treats out of the eyeline of others, or for providing a late-night snack when the kitchen seems too far away. With a sealing lid and slimline shape, they also slide neatly under your bed or desk, meaning that they won't clutter up your room.
Whether you're a drinker or not, Freshers' flu is unfortunately inevitable, and if you're prone to ulcers, they're bound to crop up in the first couple of months. Speaking from miserable personal experience, attempting to remember the hometown and degree subject of your 20 newest acquaintances is made near-impossible whilst simultaneously battling the urge to stab an open wound with your tongue. In these situations, a little dab of Bonjela goes a very long way.
A standard first aid kit is an essential to have in any home you might live in, and halls are no exception. You can either source the items in your first aid kit individually, or you can purchase a fully stocked one. This one from Amazon contains (excluding a thermometer) all of the items recommended to us by first-aid experts.
In early days especially, a stop to keep your room ajar is a welcoming beacon to your flatmates. After my books were unpacked and my parents were firmly back on the M62, I sat in my room overhearing chatter from the halls, worrying I was wasting my freshers week, and feeling a little bit alone. Once I swung my door open, it helped tether me back to reality, and to quickly realise that everyone else was also nervous. Within an hour, I'd popped my head out to say a quick "hello" to my arriving neighbours, met those that had already unpacked, and even made some plans to head to dinner together. Later on, in summer months, having an open door to air out your room during an exam-season heat wave is also not a luxury to be ignored.
I cannot tell you how many times during my first term that a group would organise a party or a pre-drinks session and forget to bring a speaker. Our one friend that did remember to bring one was remarkably didactic about the playlist, and by Christmas I simply couldn't hear "Glue" by Bicep one more time.
When I went home on break, I noticed that quite a few of my friends had upgraded to an Echo Dot. I didn't know much about speaker specifications back then, but the sound quality seemed great, and I liked how the voice-control function meant that nobody could monopolise the playlist for too long. I asked for one of my own as a last-minute Christmas present, and I still use it to this day. In addition to functioning as a speaker, the timer function is great to remind you when your dinner is done cooking, and of course the alarm is loud enough to make sure you never sleep in for a 9 a.m. seminar.
On evenings where I remembered a piece of work I had to have for a next-day seminar, I wished more than anything I'd thought to buy a printer. Having the option to print directly and skip the slog to the nearest library saves an infinite amount of time and hassle, so much so that in my second year I made sure to purchase one of my own. As you'll probably only need to print off very basic things such as essays and reports, there's no need to splurge too much. This model from Canon is inexpensive as printers go, but crucially, the ink cartridges it requires are also on the cheaper side, meaning it might actually be cheaper than university printers.
For those desperate to know how I resolved my TOG issue, the answer was simple: buy a year-round 10.5 TOG duvet, and then purchase a thick blanket to throw on top. I opted for this Teddy Bear throw from Dunelm in a rich chocolate shade. I could write endless odes to snug blankets like these: They add some character; you can loan them to a friend who's sleeping on the sofa; they're ideal for summer months where a duvet would be too much. Paradoxically, though, I found the blanket infinitely useful for helping to prevent napping: If between classes I avoided getting properly snuggled up in my duvet, and wrapped my trusty throw around myself instead, I found my productivity, attendance to lectures, and overall general hours of consciousness dramatically increased. I'd advise buying a throw in a dark colour that can be easily washed — for obvious reasons.
The Strategist UK is designed to surface the most useful, expert recommendations for things to buy across the vast e-commerce landscape. Read about who we are and what we do here. Our editors update links when possible, but note that deals can expire and all prices are subject to change.