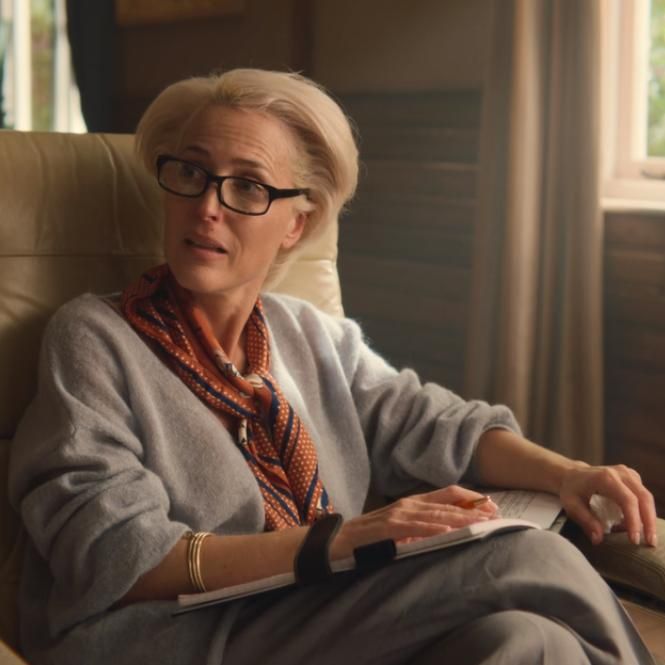 Choosing the right glasses is not as straightforward as, say, picking out a new T-shirt or a pair of jeans. There is a wide range of different shapes, sizes, and colourways to consider, for one — but what makes it extra hard is knowing that whatever you choose, you'll likely be wearing them on your face for a considerable amount of time. While sunglasses are an opportunity to push the boat out in terms of different styles or materials, glasses could err a little more conservative — after all, you might be required to wear them in a meeting, or even at a job interview. We've already asked cool people about the best men's glasses, so we reached out to some women with excellent taste (including Strategist staff, a film critic, and the owner of a seafood truck), as well as some notable famous people whose opinions we trust, too. We've also factored in some already expert-approved glasses that are unisex. Whatever style you opt for, we're confident our guide will help point you in the right direction.
Best-rated overall women's glasses
Ace & Tate was the best-rated overall brand, with two writers speaking highly of the inexpensive frames (the unisex brand also came highly rated by our stylish male experts, while a British Vogue editor told us its sunglasses are great for men and women alike). Strategist UK editorial intern Rachael Griffiths said her Ace & Tate glasses had gotten her out of a contact-lens dependency, thanks to how stylish she found them. "I'm usually a 24/7 contact-lens wearer, but this pair has helped to convince me to let my eyeballs have some days off."
Ace & Tate frames are — perhaps unsurprisingly — made from acetate, and the company lets you "try" its styles online by uploading a photo. "They definitely offer pretty amazing value for such stylish frames," notes Griffiths, who owns the Pierce frames in "Fizz" — a soft pink-tinted colour. "I usually just go for standard tortoiseshell frames, and I barely wear them — certainly never outside the house. When I got my prescription updated during the first lockdown in 2020, I thought I'd go for something completely different and see if it would make me more inclined to wear my glasses. I'd also seen them on a couple of people at uni, and thought that they looked quite 'Molly Ringwald in the '80s.' That, and a bit Deirdre Barlow." The frames are available in eight colours, including 'Olive' and 'Cashew' tones.
Perfumer Oli Marlow told us about these clear Ace & Tate frames, which he picked up around the same time last year.
Iana Murray, a film critic and journalist, says she has bought her frames from Ace & Tate for quite some time. She favours a square frame, which she admits she picked up on a whim. "I was looking to buy another pair of glasses from Ace & Tate because I like them so much. It wasn't so much the shape I had in mind as the size — I just wanted something huge — but I also read somewhere that rectangular glasses suit round faces, so that sealed the deal when I stumbled on these glasses while I was browsing the website." The specific style Iana wears isn't currently available, but this style is similar and suitably square.
Some other stylish glasses
Cutler and Gross came recommended by designer Anya Hindmarch, who told us her black frames were one of the things she couldn't live without. "They're beautifully made. I sit on them, drop them, trump on them, and they're absolutely no worse off," she said. "They're beautiful, quality frames. I think I have worn them all of my life, actually. Not only are they handmade, but they're quite individual. I think when it comes to face furniture, everyone sees it every day, so it's good if it makes you feel special."
Though he doesn't wear the same pair as Hindmarch, Alan Eckstein, owner of Somerset House, said Cutler and Gross were "one of the last remaining very high-end Italian manufacturers and designers of glasses. Their glasses take days to make, and they're weird and they're beautiful."
Actress Kathryn Hahn, meanwhile, told our sister site that her preferred frame is the Ray-Ban aviator. "They look like your stereotypical old-man glasses," she notes. "I need readers all the time now or I can't see — it happens to the best of us." She says she has pairs within reach at all times — in her bag, by her bed, in the kitchen, even by the toilet. "I like not having to bring a pair from room to room."
Cubitts may have been the best-rated men's glasses (four of our 12 experts recommended it to us), but contributor Emma Cooke tipped us off to Goggles4U, which sells a pretty convincing dupe for just £25.
"It sounded sketchy, but I've never let that keep me from a bargain," Cooke writes about stumbling upon the discount website. "I clicked through and it looked surprisingly legit, though the prices defied logic. They have the exact same range of styles you'll find in most major opticians at a fraction of the price — there are currently 2,427 options in their women's section, starting from £4.95 and coming in any kind of look you want." Her preferred frames, she noted, "are a dead ringer for Cubitts's Grafton frames. To the point I think they may actually be a knockoff."
Though Specsavers might not be your first port of call for cool-person-approved glasses, Strategist UK audience development manager Rosie Percy told us about its surprisingly good collection by Kylie Minogue. "The range stocks the perfect round tortoiseshell frame," she said. "And Specsavers offer you a pretty good deal." While the frames are £99, they come as part of a "second pair free" deal, so it's an inexpensive way to grab a backup pair. The range consists of 25 pairs of glasses, should you want an altogether different-looking second pair.
"When it comes to choosing specs, I'm really picky," admits Lucy Mee, founder of Ink Fish Bar. "I have a 7.00+ prescription, so it's important I find a pair that doesn't make my eyes look massive, and I used to wear a patch on my eye due to astigmatism when I was 4. Put it this way: I know my way around glasses brands." She suggests that you get what you pay for, which is why her favourite pairs are from luxury brands. "I have had my Tom Ford pair for five years. They are nice and simple, but really do the job."
For something more interesting-looking, Mee likes this pale-pink acetate pair by Versace. "They are less heavy on my face than the Tom Ford ones, and I often pick them over wearing contact lenses — which shows just how much I'm into them."
The Strategist UK is designed to surface the most useful, expert recommendations for things to buy across the vast e-commerce landscape. Read about who we are and what we do here. Our editors update links when possible, but note that deals can expire and all prices are subject to change.