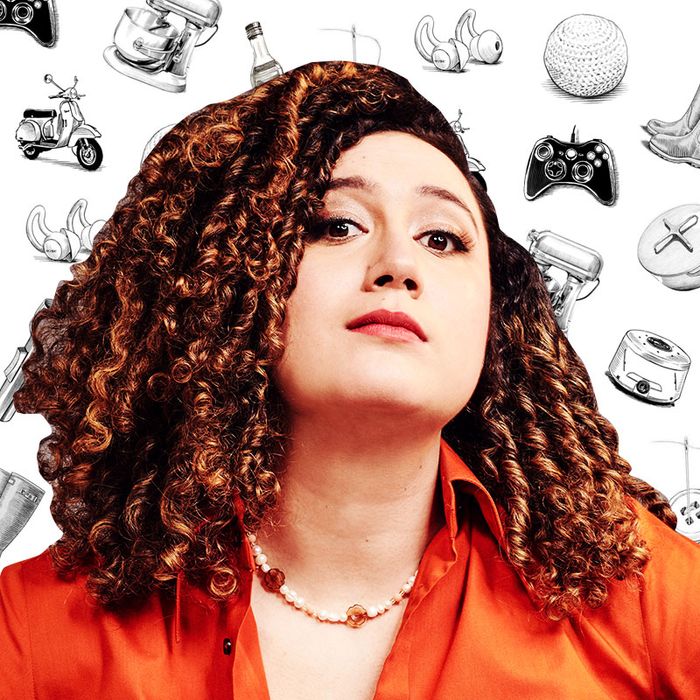 Photo-Illustration: Courtesy Avalon/BBC/HBOMax
If you're like us, you've probably wondered what famous people add to their carts. Not the JAR brooch and Louis XV chair but the stain-remover pen and the tongue cleaner. We asked comedian Rose Matafeo, whose show Starstruck is on BBC iPlayer now, about the oat milk, fancy yarn, and ballpoint pens she can't live without.
I find this thickness perfect for anything, really, but I draw a lot with it. When we were filming Starstruck, I actually made these little zines for the cast and crew using the day's call sheet — I called it the Starstruck Gazette. The nib is perfect — the tip is not as hard as a rollerball, which I like. And the ink is so beautiful — it's loose enough when it comes out of the pen, but it also dries quickly, so it has a really gorgeous flow to it. I got an iPad recently, and my friend was like, "Why don't you make the zine on this instead?" and I tried using the Apple pencil, but it's not as good as the Muji pens. I did try the thicker widths that Muji offers, but it just didn't feel as elegant as the 0.38. Also, I have it on good authority that the illustrator Liana Finck uses this exact pen for her drawings, too.
I first heard about this product because they used it at a salon I went to in London. I don't want to shout out the salon, as they didn't actually give me a good haircut, but they did teach me some things, namely that this product was worth investing in. What I do is, I put it in when my hair is sopping wet, and I coil the individual curls around my fingers. It's so labor-intensive, because it can take a long time, up to an hour, but at a push, I can get it done in 15 to 20 minutes. I put on an episode of This American Life and get to work. Being a curly-haired person, there's a lot of trial and error. You go through so many heartbreaks in your life, and you waste so much money on curly-haired products. It's a very long process. And it means you've got to go really deep into certain sub-Reddits and Facebook groups to find great products; thankfully, there's a real community of curly people on the internet now, which didn't exist when I was a teenager.
Weirdly, I am better at using sunscreen in the U.K. than when I grew up in New Zealand. As I'm getting older, I'm more aware of the importance of using it. Also, I'm a quarter Scottish, so even though I'm half Polynesian, I go bright-red in the sun, which is not fun. What I like about this stuff specifically is that it's super-light, so it doesn't pill under makeup. It came recommended to me by my dermatologist — I have a dermatologist, when I can afford it, because I get acne sometimes. She recommended several other La Roche products, like the face wash and the moisturiser. But I also find the packaging so satisfying — it's literally credit-card size, and the rattle when you shake the bottle is so good.
This is one of two tuna brands that I love; the other is Minerva, which comes wrapped in paper, and has a woman on the packaging. Their tuna is delicious, but it is top-tier in terms of pricing, so I get this more often, which I buy in packets of four at Gallo Nero, the Italian deli on Stoke Newington High Street. The quality is incredible; it's packed in olive oil, which I much prefer over brine or spring water. If you put this in a pasta dish, it's going to be delicious. The other thing I love is the design; it's the most perfect shade of pink, and I love the font; I am very into fonts.
There are quite a few "period pants" in the market now, but Thinx were one of the first ones. They're so good that I once ordered them from America to New Zealand, and that was quite dear. I first heard of them through a friend of a friend, who was doing a big order of them, so I got in on it. Depending on how heavy your flow is, you don't need to wear a pad with them. But they've lasted me for years. They're a high waist, and are so comfortable, I just wish they'd been around when I was a teenager.
I'm not a vegan, and I'm not vegetarian, but I would say lactose and me are not the best of friends. For me, milk is definitely the worst offender over, say, butter and cheese, and as you get older, you realise, "Oh, when I had that, I felt like shit," and, "Oh, the things I put into my body have an effect on my mood and physical well-being." All the "alt" milks have pros and cons; some of them are practically canceled, like almond milk, because it's so labour-intensive to farm all the almonds for it. Oat milk feels like the most sustainable alt milk. It tastes delicious, like drinking porridge. Of all the oat milks, Minor Figures is my favourite, especially since Oatly sort of got canceled. And I love the design of the carton; if I spy it in a café I'm visiting, I know I'm going to like it there.
I taught myself how to crochet in 2017; my friend gave me a crochet hook whittled out of wood and suggested I try it. And I became obsessed with it. I mainly taught myself on YouTube, and have since made several cardigans and hats that nobody seems to want. I'm very obsessed with different wools, and the different sizes of hooks. It's a simultaneously stressful and calming thing; it's stressful to learn it, but very calming to do it. Unfortunately, though, I recently injured my shoulder from crocheting; it's something to do with how I was holding the wool. So that was embarrassing. If someone was going to get into it, I'd first suggest visiting their local craft shops, because they can hook you up with something based on your skill level and needs. But I really like Loop, which has a physical and an online shop, for fancy yarns. On Etsy, there are a lot of sellers who can supply you with a set of hooks, too.
My mum actually got this for my birthday in February. Before I was given this, I did a lot of research into the different models, and John Lewis ones are actually the Genome machines, which is a very good brand. I first learned to sew as a kid, my mum taught me, so I've been able to sew since I was about 9 or 10. I'm not as good now, but I've made a dress and some fabric face masks recently. I think sewing is a skill everyone should be able to do. I let a lot of things go with millennials, but everyone should fucking learn to sew a button. When I use this machine, though, and it makes that sewing noise, it makes me think, "This is the sound of a home."
The Strategist UK is designed to surface the most useful, expert recommendations for things to buy across the vast e-commerce landscape. Read about who we are and what we do here. Our editors update links when possible, but note that deals can expire and all prices are subject to change.