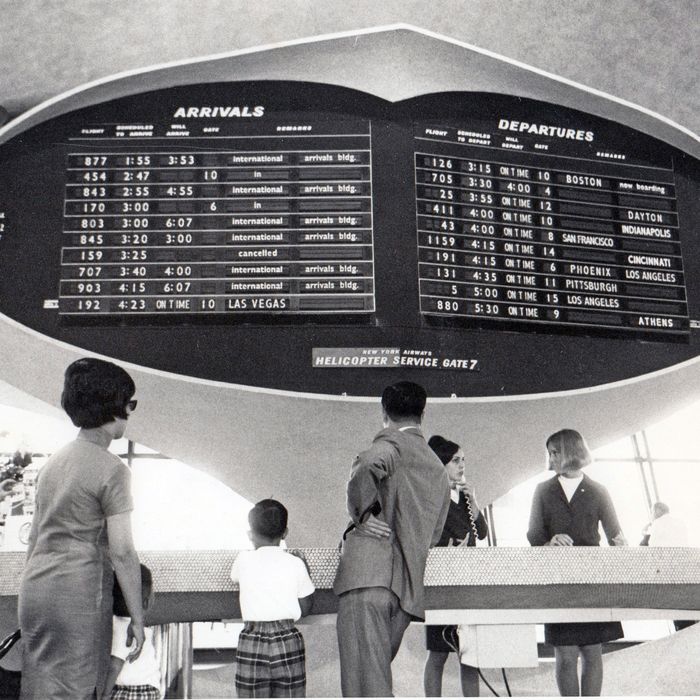 Photo: Liane Kruse/Newsday via Getty Images
As the U.K. and E.U. continues to open up, you may be considering a trip abroad. But the rules around international travel have changed considerably since first being introduced in the spring. Since the traffic-light system was first introduced, there are now two extra tiers, green plus and amber plus; countries in those tiers now require extra precautions when travelling to and from them, and these are changing frequently.
Passengers returning from green-list countries no longer need to self-isolate, while fully vaccinated passengers returning from amber-list countries don't have to self-isolate, either (you can see an up-to-date list of the countries and their tiers here). "Fully vaccinated" is defined as having the second dose of an approved vaccine at least 14 days before arriving in the U.K. Otherwise, you must quarantine in the U.K. for ten days, and take a COVID test on or before day two and on or after day eight. No matter where you're travelling from, travellers will also need to also take a test up to three days before returning home — this can be brought with you from the U.K., or purchased at your destination, and can be a lateral flow test or a PCR.
The kind of COVID tests required before travelling have also changed in recent months (and will depend on the ongoing situation in any given country). Previously, a negative PCR test and a "fit to fly" certificate (included with a negative test) were required to fly internationally from the U.K., with PCR tests being required on day two and eight of your return. But now, several countries will instead accept a rapid lateral flow test pre-departure (also known as an antigen test).
In England and Northern Ireland, you can book both your PCR and lateral-flow tests via a number of private providers (though lateral-flow tests are available for free on the NHS and in pharmacies, you must pay for a test if you intend to use it to travel). The government has a directory of approved sites, but prices vary. In Scotland and Wales, your tests must be booked through the Corporate Travel Management Portal — prices start at £68.
Travellers will also need to also take a test up to three days before returning home — this can be brought with you from the U.K., or purchased at your destination, and can be a lateral flow test or a PCR.
All of which is to say, there is a lot of information to parse, before you even get on a plane. We spoke to expert travellers, health-care providers, and virologists to find out the best deals on PCR tests, the best deals on lateral-flow tests, as well as the best practice for taking an at-home test.
What is the difference between a PCR and a lateral-flow test?
Unlike lateral-flow tests, a PCR (or polymerase chain reaction) test must be processed in a lab and is more sensitive. "The chief difference between genetic tests such as PCR and quicker tests, such as antigen tests, is the sensitivity of the process," explains Dr. Simon Worrell, Global Medical Director at Collinson, the largest U.K.-airport COVID-19-test provider.
He says PCR tests are able to locate and amplify a tiny amount of the virus, making detection much easier. "It's because of this amplification that PCR are able to detect positive samples — even if the patient has only been infected for two or three days, is uninfectious, or has no symptoms." Antigen tests, because they don't amplifying the virus, typically "become positive after a patient has had symptoms for a couple of days. This is often at least four days after a PCR test."
There are several different types of PCR test — nasal swabs, throat swabs, and saliva tests — but all require a sample from the person travelling. "There are pros and cons of each," says Worrell. "The nasopharangeal sample is the very deep swab that goes through the nose. It provides a good sample but is uncomfortable, and passengers, especially ones that will need to be tested regularly, prefer other methods. A lower nasal-swab sample, or one that includes a throat swab, is certainly better tolerated and can provide the same result." Worrell says saliva samples have become more common over the past few months. This involves the patient spitting into a collection tube — which can sometimes be preceded by swilling some fluid to aid dry mouths. Swab tests are generally quicker, he notes — "especially when performed by a medical professional" — but saliva tests are far more comfortable.
When looking for a PCR test, you should familiarise yourself with the requirements of the country you are visiting. For example, many countries don't yet accept saliva tests, and though several countries accept PCR tests performed at home, Dubai will only accept tests taken at a registered test facility. Other places insist on a test performed by a clinician, while Greece and Germany are currently allowing visitors without having to take a COVID test at all — as long as they are vaccinated. Meanwhile, arrivals from amber-tier Spain are advised to use a PCR test as their pre-departure test "as a precaution against the increased prevalence of the virus and variants in the country," according to the government.
When searching for a covid test for international travel, you should search for "fit to fly" lateral-flow or PCR tests. Lloyds Pharmacy, for example, say they can only issue a fit to fly certificate with your lateral flow test if you bring your passport with you when you get tested, and the country you are travelling to accepts results from lateral-flow tests.
Where can I book a PCR or lateral-flow test?
Tests can be booked in at clinics (you can see a list of government-approved clinics here) or ordered to your home and administered yourself. However, Dr. Julian Tang, an honorary associate professor and clinical virologist at the University of Leicester, told the Strategist U.K. that "I would be very wary of people running PCR tests at home due to potential methodological and contamination issues. We don't want households (or household waste) full of PCR amplified SARS-CoV-2 products floating around in the community — it could be a disaster, giving rise to false-positive PCR results everywhere." Worrell advises getting your test done by a professional: "It's easy to make a mistake if you are not well-versed in science, so it's important to ensure your test is in the hands of experts. Being swabbed by a professional in a clinic produces better results and reduces the risk that the swab will need to be repeated."
There's also the time-sensitive nature of getting your test booked and your results delivered before you fly. Emma Cooke, a travel writer (and a Strategist contributor), has flown frequently for work in the past 12 months. She says she booked a PCR test at Harley Health Center because "I didn't trust myself to do the test at home, as it's very high stakes — I know a few people who've done at-home tests and had results come back inconclusive. If you mess it up and the test comes back inconclusive, you'll either have to pay hundreds to get a 24-hour-turnaround test or just not be able to travel."
Author Heidi Stephens travelled to Rotterdam for the Eurovision 2021 final and told the Strategist U.K. that she booked her PCR tests through privatecoronavirustests.com — "it sounds super-dodgy, but it's listed as an official supplier on gov.uk," she said. "I wasn't confident that a home test would be reliable or quick enough, and I needed a test within 24 hours of departure."
At time of writing, the gov.uk website has a directory of more than 900 general COVID-19 testing sites, many of which offer PCR testing. This list includes nationwide and regional options, so prices may vary.
How much does a PCR or lateral-flow test cost?
Since we first started tracking the best deals on PCR and lateral-flow tests in May, many companies have begun competing to offer the best deals to customers.
Airlines still offer the best deals on PCR tests, but you can only use an airline's offer if you have a booking reference with that airline. In other words, who you're flying with will largely dictate what airline offers are available to you. However, TUI offers its discounted tests to customers who booked package holidays (including cruises), just flights, or just accommodation through them. In terms of lateral-flow tests, we found that many offers were priced around the £20 mark regardless.
Best at-home PCR tests
We researched test providers offered by a number of airlines, including British Airways, EasyJet, Virgin, Jet2, Ryanair, and Tui. Many airlines offer tests from the same companies — such as Randox, Halo, Medicspot, and Qured — and they all offer similar discounts to customers flying with the company.
When it came to private test providers, they were all more expensive than going through your airline — though some offered perks like 24-hour results, or couriers to pick up your test, we chose to focus on the best value test packages, as many of these perks will depend on your location or demand in your area.
We also didn't include airport-based test options. Test costs at airports vary by location; a test at Belfast airport, for example, will cost £60, while a test at Luton will cost £82, and we reasoned that it's impossible for a customer to go to the cheapest airport to get the best deal. Unsurprisingly, the prices of PCR tests via airlines were pretty consistent. We've broken these down into departures, day-two tests, and day-two and day-eight tests, so you can select what you need based on the country's requirements.
PCR tests for departure
British Airways offered the cheapest single test, with a PCR departure test by Eurofins costing £40, while EasyJet, Jet2, and Tui's all offered discounted tests via Randox at £43. The most expensive provider was Virgin Atlantic, whose departure test costs £55.
Photo: retailer
However, Tui's test packages are the best value overall; their £60 home testing kit also includes a rapid antigen test to take while at your destination, and a day two test for return to the U.K. They also offer a £90 option, which includes a home testing kit, a rapid antigen test for your arrival, and a day-two and day-eight test for your return. Tui also has a useful PDF so you can see what kind of test you need based on your destination.
PCR tests for day two
All the above airlines also offered Day 2 PCR tests by Randox at the same price — £43 — bringing the total to £83-£86 in total. As above, Virgin's day-two test was the most expensive of the airlines, at £68, meaning a pre-departure and day-two test would cost £123. We've included the discount code for BA customers as an example, but all offer unique discount codes via their websites.
PCR tests for days two and eight
[Editor's note: Day-eight tests are now only required for arrivals from countries that have changed from green to amber before you returned to the U.K.]
The best value day-two and day-eight test kit was by Ryanair, at £85, but only by £1 — BA, Easyjet, and Jet2 offered packages for £86 with various discount codes. All of these are supplied by Randox.
Photo: retailer
[Editor's note: The following discount codes will also work depending on your airline — BritishAirways43, easyjet2021 — as well as Test21, a discount code currently being offered by Randox for all customers.]
Best in-clinic PCR tests
In-clinic options, compared to home tests, are typically more expensive. The best offer we saw was for ExpressTest, who have drive-through and walk-through test centers across the U.K. (you can see a full list of venues here). Their departure test is done by a professional and costs £59, with results being delivered by 10 p.m. the day after you take your test.
You can also book a PCR test at high-street venues like Boots; they provide in-store services at more than 200 locations in the U.K. A PCR test there, performed by a specialist, costs £85 (in May, it cost £99), while the mandatory day-two test costs £75. A day-two and day-eight package costs £145, should you require one.
How do I take a PCR test at home?
Though most of the tests function more or less the same, the best place to find out how to take your test is by checking the instructions provided, as some steps may differ slightly.
Boots's test (a nasal swab that is provided by My Health Checked) includes instructions on how to activate your test online (which is vital in order to track your results). They advise washing your hands and clearing your nostrils before taking the nasal sample. They have step-by-step instructions for taking the sample on their FAQ page. Once you've completed the test, you must send your sample back the same day in a Royal Mail priority postbox. You will receive an email within 24 to 48 hours with your results and, if your test is negative, a link to your fit-to-fly certificate.
Best lateral-flow tests (for departures and pre-returns to the U.K.)
Lateral-flow tests are quicker and cheaper than PCR tests, and negative tests are now being used to issue fit-to-fly certificates (although as we mentioned earlier, check with your destination first). British Airways and Easyjet offer the best deals, via Chromatics and Collinson respectively, but Virgin's lateral-flow test isn't much more expensive.
The prices below are exactly the same for the outgoing test as they are for the test required for pre-return to the U.K., so you'll need to order one of each per person travelling. Just be aware that you cannot use a lateral-flow test for your day-two test, which is taken on your return to the U.K.; this must be a PCR test.
Photo: retailer
[Editor's note: this discount code is applied automatically]
[Editor's note: Collinson says this code works across all tests, including pre-departure tests, U.K. return tests, and day-two and day-eight tests].
Some other travel essentials
No matter where you're travelling, you'll need a face mask. These disposable black ones featured in our comprehensive guide to face masks as worn by Strategist staff.
If you're considering reusable masks, we found these Uniqlo ones both good value and supremely comfy.
You'll also need a hand sanitiser. This unscented, aerosol sanitiser by Carex is just as good on surfaces as it is on your hands — and so might be a good option for spraying on all the things you come into contact with while flying. We found sanitisers for every type of person, should you want something different.
The Strategist UK is designed to surface the most useful, expert recommendations for things to buy across the vast e-commerce landscape. Read about who we are and what we do here. Our editors update links when possible, but note that deals can expire and all prices are subject to change.