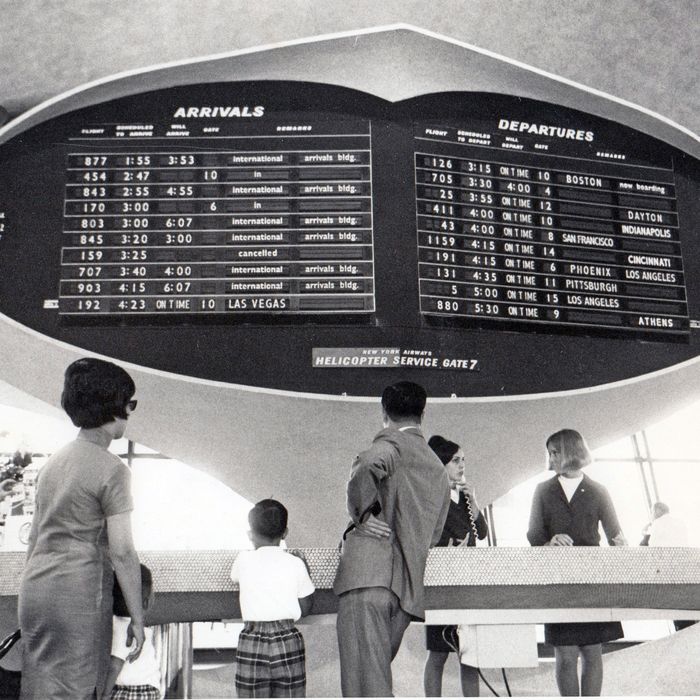 Photo: Liane Kruse/Newsday via Getty Images
As international travel opens up again in the U.K., you may be considering a trip abroad. But before you get on a plane, there's a lot of information to process. The most important thing to know is that in order to travel internationally from the U.K, you will require a negative PCR test, as well as a 'fit to fly' certificate (which is included with a negative test). Upon your return to the U.K, you'll need to take a 'sequencing test' — another PCR test — on your second day, and if you're returning from an 'amber' country, you'll also need to take a PCR test on your eighth day.
It's worth mentioning that the British government "continues[s] to advise against all non-essential international travel." If you are planning on traveling, you need to consult the list of countries where this is permitted. The recently launched traffic-light system breaks countries down into 'green', 'amber', and 'red' groups. Currently, there are 11 'green' countries, which are considered safest, though this is expected to increase — or decrease — in the coming weeks.
What is a PCR test?
A PCR (or polymerase chain reaction) test is different from the lateral flow antigen tests you may have taken at pop-up sites or ordered online from the NHS: It must be processed in a lab and is more sensitive. "The chief difference between genetic tests such as PCR and quicker tests, such as antigen tests, is the sensitivity of the process," explains Dr. Simon Worrell, Global Medical Director at Collinson, the largest U.K.-airport COVID-19-test provider.
He says PCR tests are able to locate and amplify a tiny amount of the virus, making detection much easier. "It's because of this amplification that PCR are able to detect positive samples — even if the patient has only been infected for two or thre days, is uninfectious, or has no symptoms." Antigen tests, because they don't amplifying the virus, typically "become positive after a patient has had symptoms for a couple of days. This is often at least four days after a PCR test".
There are several different types of PCR test — nasal swabs, throat swabs, and saliva tests — but all require a sample from the person travelling. "There are pros and cons of each," says Worrell. "The nasopharangeal sample is the very deep swab that goes through the nose. It provides a good sample but is uncomfortable, and passengers, especially ones that will need to be tested regularly, prefer other methods. A lower nasal swab sample, or one that includes a throat swab, is certainly better tolerated and can provide the same result." Worrell says saliva samples have become more common over the past few months. This involves the patient spitting into a collection tube — which can sometimes be preceded by swilling some fluid to aid dry mouths. Swab tests are generally quicker, he notes — "especially when performed by a medical professional" — but saliva tests are far more comfortable.
Overall, Worrell says that tests available — particularly at clinics — will simply depend on what is in stock. "Academic evaluation has shown that these methods can be equivalent — often, what is chosen [for patients booking a test] is what can be sourced the quickest and satisfy supply, particularly in a pandemic, when a lot are needed quickly".
When looking for a PCR test, you should familiarise yourself with the requirements of the country you are visiting. For example, many countries don't yet accept saliva tests — Italy and Greece specifically call for a swab test, while Australia will only accept a saliva test conducted at an approved clinic. The status of these may change in the coming weeks. Additionally, while Spain and Greece accept PCR tests performed at home, Dubai will only accept tests taken at a registered test facility. Other places insist on a test performed by a clinician.
Where can I book a PCR test?
PCR tests can be booked in at clinics (you can see a list of government-approved clinics here) or ordered to your home and administered yourself. However, Dr. Julian Tang, an honorary associate professor and clinical virologist at the University of Leicester, told the Strategist U.K. that "I would be very wary of people running PCR tests at home due to potential methodological and contamination issues. We don't want households (or household waste) full of PCR amplified SARS-CoV-2 products floating around in the community — it could be a disaster, giving rise to false positive PCR results everywhere." Worrell advises getting your test done by a professional: "It's easy to make a mistake if you are not well-versed in science, so it's important to ensure your test is in the hands of experts. Being swabbed by a professional in a clinic produces better results and reduces the risk that the swab will need to be repeated."
There's also the time-sensitive nature of getting your test booked and your results delivered before you fly. Emma Cooke, a travel editor at the Telegraph (and a Strategist contributor), has flown frequently for work in the past 12 months. She says she booked a PCR test at Harley Health Center because "I didn't trust myself to do the test at home, as it's very high stakes — I know a few people who've done at-home tests and had results come back inconclusive. If you mess it up and the test comes back inconclusive, you'll either have to pay hundreds to get a 24-hour-turnaround test or just not be able to travel."
Author Heidi Stephens travelled to Rotterdam for the Eurovision 2021 final and told the Strategist U.K. that she booked her PCR tests through privatecoronavirustests.com — "it sounds super-dodgy, but it's listed as an official supplier on gov.uk," she said. "I wasn't confident that a home test would be reliable or quick enough, and I needed a test within 24 hours of departure."
At time of writing, the gov.uk website has a directory of more than 900 general COVID-19 testing sites, many of which offer PCR testing. This list includes nationwide and regional options, so prices may vary.
How much does a PCR test cost?
We checked a sample of tests across the country, and the pricing was pretty consistent, but many of the companies we looked at charge separately for each set of tests. A PCR test for an outbound flight costs around £120, but the day-two-and-eight testing package will set you back an extra £119. Our research found that the best-value option for PCR test kits was actually going directly through the airlines themselves.
Nearly every airline is offering an exclusive discount on bundles, some of which cover both your pre-flight test and your reentry test. It's important to note that you should look for packages offering tests for both your departure and your arrival — while we spotted many places, such as Tui, offering 'packages' for as little as £20, this doesn't include the 'fit to fly' certificate needed to fly internationally.
What should my PCR test include?
When buying your outgoing PCR test, make sure you know what you need to get into the destination country. For example, to depart the U.K., you will need a 'fit to fly' certificate, which is issued with any negative PCR test. Almost all of the services we saw online offer this, but there are exceptions. Tui's £20 'PCR' kit, for example, does not come with an outbound PCR test — instead, it consists of a lateral flow test and a PCR test for your return. This means that, while it's technically accurate to market it as a 'PCR' test kit, it doesn't include an outbound PCR test, which would include a fit-to-fly certificate and therefore allow you to fly internationally.
Additionally, you will need the day-two-and-eight PCR tests that are required upon reentry. As part of the traffic-light system, travel from 'green' countries only requires a day-two test, not a day eight — though if you are travelling to the U.K. from an 'amber' country, you will need to take both.
It's worth checking if you can buy a day-two test on its own rather than pay for a day-eight test you might not need. Some services, such as Medicspot, also include a 'test to release' kit, which is not required by law but is part of a "government scheme to shorten your quarantine period," says the Medicspot website. This is a PCR test to be taken on your fifth day, and, if positive, it will not require you to quarantine up to day eight, according to Medicspot. (Boots will also be rolling this kit out in the next few weeks, per a spokesperson.)
Which PCR test should I buy?
Best at-home PCR tests
We researched test providers offered by a number of airlines, including British Airways, EasyJet, Virgin, Jet2, Ryanair, and Tui. And while many airlines offer tests from the same companies — such as Randox, Halo, Medicspot, and Qured — some of the discounts are exclusive to the airlines. Prices vary, as each company provide slightly different services (both in-person and at-home), such as 24-hour couriered results or a supervised video call with a health adviser.
Photo: retailer
The best value at-home test is by Randox. Their outbound test is £60, down from £120, and the return test, to be taken on day two, is also £60, down from £120, meaning passengers can get everything needed for just £120 total (EasyJet, Virgin, and Tui offer this discount as well). Randox also has a day-two-and-eight package (£175), which is discounted to £125, making it one of the best-value options in our opinion. You can currently get a discount using the code Britishairways50, but you don't need to be a British Airways passenger to avail yourself of it.
Photo: retailer
[Editor's note: We've featured the day-two kit here, but you can purchase the day-eight kit by itself, as well as the day-two and day-eight kits together.]
By comparison, Halo's PCR test costs £75 — £15 more than Randox's — but this is a saliva test, which is still not accepted in many countries. Jet2 offers tests from £75, but the airline isn't resuming flights again until June 21st, 2021.
There were cheaper options than Randox — Eurofins is offering an at-home PCR test for £40 — but they only cover outbound flights and can't provide tests for your return to the U.K. If you are flying one way, this might be the best option for you.
Photo: retailer
Boots' at-home PCR test, meanwhile, costs £65, and the self-administered day-two and -eight tests will need to be purchased separately, totalling £225. Superdrug also offers an at-home PCR test, which can be ordered online. However, this is a saliva test, rather than a swab test, meaning it may not be accepted in many countries (it's also an eye-watering £120).
Best in-clinic PCR tests
In-clinic options, compared to home tests, are typically more expensive. The best offer we saw was for the BA and EasyJet discounted in-person tests performed by Collinson, an in-terminal test provider. The tests are available at a number of airports, including Heathrow, Gatwick, Luton, City Airport, Manchester, and East Midlands, and both the outgoing PCR test and the 'green arrivals' PCR test cost £66, down from £82.50 – a saving of 20 percent.
You can also book a PCR test at high-street venues like Boots; they provide in-store services at more than 200 locations in the U.K. A PCR test there, performed by a specialist, costs £99, while the mandatory day-two and -eight tests, which must be done at home upon your return, will cost an additional £160, for a total of £259.
How do I take a PCR test at home?
Though most of the tests function more or less the same, the best place to find out how to take your test is by checking the instructions provided, as some steps may differ slightly.
Boots' test (a nasal swab that is provided by My Health Checked) includes instructions on how to activate your test online (which is vital in order to track your results). They advise washing your hands and clearing your nostrils before taking the nasal sample. They have step-by-step instructions for taking the sample on their FAQ page. Once you've completed the test, you must send your sample back the same day in a Royal Mail priority postbox. You will receive an email within 24 to 48 hours with your results and, if your test is negative, a link to your fit-to-fly certificate.
Saliva kits function much the same. Halo's test is booked and ordered via the Halo app and will be couriered to your address the next day. It recommends not eating, drinking, or smoking at least 30 minutes before taking your test. Again, Halo has step-by-step directions on its FAQ page. You can then arrange for the test to be collected; the results will be displayed on the app 24 hours after the test has been received by the lab.
Some other travel essentials
No matter where you're travelling, you'll need a face mask. These disposable black ones featured in our comprehensive guide to face masks as worn by Strategist staff.
If you're considering reusable masks, we found these Uniqlo ones both good value and supremely comfy.
You'll also need a hand sanitiser. This unscented, aerosol sanitiser by Carex is just as good on surfaces as it is on your hands — and so might be a good option for spraying on all the things you come into contact with while flying. We found sanitisers for every type of person, should you want something different.
The Strategist UK is designed to surface the most useful, expert recommendations for things to buy across the vast e-commerce landscape. Read about who we are and what we do here. Our editors update links when possible, but note that deals can expire and all prices are subject to change.