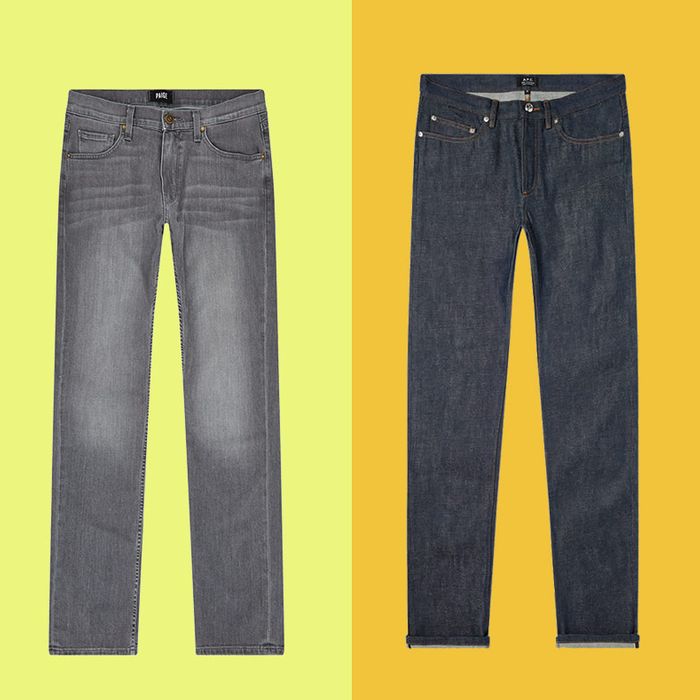 Photo-Illustration: retailer
A version of this story originally appeared on the Strategist US.
It can be frustrating looking for the perfect pair of jeans — especially while we can't go to the shops and try several pairs on in person. But if you get it right, they'll end up being the best thing in your wardrobe. We asked 15 stylish people — including actors, stylists, fashion writers, and models — to recommend their favourite pairs. They told us about everything from the best no-fade skinny black jeans to the perfect loose jeans to go skateboarding in. And the result is a pretty comprehensive breakdown of the best styles out there, whether you have big thighs or have your eye on sustainably made denim.
Best straight fit jeans for men
"If we're going to talk about jeans that every man should have in their closet, a pair of good-old Levi's," says Amy Leverton, author of Denim Dudes: Street Style, Vintage, Workwear, Obsession. Getting a pair of Levi's is "almost a rite of passage," she says, and the 501 is their all-time classic fit. Leverton notes that some prefer the more contemporary slim look of the 511, and "denim nerds" might seek out a "1947 LVC" (from Levi's Vintage Collection), but the 501 is still the gold standard. But, says Zak Maoui, style editor at British GQ, "The best thing about Levi's is that you rarely find they introduce a line and then stop making it — you will always be able to go back for more. You can never go wrong with a 501 — straight-leg and extremely flattering."
For an upgraded version of the 501, Leverton recommends the A.P.C. New Standard, which are made of raw Japanese selvedge denim (ask any denim expert where the best denim comes from and odds are they'll say Japan). "Raw" denim hasn't been chemically treated or washed, so it's very stiff at first, but over time it breaks in, softens up, and develops fades and creases unique to the wearer, and "selvedge" refers to a way of weaving the fabric that is typically associated with high-end denim because it's more labour intensive. Leverton describes the APC New Standard as "the go-to pared-back jean of the last ten years." She says it strikes the right balance of everything one would want in a pair of premium jeans. "It's clean and raw, but doesn't shout purist. It's classic and authentic without being heritage."
"If you're a raw denim guy, it's hard to do better than 3sixteen," says Dan Snyder, owner and designer of New York City-based menswear company, Corridor. 3sixteen is serious about sourcing their Japanese denim, and their website notes that these are made with denim "custom woven" for them by Kuroki Mills in Japan. (It's raw, selvedge denim, just like the APC's). 3sixteen makes jeans in a variety of different fits, but the SL-100x is their classic, 501-inspired model.
Best skinny jeans for men
Alex Simons, a brand and editorial manager at Netflix, was a self-proclaimed "fancy-jeans guy for years." As he explains, "I wore my Marc by Marc Jacobs black jeans forever. Then, right before a business trip, they ripped so I rushed into Levi's and found the 510s and have never looked back. They're comfortable from the moment you put them on, have the perfect amount of pocket space, are skinny but not skin-tight, and of course, they're a great price. Oh, and they stack perfectly on top of my high-top sneakers."
These are stylist Brandon Garr's personal favorite. He buys multiple pairs at a time so he can alternate and wear them a few times throughout the week. "They perfectly hug the body without being too tight, and keep their shape without getting saggy from wear." He also loves that these keep their colour a long time without fading. "I like to dress them up with a black Chelsea boot and a blazer, or rock them with a pair of converse and a vintage tee."
Leverton thinks Swedish denim brand Nudie has "great fits," and she also really appreciates the company's values. "It's a brand that put Earth first and did it in such a way as to make a sustainable business model scalable. Good quality, 100 percent organic cotton, a female founder and now a vegan-friendly back patch." She likes the skinny Thin Finn style because it's one of the original and most recognizable Nudie fits.
Best jeans for guys with big thighs
Photo: retailer
Philip Saul, owner of Boston's Sault New England, told us that a lot of guys come in looking for what he calls the "Taper fit." Basically, something with "a bit more room in the thighs and butt to move and feel comfortable" while maintaining the look of a slimmer leg. "It's a great for guys who don't skip leg day," says Saul, or for anyone looking for a little more comfort without sacrificing style.
When discussing the things he can't live without, actor Mike Colter summed up the biggest problem searching for the perfect jeans. "A lot of brands, especially European brands, make what I call Mick Jagger jeans: You have to be six feet tall and no more than 150 pounds to fit in them. Normal guys can't get them past their thighs, and if they do, they won't be able to sit down or walk." He told us about the men's jeans from Paige Lennox, "a brand predominantly known for its women's jeans — which I think is what makes the brand great for men, too. Guys look for the same things girls look for: We just want jeans that give us a nice butt and don't look too tight in the crotch. It's a hard thing to find." He favours their grey wash, a colour he says "doesn't get enough attention".
Photo: retailer
Strategist contributor Kurt Soller wrote about having trouble finding the right jeans for his legs, "which are thicker in the thighs and skinnier in the calves." After trying on a few pairs, he says "the Acne River pair ended up being perfection — a paragon of that Zeitgeist-y tapered style that's loose and slightly baggy above the knee, before narrowing to a not-too-tight foot opening."
Best black jeans for men
"Every guy should have some dressy black jeans," says stylist Dave Thomas. If you want a black jean you can "dress up," he says it's important to make sure the colour is a solid black that isn't faded at all. He loves the Acne Max Stay Black because the fit is "slim but not super tight," and the fabric is designed to resist fading." This jean came up a lot. Garr loves them too, as does Carlos Rivera-Anaya, head of marketing at Mr Porter. "I own three pairs," he says. "On one, I cut the hem fairly high for a super slim leg that looks great with a sharp Chelsea boot and leather jacket. On a second I snipped the hem about 2 inches lower to wear with white tube socks and Vans Old Skools, and for my work-appropriate look, I left them intact, which gives me a straight and narrow leg with some length around the ankle. Total staple jeans." If you style them the right way, Thomas says you could even wear them to a black-tie event.
Photo: retailer
Model and musician Bushy, who described his build as "like a stick," told us All Saints Rex fit was perfect as they offered a flattering fit without being too restrictive. "I used to wear tighter jeans when I was younger — but now I go for a more regular fit, which is easier to move around in, especially since I do a lot of skateboarding." He particularly likes the Rex jean by All Saints as he says they've retained their colour after many years. "Sometimes with black jeans, you wear them once, and when you wash them, they're just never the same again. Not so with these ones."
Best slim fit jeans for men
The Levi's 511 is to slim-fit jeans as the 501 is to straight-fit jeans: a standard-bearer. Melideo says Levi's 511's are a "staple" of his wardrobe. Garr likes the 511's, too, but he's partial to the heavily distressed "Finely Shred" wash and sees it as a sort of hack for getting a good price on a look that designer brands sometimes charge a fortune for. "Honestly, if I'm going to buy a pair of jeans that's destroyed, I don't want to pay as much for them," says Garr. He also says that Levi's is a go-to brand for him because "they're affordable and hold up in the city. I also feel like I can be a little bit more daring in them because I don't have to worry as much about the replacement cost if they get a little roughed up."
Photo: retailer
When our U.S colleagues at the Strategist asked actor Michael Zegen what he can't live without, he mentioned his Rag & Bone jeans, which he loves so much he bought five pairs of them. "They fit perfectly. They're not magic or anything, but they fit really, really well. And they're comfy." He favours the brand's Fit 2 profile, which is slim through the thighs and legs and features a bit of stretch. Even better, for denim obsessives, Rag & Bone source their denim from Japan's Kaihara mill, which has been around since 1893.
While Leverton is a big fan of Nudie's Thin Finn skinny fit — and also the company's style names in general — she also likes the more "classic" Grim Tim, which is more of a traditional slim fit. It could be a good compromise for someone who that clean look of tailored black jeans without wearing anything too tight.
The Strategist UK is designed to surface the most useful, expert recommendations for things to buy across the vast e-commerce landscape. Read about who we are and what we do here. Our editors update links when possible, but note that deals can expire and all prices are subject to change.