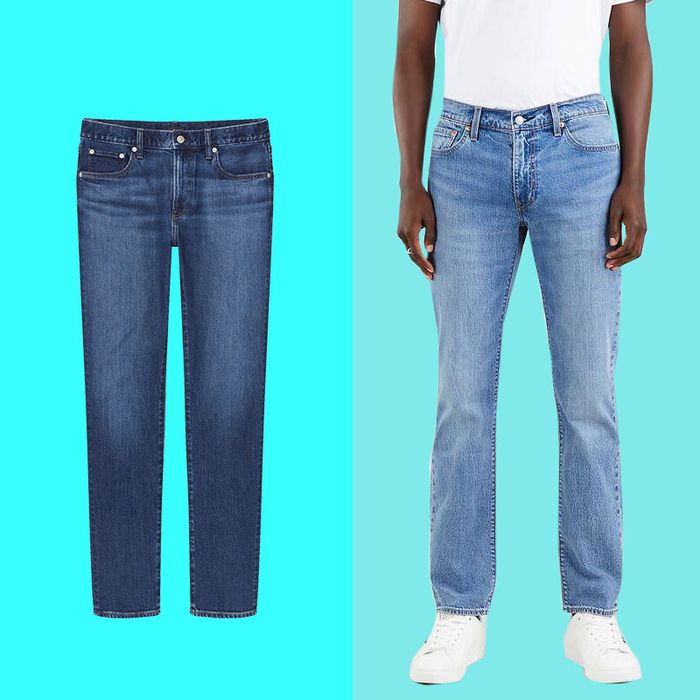 Photo-Illustration: The Strategist; Photos: Retailers
Trying to crown a single pair of jeans as "the best" is a difficult task. Like T-shirts, trainers, and other items of clothing, what works for you might not work for everyone else — some people favour a highly distressed stone wash, others a Japanese selvedge.
But whatever your personal taste and no matter your budget, a good pair of jeans should be durable and comfortable. Regardless of its style, the perfect pair of jeans won't fall apart after a couple of years or take badly to a spin on a warm cycle.
In the past, you might have gone to Topman or the Gap for your jeans just as you would your other inexpensive basics. But with the former permanently closed and the latter now online only, you might be looking for alternative retailers (or just ready for a change).
Below, I have highlighted the best jeans as recommended by fashion editors, male models, and outright cool people, all of whom have a discerning eye for good quality, fit, and feel. Since I'm a standard size myself, I consulted stylish friends and did a deep dive on sub-Reddits devoted to men's fashion in order to gauge the best jeans for the chunky thighed, big bottomed, and extremely tall.
Best overall | Best less expensive | Best Japanese selvedge denim | Best (less expensive) Japanese selvedge denim | Best slim jeans | Best jeans for big thighs
Size inclusivity: Though we researched jeans for specific body shapes (e.g., big thighs, short legs), we know even those categories can be restrictive and limiting. So we were looking for brands that offer a wide range of sizes in both waist and leg. One of my six-foot-six friends told me that while finding a 38-inch inside leg isn't as difficult as it used to be, "being tall isn't so much about leg length as it is the cut. Some brands just extend the leg without changing the cut, so they continue to taper until they're skinny at the ankle". So a range of cuts, as well as a range of sizes, was crucial. We also considered the range of colours to be an important factor — after all, if you find the jeans that fit you just right, it's good to know you can pick them up in a variety of tones.
Easy to find: Availability was important to us, too. While there's something insider-goods-y about joining a waiting list, setting an alarm for a surprise drop, or being part of a members-only Discord for limited-edition fits, we wanted to recommend jeans that were easy to find. This includes online — a brand that either is available in several retailers or has a really solid online delivery policy — as well as dependable brick-and-mortar stores. Related to this was a good returns policy, which we reasoned makes buying the wrong jeans less cumbersome.
Sustainability: Denim is a labour- and resource-intensive process, so we were keen to find brands that are trying to do something about it. This can include incorporating recycled materials into the production of their denim as well as managing water usage in their supply chain. We were also looking for companies that disclose where they source their cotton and what steps they are taking to ensure workers are paid a living wage.
Best overall men's jeans
Long-lasting | Size inclusive | Repairable
It won't come as a huge surprise that the classic Levi's 501 are our best in class overall — these are arguably the most recognisable jeans in the world. Zak Maoui, style editor at British GQ, said, "You can never go wrong with a 501", adding that the straight leg has an "extremely flattering" fit.
Amy Leverton, author of Denim Dudes: Street Style, Vintage, Workwear, Obsession, said getting a pair of Levi's is "almost a rite of passage" and every man should have a pair in their closet. One thing I liked about these jeans is that they come in the widest array of washes; on the Levi's website, you can find the 501s in 31 tones. Sizing-wise, the standard fit runs from 29 to 40 inches in the waist, and the length goes from 30 to 36. However, Levi's stood out for having a Big & Tall range, which goes up to a 50-inch waist and a 38-inch leg. It's worth noting that the cut changes slightly between the standard and the Big & Tall ranges — my six-foot-six friend Oli (himself a 501 wearer) explained to me leg length alone isn't enough — and that, rather than just extending the leg, the cut needs to be changed as well; otherwise, the denim gets too skinny at the ankle.
Though we're recommending the 501, Levi's offers the widest range of fits of any brand in this story — 17 in total, which is more than double the amount of the others. On a personal note, I can speak to the hard-wearing quality of my own 501s; though I only bought them last year, I traced their construction back to somewhere between 1991 and 1993 (denim-heads such as Heddels have extensive guides to what to look out for). Despite my jeans being 20 years old, they are supersoft, fit like a dream, and have only the merest signs of wear and tear. My Strategist colleague Jordan Bowman agreed that the 501s are a tried-and-true classic for a reason, but he favours the brand's selvedge options. He noted, "If you can get a good vintage pair and it fits great, you've got a win".
In terms of sustainability, Levi's says it's working hard to reduce its jeans' impact on the environment. The company says "75 percent of our cotton now comes from more sustainable sources" and "65 percent of our products are currently made in factories that run our Worker Well-being programs". Additionally, in 2015, Levi's changed its advice on washing denim. The brand now recommends washing your jeans at most every ten days rather than every days days, as previously suggested, and it has an in-house alterations service to get your jeans mended. This service takes about four weeks, according to Levi's, and costs a minimum of £12.
Best (less expensive) men's jeans
Good value | Free alterations
Uniqlo is the only high street brand featured here — and unsurprisingly, of all the jeans we researched, Uniqlo's are the cheapest. Generally speaking, cheaper denim weighs less (Uniqlo denim is around 12 ounces, while the selvedge denim further down weighs double that), and that's where savings can be made. Given how many of my friends own Uniqlo denim (as well as my boyfriend, who swears by them), I felt confident anointing them the best option on a budget. I have a couple of pairs I've owned for about ten years, and they still get compliments (particularly the darker washes, which friends have mistaken for Nudie in the past).
However, while the cost and quality is impressive, the sizing range leaves something to be desired: It is incredibly inconsistent. Uniqlo offers four cuts: skinny, slim, regular, and wide (it also has an "Ezy" fit, but this is a jogger-jean hybrid, so we're not considering it). Frustratingly, the sizes on offer vary depending on the cut — so, for example, the skinny- and regular-fit jeans come only in a 32-inch leg, but the slim option comes in 30- to 36-inch options. This is partly because Uniqlo offers a complimentary in-store alteration service, which I have used myself and would absolutely recommend. But certain cuts (and therefore certain sizes) are only available in certain washes, which is a far cry from the broad spectrum of washes Levi's offers.
I've selected Uniqlo's slim jeans here as our best, but the quality is consistent across all styles. Something to note is Uniqlo does make a selvedge jean; it's one of the only high street brands doing this (others include Marks & Spencer and Arket). Selvedge denim is woven on a more traditional shuttle loom, which produces a narrower fabric with finished edges that don't fray. This is a sort of premium calling card in the world of denim, but Uniqlo is surprisingly modest about it. There is an ongoing debate in various menswear communities about whether Uniqlo's jeans are Sanforised or not — this is the process of preshrinking the denim so it doesn't reduce in size on its first wash. Uniqlo says they are un-Sanforised, meaning they will shrink, and some people (including the members of the r/rawdenim sub-Reddit) even suggest buying Uniqlo's selvedge one size up in anticipation of it shrinking. I can't speak to that myself, so for now, I'm recommending the non-selvedge option. It's inexpensive, Uniqlo's returns policy is really good, and should you find yourself in need of a pair of jeans in a pinch, I think this is the best option.
Best Japanese
selvedge

men's jeans

High quality | Long-lasting 

As we mentioned above, selvedge is denim at its most premium. It is made on antique looms that are slow and require skilled workers to operate, and the denim is typically thicker (some people describe the rougher texture as almost "hairy" to the touch). Selvedge is now almost exclusively produced in Japan; Levi's sourced its selvedge from Cone Mills denim mill in Greensboro, North Carolina, but this was shuttered in 2017, effectively ending selvedge production in the United States. Dan Snyder, the owner and designer of the New York City–based menswear company Corridor, told us "it's hard to do better than 3sixteen" when it comes to premium denim. The brand sources its from Japan, where it is custom-woven by the Kuroki Mills in Ibara, Okayama; its denim is known as "raw" as it is not prewashed before being shipped. Bowman also said this was the premium denim brand you can trust. "It's splurge denim", he admits, but he says in the three years he's owned his, they have faded nicely and have a great cut.

The brand's SL-100x fit is its classic, 501-inspired model, but Bowman prefers the CT (classic taper) fit. 3sixteen offers six fits in total running from a 28- to 40-inch waist and offering a 34½-inch inseam as standard. One thing to bear in mind is that, because it's untreated, raw and selvedge denim is far less forgiving, and if you don't find a comfortable size, you are more likely to run the risk of the dreaded "crotch blowout", where the material tears at the highest point of tension when you move. Raw denim is also prone to shrinkage if it is un-Sanforised (3sixteen denim, however, is prewashed to prevent this). And the raw finish is likely to bleed, so if you're pairing your selvedge with some Stan Smiths, consider investing in a magic eraser to keep them clean.
Best (less expensive) Japanese
selvedge

men's jeans

Sustainable | Good value | Environmentally conscious

Nudie is the best option for less expensive selvedge for two reasons. It offers Japanese denim for considerably less than 3sixteen — but so do many brands including Acne and A.P.C., who also source their selvedge from Japan. Nudie offers eight fits across four styles: loose, regular, slim, and tight, and the sizing runs from 24 to 38 inches in the waist to 38 to 36 in the leg. What we liked most about Nudie was its Re-use program, which encourages customers to donate old Nudie jeans in exchange for an in-store discount (currently this is 20 percent off full price). You can also get your jeans fixed for free, for life, at the Soho and Shoreditch stores, and the Redchurch Street branch sells secondhand denim for up to 50 percent off the RRP. I picked up a pair of Nudie jeans about four years ago for £60. They were certainly a little pre-loved, but the company uses any donated jeans it can't sell to patch and repair any tears, and mine feel a bit more special than the identikit pairs sitting on the shelves. Even though mine are secondhand, they are impressively soft and incredibly comfortable.

The company's environmental work is also notable; Good on You, the ethical fashion database, gave it a "Great" rating, mentioning its use of Global Organic Textile Standard cotton and its membership in the Fair Wear Foundation, a nonprofit that works to improve conditions for workers in garment factories. Leverton says she really appreciates the company's values. "It's a brand that put Earth first and did it in such a way as to make a sustainable business model scalable. Good quality, 100 percent organic cotton, a female founder, and now a vegan-friendly back patch".
Best slim jeans
Long-lasting | Size inclusive 
The Levi's 511 are to slim-fit jeans as the 501 are to straight-fit jeans: a standard-bearer. Since we were so enamoured of the 501, it was only right that the slimmer cut made our list, too. Tim Melidio, the writer behind menswear site Stay Classic, says Levi's 511's are a "staple" of his wardrobe, and stylist Brandon Garr also likes the 511's. He says Levi's is a go-to brand for him because "they're affordable and hold up in the city. I also feel like I can be a little bit more daring in them because I don't have to worry as much about the replacement cost if they get a little roughed up". These come in 28 colours including a burnt orange, a mossy green, and even a golden yellow.
Best jeans for guys with big thighs
Photo: retailer
Long-lasting | Size inclusive 
We spoke to several big-thighed guys about what jeans they swore by — Luke Cage actor Mike Colter, for example, swears by a £230 pair by Paige Lennox — but we found a lot of them to be too expensive, especially when waist and leg sizings were quite limited. However, the Levi's 502 fit features a slimmer, tapered leg with enough of room in the thighs, and they come in at around £100. Philip Saul, owner of Boston's Sault New England, told us a lot of guys come in looking for what he calls the "taper fit" — basically something with "a bit more room in the thighs and butt to move and feel comfortable" while maintaining the look of a slimmer leg. "It's a great fit for guys who don't skip leg day", says Saul, or for anyone looking for a little more comfort without sacrificing style.
Some other men's jeans we've written about
Jordan Bowman, Strategist writer
Mike Colter, actor
Oliver Franklin-Wallis, writer
Amy Leverton, author
Zak Maoui, style editor at British GQ
Tim Melidio, menswear writer
Philip Saul, owner, Sault New England
Dan Snyder, owner and designer, Corridor
The Strategist UK is designed to surface the most useful, expert recommendations for things to buy across the vast e-commerce landscape. Read about who we are and what we do here. Our editors update links when possible, but note that deals can expire and all prices are subject to change.