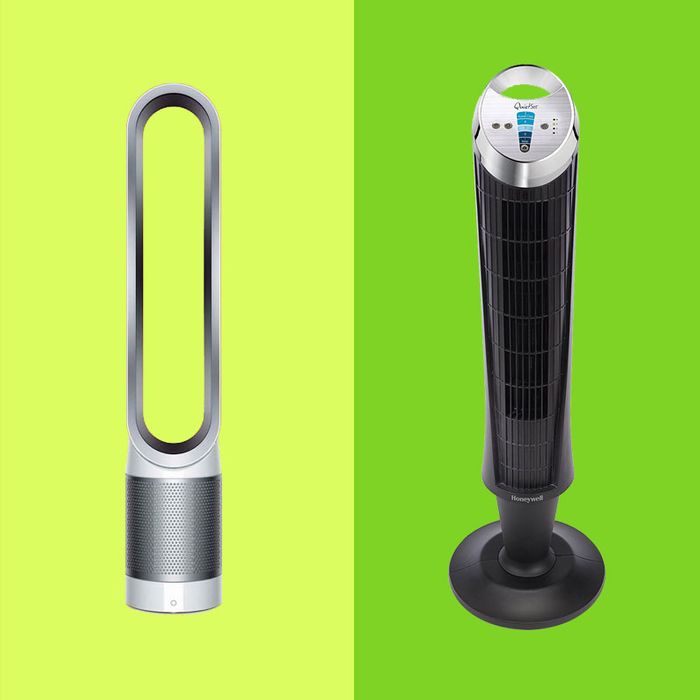 Photo-Illustration: Photo: retailer
When the rain is hammering down, the thought of investing in a fan in this country is almost laughable. Inevitably, when heat does strike, you'll wish you had some relief on hand (we are not yet much of an air-con nation, after all). Our reporting has taught us that not all fans are created equal. Whether you live in a South-facing heat trap or a maisonette with minuscule sash windows, a good fan can keep the air cool and, in some cases, even filter it.
We spoke to experts, including hardware-store managers and buyers, to find out what to look for, whether you're in the market for a tower model, floor fan, or an ultraquiet option. We also found out which fans discerning Strategist writers and editors had bought, and went through thousands of reviews across Amazon, John Lewis, Argos, and Robert Dyas.
Best overall | Best inexpensive tower fan | Best floor fan | Best pedestal fan | Best desk fan | Best clip-on desk fan | Best purifying fan | Best (less expensive) purifying fan
Height: Both Gary McCoy, a Lowe's store manager, and Matthew Brown, director of AC and fans at Home Depot, told us that the height of your floor fan is going to have the most significant effect on how quickly it cools you down. A taller fan has two benefits, according to Brown: "One: The taller it is, the more air is typically being moved. But also, most of the heat in your body escapes through your head, so the more quickly you're able to cool your face and upper body, the better you're going to feel." None of our experts wrote off smaller fans, however. Brown suggests looking for close-to-the-ground designs that can be angled into a corner, moving air around the whole room as it bounces back off the wall. Liam McMahon, an e-commerce buyer for Robert Dyas, agrees. "Desk fans are great for specific areas or small rooms, while floor fans often feature more powerful motors to cool a room more quickly" — that can make them noisier.
Bladed vs. bladeless: According to Liam Halliday, product development technologist at John Lewis, bladed fans "​​won't cool the air in a room, but the moving air is what makes you feel cool and allows for the body to stay cool." This means leaving a bladed fan on when you leave a room will not cool the air down, "so you may as well save energy and switch it off," he says. Bladeless fans are known for being quieter, but their name is misleading — there is a fan, but it is hidden in the base of the device. Air is sucked in and blown out through a rounded opening, creating a smoother airflow.
Additional features: After height, our experts told us the next thing to consider is the extra features that come with each design. Many newer floor fans are equipped with modern conveniences like Alexa compatibility, USB power options, and remote controls. Also included in this category is whether a fan oscillates, "which helps circulate cool air through the room," explained McMahon. "You don't get that with floor fans." "With an oscillating fan, you don't have to think about which part of the room is best to sit in. That's where the convenience comes in," says Patrick McDonnell, assistant manager of Brooklyn's Mazzone Hardware.
Best overall fan
80 centimetres | Bladed | Oscillating, remote control, timer, 5 quiet settings
Our best overall fan is a triple threat: a Strategist staffer's favourite, a readers' best seller, and one of the best-reviewed online. That breadth of recommendations makes it easy for us to consider it the best in class overall. Rosie Percy, the Strategist UK's associate director of audience development, says the fan is "almost suspiciously lightweight, making it easy to move from room to room," and noted that the five quiet settings, which include a soothing white-noise mode, meant she was able to get a sound night's sleep, even during a rare UK heat wave. The remote is simple enough to use and makes no noise, so the settings can be changed during the night without waking anyone up.
It's also the only fan to make it into our monthly roundup of what readers bought, having appeared twice. We also found hundreds of reviews across Amazon, Robert Dyas, and Dunelm, while on Wayfair six out of seven reviews gave it five stars. Due to the 80-centimetre height, it's able to disperse the cooled air into even the largest of rooms, according to reviewers, while the different settings makes customising the temperature to your liking incredibly easy.
Best inexpensive tower fan


76 centimetres | Bladed | Oscillating, timer function | 3 speed settings
McMahon recommended this tower fan to us, which, like the Honeywell fan above, has three speed settings, oscillation, and a strong base. It's a lot less expensive — almost half-price, in fact — and while it has no quiet settings to speak of, it may be a good alternative if you're looking for a brief bit of respite during the summer's warmer moments. This model is sold out, but Beldray's 82.5-centimetre (32-inch) fan is available for £26 and also has three speed settings.
Best floor fan
61 centimetres, 160 degrees adjustment | Bladed | 3 speed settings
You can tilt this chrome fan by Pro Breeze up or down to fit your needs (which makes up for the fact that it doesn't oscillate). While basic in design, it comes with three speed settings and is highly rated on Amazon, with 77 percent of reviews being five stars. Reviewers noted how powerful the cooling effect was, with one even using it in their greenhouse to stop their tomato plants overheating. Another said it was perfect for their home gym, and since the fan was light, it was easy to move around the room with them during circuits. This fan is also notably easier to clean than tower fans, according to several reviewers — something I can attest to after my own ancient tower fan blasted out a lungful of dust when I first turned it on again this year.
Best pedestal fan
Photo: retailer
63 centimetres | Blades | 4 speed settings, remote control, timer
Halliday recommends this John Lewis pedestal fan, which has an overall rating of 4.9 stars. It is the only fan here with an adjustable height, and the head also tilts at an angle to better disperse cool air. You'll use less energy thanks to its sleep timer, and reviewers say that it's quiet enough to not bother pets. This is the only pedestal fan we've featured, as most our experts prefer tower fans. But we think it's a good price given the wide range of features it offers. This fan is currently out of stock online, but you can check whether it's in-store at your nearest John Lewis.
Best desk fan
21 centimetres | Bladed | Oscillating, 90 degrees adjustment, wall mount
This small fan is neat enough to sit on your desk and comes highly reviewed across several sites, including Amazon (where it has over 14,000 reviews), Argos, and Currys (where 96 percent of customers say they'd recommend it). We chose it as our best small fan because it offers some useful features (such as oscillation) despite being small and inexpensive. The 90-degree pivot is significantly less than the 160 degrees offered by the Pro Breeze, but it has the additional option of being wall-mounted, which none of the other fans in our list can do. One downside with a fan this size is the noise levels — reviewers say while it isn't actively noisy, it's not particularly quiet, either. But it has many fans, from dog owners looking to keep their pets cool to Peloton enthusiasts who work out at home.
Best clip-on desk fan
17 centimetres | Bladed | Adjustable | 2 speed settings
If you're looking for something even smaller than a desk fan, McMahon recommended this tiny desk fan, which can attach to a variety of surfaces. Like the Honeywell Turboforce, it doesn't oscillate, but it is adjustable, and it has two speed settings. Reviewers all said its versatility made it far better suited for small spaces — one customer said they bought it for their catering van and would clip it onto different shelves in their tiny kitchen space while working.
Best fan-purifier combo
101 centimetres | Bladeless | Oscillating, timer, remote control, HEPA purifier
​​Both interior designer Neffi Walker and lifestyle journalist Alexa Erickson tell us they use this fan from Dyson not only to cool their homes but to keep the air inside clean. That's because — and this partially explains the higher price tag — it's an air purifier, an essential we've written about plenty of times before. According to Walker, "It's quick to cool, and it's also easy on the electric budget." Erickson, meanwhile, tells us she uses hers while she sleeps to "keep both my body temperature down as well as breathe in cleaner air."
Best (less expensive) fan-purifier combo
Photo: retailer
109 centimetres | Bladeless | Oscillating, timer, remote control, HEPA purifier
The Dyson might be considered the most status-y fan, but it's not cheap. Others, particularly from the brands Vortex and SmartAir, also offer HEPA filters, timers, and remote controls. Looking at reviews across Amazon and other retailers (such as JD Williams and Home Essentials), the Smart Air had more of the features we're looking for in a Dyson alternative. It's a similar height (though a shard shape, rather than the Dyson's rounded design) and has a timer, oscillating mode, and both touch controls and a remote for ease of use. The HEPA filter is also easy to take apart and clean, according to reviewers. It's also almost half the price of the Dyson fan.
Some more fans we've written about
• Matthew Brown, director of AC and fans at Home Depot
• Alexa Erickson, lifestyle journalist
• Liam Halliday, product development technologist at John Lewis
• Gary McCoy, Lowe's store manager
• Patrick McDonnell, assistant manager of Mazzone Hardware
• Liam McMahon, e-commerce buyer for Robert Dyas
• Rosie Percy, Strategist UK associate director of audience development
• Neffi Walker, interior designer
The Strategist UK is designed to surface the most useful, expert recommendations for things to buy across the vast e-commerce landscape. Read about who we are and what we do here. Our editors update links when possible, but note that deals can expire and all prices are subject to change.