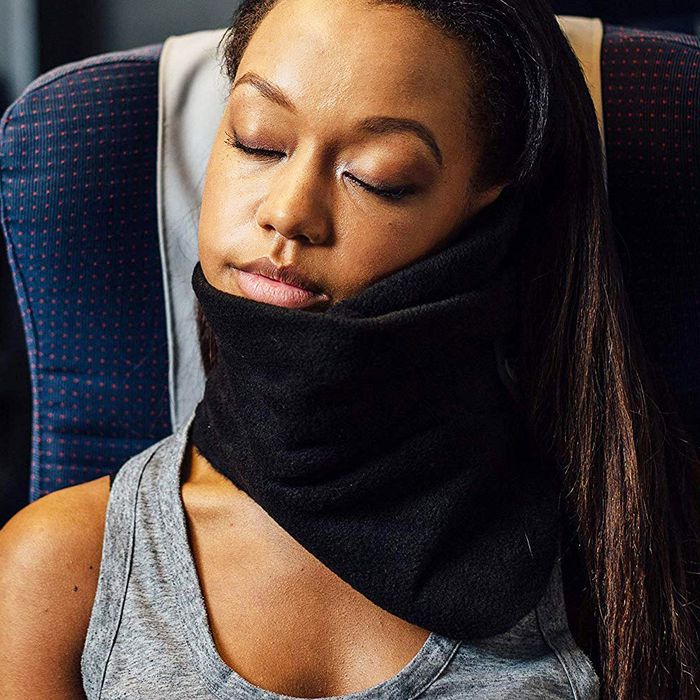 Courtesy of the retailer
Photo: Courtesy of the retailer
Obsessed with saving time, I've never been able to bear choosing flights that depart at a civilised hour. As a travel writer, flying for me is more work related than not, so you might think this is a noble endeavour. Except I can't sleep on planes — at least I couldn't, until recently. Instead, I'd end up on overnight red-eyes or 5 a.m. flights that give me a full first day at my destination, but land bleary-eyed and ready to yawn my way through the next ten hours. Traditional U-shaped neck pillows are useless: Cushion or bead-filled options don't provide enough support, killing any illusion that I'm not precariously propped up in a seat 38,000 feet above the ground as my head lolls too far to one side and I jerk awake. Blow-up pillows are marginally more supportive but still don't prop my head up enough for anything beyond an uncomfortable zombie-like doze. Transporting either kind is a faff too, either leaving you huffing and puffing into a leaky mouthpiece, or trying to cram a full pillow into your suitcase.
This makes sense for something that hasn't changed since it was patented in 1929. Essentially, we're all sporting the travel-pillow equivalent of a wind-up gramophone around our necks. Which is why I've switched to the Trtl pillow. I found out about it via extensive Googling. A real deep internet dive into the best travel pillow pulled up some seriously rave reviews, and I bought it as a gift for my boyfriend, who ends up even more grouchy than me after flights. Foolishly, on a long-haul trip to Thailand, he let me borrow it. After waking from a gloriously full-five-hour nap, minus the neck cramps but covered in sleep drool, I told him he wouldn't be getting the pillow back.
This miraculous travel 'pillow' isn't technically a pillow. Instead, it's a length of fleece you wrap around your neck and Velcro in place. The genius part is a bit of plastic sewn inside the fleece. Bent in a C-shape, it sits on your shoulder and curves all the way up to prop up your chin, working like a hospital-esque neck brace. All this means that your head is kept in a secure, nearly upright position that eliminates neck cramps and that weird sensation of your head falling towards your shoulder as you drift off. Another advantage of the Velcro and the brace is multiple different sleeping positions, whether you nod forwards, backwards, or to the side.
Of course, it's not without its pitfalls, namely that it's slightly more expensive than the average pillow at £24.95, and isn't the most stylish of planewear. Most people are still using regular round-neck pillows, so I get a few funny looks when I'm trussed up in my neck-brace-scarf hybrid. The pros make this a no-brainer though. Along with giving me the closest thing to a night's sleep on a plane I've ever had, it's machine washable, folds down to the size of a T-shirt, and weighs half a pound. Making me revise my previous judgement. It's not that I can't sleep on planes. I just needed to update my equipment.
The Strategist UK is designed to surface the most useful, expert recommendations for things to buy across the vast e-commerce landscape. Read about who we are and what we do here. Our editors update links when possible, but note that deals can expire and all prices are subject to change.