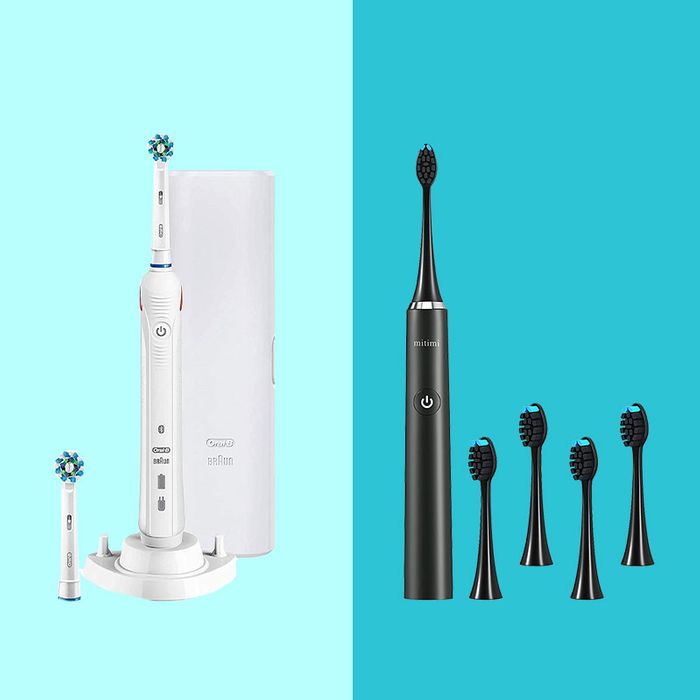 Photo-Illustration: retailers
Here at the Strategist UK, we like to think of ourselves as obsessive (in the best way) about the stuff we buy, but as much as we'd like to, we can't try everything. Which is why we have People's Choice, in which we find the best-reviewed products and single out the most convincing ones. (You can learn more about our rating system and how we pick each item here.)
And whilst we've covered everything from purple shampoos to microwaves, here, we've rounded up the best electric toothbrushes for everyone, as praised by the most enthusiastic reviewers on Amazon.
Best-rated overall electric toothbrush
Photo: Retailer
This brush has an overwhelming number of reviews compared to other models — 80 percent of which are five stars. A total of 726 reviews mentioned the battery life, with dozens agreeing that the toothbrush lasts at least two weeks before needing a charge. A further 319 reviews mentioned the pressure sensor — which flashes a red light if you brush too hard — with one stating that they were shocked at how hard they were brushing before. The cross action mode, specifically for sensitive teeth and gums, is also very popular amongst reviewers — one noted that it was handy post-dental surgery. Another customer urged others to not bother spending extra on fancy accessories and gadgets; they say this brush is all that you'll need.
Best-rated (less expensive) electric toothbrush
This toothbrush by Oral-B was the best-rated and least expensive option — it's been on sale throughout the year and currently costs just over £30. Though it lacks the bells and whistles of more expensive models, the value for money was mentioned in 180 reviews. One customer bought it for their husband, who wanted a simple toothbrush, but she wrote that they were both impressed by the timer, which buzzes every 30 seconds telling you to change where you are brushing. Another customer said they chose this as their budget didn't allow for a flashy model, but after only a couple of months their dentist had remarked on how much cleaner their teeth and gums were. In fact, 209 customers said their teeth felt cleaner after using this model.
Best electric toothbrush for battery life
This Oral-B toothbrush has the best battery life of all the models featured, thanks to the fact it features a lithium-ion battery; reviewers said this allows the toothbrush to go over two weeks without needing a charge (many other toothbrushes feature a Ni-MH battery which requires charging more frequently). Customers noticed that the battery life remained consistent whether using any of the toothbrushes three modes — sensitive, daily clean, and whitening, and the travel case was also noted as being slimmer than many bulkier models. A total of 175 customers said they would recommend this option, including one who said the pressure sensor had been a "revelation" to him, and a parent who said this was a must-have for any parent trying to get their teen to take better care of their teeth. Several reviewers also said this model came recommended by their hygienist. [Editor's note: Only the white toothbrush featured on this link has the lithiom-ion battery; many customers who purchased the black/pink model noted it features a Ni-MH battery.]
Best electric toothbrush for kids
Overall, 81 percent of customers gave this Oral B Junior brush five stars, with 107 reviewers excited about how easy it is to use. This was especially important for one customer, whose 10-year-old daughter has hypermobility syndrome, and who also had visibly-cleaner teeth after using this brush. Another five-star review claimed that their daughter is particularly taken with how soft the brush feels on her teeth and gums, while one customer said their 6-year-old, who had taken to chewing his manual brush, instantly started cleaning his teeth better after being introduced to this model. The timer function — which goes off every 30 seconds for the recommended two-minute brushing time, letting kids know to move to the next section of their mouth — also proves popular, featuring in 47 reviews. One customer was happy to report that this has made teeth-brushing more fun for their 8-year-old.
Best electric toothbrush with extra heads
This toothbrush by Mitimi was considered inexpensive and easy to use, according to reviewers, but best of all, it comes with four extra brush heads. One reviewer switched to this after previously using a pricier Oral-B model, and said that they saved a small fortune from not having to buy extra heads when it needed replaced. Another customer suggested that his dentist "hated" this toothbrush, as it had cut the customer's dental bills down considerably. Reviewers wrote that the blue detailing on the brush bristles wears away when they are ready to be swapped out.
Best electric toothbrush for sensitive teeth
Readers with sensitive teeth were particularly impressed with this Oral-B toothbrush; 33 reviews mentioned the pressure sensor as a selling point. One customer bought this after receiving a "telling off" from their dentist about their poor gum health, and noticed an improvement right away thanks to the sensor's warnings about over-brushing. A total of 46 customers with sensitive teeth said this toothbrush was a lifesaver, especially with the sensitive mode, which is softer and kinder to teeth. One customer, who said their teeth often felt sore in the mornings, said this toothbrush didn't make them dread brushing their teeth. The battery life was mentioned in 209 reviews, too, and 72 reviewers highlighted the battery case in their review, too.
Best oscillating electric toothbrush
If you prefer a toothbrush with an oscillating (or rotating) head rather than a sonic brush, this one comes well recommended by customers. At least 381 customers said their teeth felt cleaner, with one liking the way the brush head rotates in the opposite direction after 30 seconds of brushing. Another claimed that using the brush, which came recommended by their dentist, has reduced the staining on their teeth. Overall, 242 reviewers reported that the toothbrush was powerful, with 61 highlighting the "cross action" brush head. One enthusiastic customer said she likes the fact that it feels as though the brush is cupping each tooth.
Best electric toothbrush for braces
Photo: Retailer
If you've got braces, brushing can be a little tricky, as some brush heads might not reach all areas of the teeth and gums. Sixteen reviewers praised this brush's additional 'ortho' brush head, designed specifically for cleaning around braces. One customer said that this is pretty much the perfect toothbrush for those with braces, with another claiming that while gentle, the brush is very effective. Based on the general age demographic of those with braces, this toothbrush is specifically marketed towards teenagers. However, many reviewers were keen to stress that this can be used across all ages: an older customer said that their teeth look and feel more polished and less stained since using the brush, while one parent stated that it was being used with great success by their 8-year-old daughter.
Best-rated electric toothbrush twin pack
Photo: Retailer
Overall, 526 reviewers wrote positive things about the price of this Oral B twin-pack, with 252 saying it offers great value for money. One claimed that, compared to other electric toothbrushes they'd tried, this one is really quiet, with a brush head that doesn't harm or irritate their gums at all. One reviewer also said that she much preferred having a brush each for her husband and herself — as opposed to using different heads for the same brush — while another added that this is the first electric brush they've used that hasn't made them want to revert back to a manual one.
Additional reporting by Hannah Holway
The Strategist UK is designed to surface the most useful, expert recommendations for things to buy across the vast e-commerce landscape. Read about who we are and what we do here. Our editors update links when possible, but note that deals can expire and all prices are subject to change.