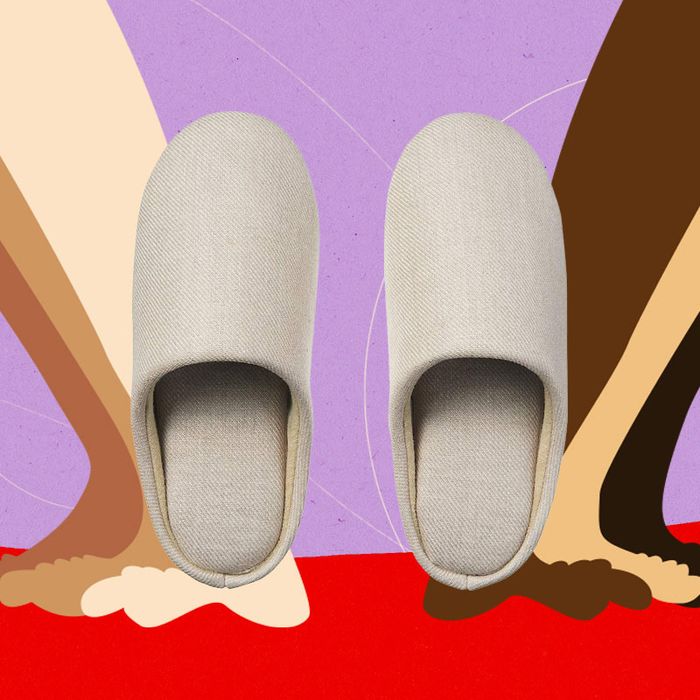 Photo-Illustration: The Strategist; Photo: Retailer
Growing up in a Chinese household, there was one rule which has remained a constant throughout my life: No outdoor shoes in the house. Inside, we wear slippers. While I like to imagine I had some command over the aesthetics and function of the house slippers I wore when I was younger, in reality, they sort of just appeared (hand-me-downs from my mother or one of the extra pairs she kept for visitors). By my early 20s, I had cycled through dozens of different styles: cheap plastic flip-flops where the thong had burst out of one of its fastenings after the fourth wear; plush, closed-heel slippers that inevitably became stained with sweat; rubber slides that chafed the surface of my skin; cotton closed-toe slippers liberated from hotel stays which left my knees lightly throbbing from a lack of arch support. A few years ago, tired of spending my days wearing something not quite right, I sought a pair I could call my own.
On a blistering summer's afternoon, mainly in search of the piercingly cool embrace of an air-conditioned room and slightly in search of some new slippers befitted to me, I wandered into Muji. After snaking through their meticulously organized array of individual toothbrush holders and nylon pouches, I finally found myself facing their wall of machine-washable Twill Cushion Slippers. I poked a pair's sole with my thumb to test the strength of its cushion. As I released the slipper from my grip, it sprung back like moss on a forest floor after being tread on by inquisitive hikers. Satisfied with this result, I purchased them and left, content with having fulfilled the one task I had on my to-do list.
It's been five years since I bought my first pair of Twill Cushion Slippers, and I've repurchased them three times since. Despite acquiring them haphazardly, I now keep a set of Muji slippers at my partner's house, my parent's house, and my own, with an old pair in the slipper cupboard for the guests who would become victim to my snarled lip, flared nostrils, and aggressive side-eye if their shoes remained on. It's a bit indulgent to own so many, but their soft-cushion sole, effortless maintenance, and light linen lining has made these slippers the one pair that I look forward to putting on after a long day of treading on hard surfaces. I no longer suffer from the pulsing pain of colliding my toes into the legs of my coffee table or the inevitable chill that comes with stepping barefoot on cold tile. I can walk up and down stairs without the jolt of discomfort in my knees, and at the end of the day, I can get in bed knowing the sheets I just washed won't be contaminated by the dusty scraps which have accumulated on my soles. By now, they've evolved into a kind of second skin. Yet the ease with which I can reinvigorate them with a simple wash means the novelty remains, and each time I slide my feet into them they feel like the seldom luxury of fluffed hotel down pillows.
I've walked every corner of my house in these slippers, the bottoms of which have become a canvas for the residual leftovers of the mundane activities that have occurred throughout the day. They've transformed into haphazard abstract collages; a circadian Pollock-esque composition of the stains I accrue from my bedroom to the kitchen to the bathroom and back. Remnants of baked eggplant, grains of dried rice, soy sauce puddles, coffee spills, and cat poo. While these relics of blundering gestures may have been the demise of most other indoor slippers, I just throw mine in the laundry machine and sulk with the temporary disdain of not being able to wear them until the cycle is over. When they emerge from the rigorous spin of the drum, I find myself suspended in slight disbelief as their structure contorts itself into its original shape and their soles morph back into a tabula rasa; primed for the rhythms of my daily routines.
The Strategist UK is designed to surface the most useful, expert recommendations for things to buy across the vast e-commerce landscape. Read about who we are and what we do here. Our editors update links when possible, but note that deals can expire and all prices are subject to change.