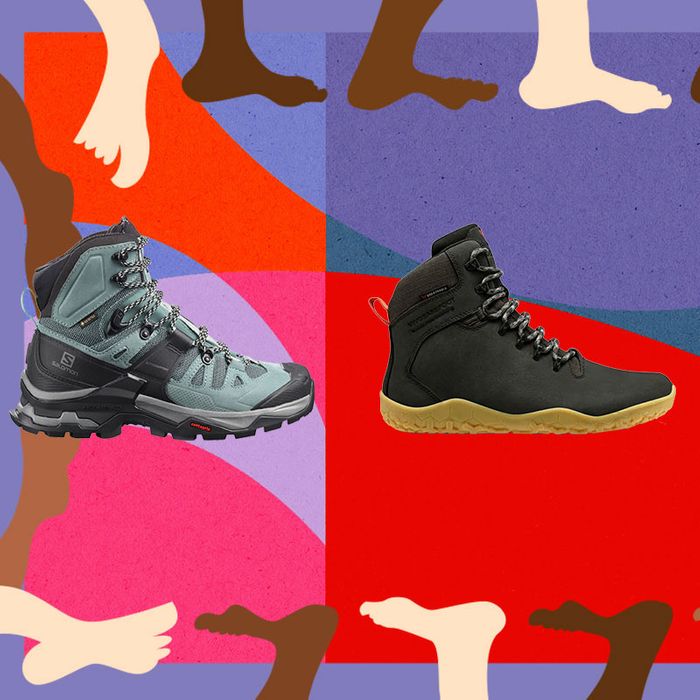 Illustration: Chaimae Khouldi; Photos: Retailers
Whether you're a seasoned hiker or someone who likes venturing out on the occasional weekend walk, the right pair of shoes can help ensure your expedition is enjoyable rather than a feat of endurance.
When choosing hiking boots, you'll want to bear in mind the type of terrain you'll be hiking on. Flexible low-cut shoes (that sit below the ankle bone) will allow your feet greater freedom of movement and are best suited to shorter hikes along stable paths with few hills. But if you plan to tackle longer hikes or more technical terrain — such as rocky paths, undulating landscapes, steep mountains, or unmarked trails — then you'll want higher cut boots with a stiffer outsole, to provide greater ankle support and more stability on uneven ground. Leather boots are durable, but can be less flexible than pairs with fabric uppers. While those with impermeable waterproof membranes will protect your feet from wet weather and allow you to cross streams without getting damp, but could trap in sweat and moisture in hot weather.
Lastly, your feet may swell and expand over the course of the day, so it is a good idea to try boots on in the evening and with a thick pair of hiking socks to ensure there are no pressure points. If you feel any tightness across the toes it is wise to go for a size up to avoid rubbing.
All of which is to say, there's a lot to consider, so who better to offer recommendations for comfortable hiking boots than seven women who regularly put their footwear through its paces, heading out on rambles and treks whatever the weather and on varying terrain from the valleys and ridges of the Lake District to the peaks of Everest. Read on for the best hiking boots for different landscapes and weather conditions.
Best overall hiking boots
These lightweight boots are flexible yet tough. The rubber soles are enhanced with graphene, a material that is 200 times stronger than steel but six times lighter, providing long-lasting tough grip suited to all terrains. This innovation has earned the Inov-8 boots two awards from magazines Country Walking and The Great Outdoors. "For mountain adventures in my local national park — the Lake District — these are my go-to boots," says adventurer Nic Hardy, who works with Inov-8 as a sponsor for her challenges. "They're grippy, lightweight and allow me to go faster, higher, and further without compromising on comfort. I used these boots when hiking all 214 Wainwright Fells of the Lake District in seven weeks in 2021 — a total of 620km of arduous mountain hiking — and they got me around the routes safely and comfortably." The boots are available in sizes UK 3 to UK 8.5.
These super-lightweight Inov-8 boots were also recommended by Hardy. "These boots are my number one choice for summer adventuring, because they're super lightweight and unlike most boots they're not waterproof," says Hardy. "The worst thing ever during a long-distance hike is when a waterproof boot gets wet inside [from sweat or condensation], the water stays locked inside sloshing around and it can't escape. Whereas if my feet get wet in these boots they dry out quickly, which makes them ideal for long summer hikes."
Hardy says these boots are a good choice for multi-day adventuring because they're "supportive, grippy, and have great 'out of the box' comfort." They've recently won an award from The Great Outdoors magazine, as they feature hardy graphene enhanced soles and an Adapter-Flex grove that allows feet to mould to uneven terrain. The boots are available in sizes UK 3 to 8.5.
Best (less-expensive) hiking boots
"These ankle boots are very cheap compared to other hiking boots out there, but they are one of the greatest pairs I've found," says Thao Nunns, a hiker based in the Lake District. "I wear them mostly on long hikes, like going up Pike O'Blisco or Helvellyn." With deep lugs on the soles, a leather upper and a breathable Weatherlite lining, Nunns says these boots "are very lightweight and the waterproofing is incredible."
"I like that they really support my ankles well," she adds. "I go hiking almost every other day, even in the snow or ice, so I use them a lot and they're still in very good condition, including the soles." Nunns also recommends checking out Karrimor's range of kids' hiking boots, as she always buys them for her children. The boots are available in sizes UK 3 to UK 8.
Best waterproof hiking boots
These breathable suede and mesh boots were the first pair of good-quality hiking boots that youth worker Cherelle Harding ever owned. She was given them as part of work she was doing with the organisation Black Girls Hike. She has since founded Steppers UK, an organisation that encourages under-represented communities to participate in outdoor activities, and still rates this pair of boots highly as "they are super comfy and offer great ankle support." "They are so reliable and have been through the storms with me," she adds. The boots are waterproof and feature an "Opti-Stud" sole designed to provide better grip on wet surfaces and muddy terrain. Plus, Harding loves that Berghaus is a brand that "promotes diversity and representation." The boots are available in sizes UK 4 to UK 8.
Bex Band, founder of the The Ordinary Adventurer and the Love Her Wild community, says these mid-height waterproof boots with breathable mesh uppers are her "go-to" pair, as they're "great value" and have "lasted really well on some tough and challenging hikes." They have 3mm multidirectional lugs for high-traction grip on all terrain. "I also like the clean and simplistic look of the boots, which means I often wear them for colder days when walking around town or doing lighter urban hikes," Band adds. The boots are available in sizes UK 4 to UK 8.
Best hiking boots for smaller feet
These boots are a good choice for young hikers or women with small feet as sizes start from a UK 2.5 (and go up to a UK 9). Marta Misztal, blogger and hiker, wore this flexible style with a durable yet lightweight mesh upper, for all her preparation walks ahead of an Everest expedition and for trekking up to the Everest base camp. "They're very light, which suits my faster hikes, even when I decide to run downhill," she explains. "They're incredibly comfortable, so there is no need to break them in. In fact, I have five pairs from Keen, and none of them needed to be broken in. With a thick pair of socks and comfortable shoes like these, you're ready to go." [Editor's note: Misztal received her boots for free, but is not sponsored by Keen.]
Best hiking boots for large feet
These waterproof nubuck leather and Gore-Tex boots are available in a larger size than most, going from a UK women's size 3.5 to 9.5. Lisa Wells, a mountain leader and Ordinance Survey #GetOutside champion, says she wears them "when the ground I'm covering isn't too technical." As an ambassador for the brand, Wells now receives free boots, but did wear these prior to working with Salomon and rates them highly because "the lace system stays in place, I love the padding around my ankles, and they keep my feet really warm." "I can walk for miles in these boots without getting achy feet," she adds.
Best hiking boots for trails
If you want boots that will withstand muddy trail walks but which also won't look out of place on a jaunt through town, then this soft leather pair with a waterproof Gore-Tex lining come recommended by Kara McCabe, who runs comms at Manchester walking group MAD Walkers. "They are light, comfortable, extremely durable, and — I know it's not really important, but they look great," says McCabe, who is head of PR at SJM Concerts. "When hiking you don't want to be aware of your footwear, you want to concentrate on what is in front of you and these are perfect for that. They take a bit of care post muddy hills, but it's worth it. The tread is also excellent, which gives you that bit of extra confidence on rough terrain." The boots are available in sizes UK 3.5 to UK 8.
Best hiking boots for rocks and ice
"These are the boots I wear when I'm covering rockier ground or need to add crampons [to cross snow or ice]," says Wells. "I trust them 100 percent, so can cover ground quickly and confidently," The boots' uppers are fully waterproof yet breathable, as they are made from a lightweight micro-tech fabric, which Wells says comfortably "hugs" her feet. She is also a fan of the bright design as: "Catching them out of the corner of my eye as I'm hiking always makes me smile." The boots are available in sizes UK 4 to UK 8.
Best hiking shoes
Not everyone likes the feel of laces strapped around their ankle. If you prefer a trainer-style shoe, then this mesh pair comes highly recommended by Nunns. "I use these for less intensive hikes and when out and about taking the kids to football club and on the school run," she says. "They are so lightweight and the sole is really supportive and cushioned, but unlike boots, you don't have to tie the laces above the ankle, so they're easy to slide on and off."
"The waterproofing is also incredible," she adds. "I tried them out on a really rainy day and my feet were still dry after about four and a half hours of hiking, and that was in the Lake District where you have to cross a lot of streams." Nunns also likes that Merrell supports the mental-health charity Mind. The boots are available in sizes UK 2.5 to UK 8.5.
Best barefoot hiking boots
Most hiking boots have thick soles designed to cushion your feet, but for those who prefer to feel their feet bend to the terrain, Band recommends this wide-fitting pair made from soft leather with a thinner flexible sole. "Vivobarefoot designs shoes that allow your feet to spread to their natural shape, while minimising their platform so you can feel the ground you are walking on," she explains. "They are lightweight and — once you've adapted to hiking in barefoot shoes — provide a unique and quite addictive style of walking." These boots are designed to be worn year round as they have a recycled waterproof plastic lining and removable thermal insole. The boots are available in sizes UK 3 to UK 9.
The Strategist UK is designed to surface the most useful, expert recommendations for things to buy across the vast e-commerce landscape. Read about who we are and what we do here. Our editors update links when possible, but note that deals can expire and all prices are subject to change.