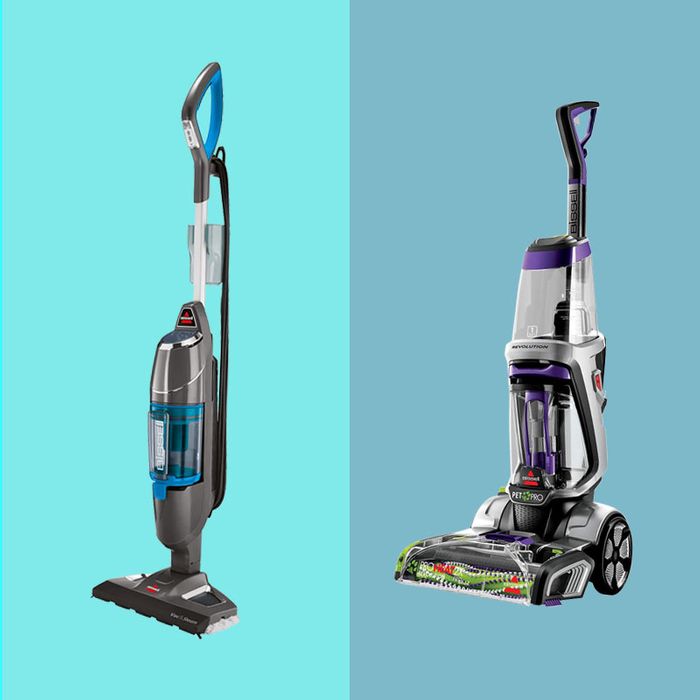 Photo-Illustration: The Strategist
A version of this story originally appeared on the Strategist U.S.
While a good vacuum cleaner can get rid of most dust and dirt, some stains will be too stubborn for even the strongest models. Area rugs and carpets alike require a deep clean every couple of years. This can be done either by a professional service or with a steam carpet cleaner yourself. Paul Iskyan, president of ABC Rug & Carpet Cleaning Service, told us in previous reporting that "the biggest problem that we have in the industry is that people don't clean, period. And then they don't clean frequently enough, then they wonder why their carpet doesn't look good, or they wonder why their kid is at the doctor with big allergy problems."
According to Iskyan, you should be getting your area rugs professionally cleaned every year or two, especially if they're in high-traffic areas like living rooms or if you have pets or kids. But there are a few things you can do to keep carpets clean like a professional carpet cleaner, including getting an at-home steam carpet cleaner.
When choosing our best steam cleaners, we referenced our previous reporting and pulled some finds from Strategist contributors. Then we consulted thousands of reviews from across the internet to find the best models out there, including the best compact cleaners and the best automatic ones. We've opted not to include a model that's best for pet owners because every steam cleaner we considered has rave reviews from pet owners, making it hard to distinguish which one was truly the best. Instead, we considered the extra tools and functions that may make raking up cat or dog hair a lot easier. You can learn more about our selection process below.
Best overall | Best less expensive | Best portable | Best automatic | Best multipurpose | Best vacuum steam cleaner | Best steam mop
What we're looking for
Capacity: The capacity you need will depend on the size of your home. A carpeted home will require a larger-capacity cleaner, but if you have only a couple of area rugs (and wood floors) you may be able to get away with a smaller model. We have listed each cleaner's total volume.
Weight: If the cleaner is too cumbersome to carry from room to room, you probably won't want to take it out of the cupboard and clean. Steam carpet cleaners are often bulkier than vacuums, so we've listed the total weight, which is a good proxy for ease of use, and sought out customer reviews that highlight ease of use, too.
Attachments: Like vacuum cleaners, some models feature extra nozzles and attachments to help remove pet hair or triangular brush heads for awkward corners. We've listed every extra attachment that comes with each model.
Best overall carpet steam cleaner
4.5L capacity | 7.9kg | Includes tough-stain and pet-hair attachments
Bissell's ProHeat carpet cleaner gets top marks for three reasons. First, it's one of the best-rated models on Amazon, with over 23,000 reviews — 80 percent of which are five stars. Second is the popularity: It's the best-selling steam carpet cleaner on our U.S. sister site, which convinced us that a lot of people stand by this Bissell. Finally, Strategist contributor Stacey Dee Woods wrote a convincing ode to her model, which she bought after consulting private upholstery cleaners and looking at professional options: "The Bissell Proheat 2x Lift Off ticked all the boxes, but ultimately I pulled the trigger on it because every Bissell purchase helps save homeless pets. I figured if I was going to gamble, at least someone would win." Thankfully, Woods's gamble paid off: "After filling the tank with water and the restrained yet pleasant-smelling cleaner, I glided the sleek, light machine across the carpets and couches and marvelled as stream after black stream of dirty liquid bloomed in the canister like so much squid ink. Not only did it clean as well as the pros for a lot less money, the Bissell is mine to keep and use to my heart's delight."
Best (less expensive) carpet steam cleaner
3.4L capacity | 5.7kg
Even at full price, Vax's compact cleaner is less than half the cost of the Bissell ProHeat. But it's currently on sale for just under £100. For that, you still get a decent-size water tank, though it's still pretty bulky for a compact model. Vax say this is its most compact model, and as is expected for a cost-effective option, there are no bells and whistles. It has over 3,800 reviews on Amazon, 72 percent of which are five stars. Reviewers said the smaller size made it more effective for tackling stairs than other, bulkier models, while it was also noted as being handy for cleaning rugs. If you live in a hardwood home and only have one or two rugs, this might be the best option for you.
Best portable steam carpet cleaner
1.1L capacity| 4kg | Includes tough-stain attachment
If you have a smaller space, consider a portable cleaner, which will take up less room in your cupboard. Two experts recommended Bissell's Little Green multipurpose cleaner to our U.S. site when we looked at the best cleaning products for pets (and pet mess). The Little Green is unfortunately sold out, but after some snooping, we found the highly rated Spot Clean, which has a larger capacity, lighter weight, and stronger suction. Little Green owners include former New York Magazine newsletters editor Kelsi Trinidad, who got hers because her couch hadn't had a good, deep clean since she bought it five years earlier. "Now that I've adopted a dog, it felt like a good time to be a bit more on top of cleaning the couch," she said, adding that seeing the grime it pulled out of her couch made it all worth it. Justin Renard, the VP of growth and marketing at cat-food start-up Smalls and a dad to one long-hair cat, is another fan of the Little Green. "It pushes the water through the fabric and then sucks it back up again, taking all the particles the fabric might have absorbed, like cat hair balls," he explains. Since it offers a bigger capacity and has the same nozzles, we're confident this makes for the best portable steam cleaner in the UK.
Best carpet steam cleaner with vacuum
0.95L capacity | 4.8kg | Vacuums and steams
While this Bissell cleaner is a lot smaller in capacity than the ProHeat, it's also significantly lighter. We think it would make an excellent steamer for someone with a smaller home, as it also doubles up as a vacuum cleaner. It's also a lot easier on the wallet. On Amazon, customers said it was a game changer, able to clean hard floors and ceramic tiles in addition to upholstery. One dog owner said that while the steamer took a while to heat up (30 seconds by her estimate), it was powerful and easy to manoeuvre, allowing her to completely steam her carpets in less than 15 minutes.
Best multipurpose carpet steam cleaner
1.6L capacity| 4kg | Includes microfiber pads, window tool, extension tubes, lance, microfibre cloth, triangular tool, nylon brushes, and brass brush
This multipurpose cleaner by Dupray won out for the large number of Amazon reviews and the sheer breadth of its accessories, which help the otherwise conventional cleaner steam-clean everything from brass to the inside of your oven. It is also capable of cleaning grout lines and, with the microfibre bonnets that come with it, you can even use it to steam clothes. A total of 74 percent of Amazon reviews gave this five stars, including one reviewer who initially bought it to clean up after her muddy dog and later found herself using this on every inch of her home, including doors, skirting boards, and around the hinges of her toilet. It even came recommended by a professional cleaner, who said it was light enough to move from room to room but the large cleaner head helped blast dirt and grime from all manner of floors.
Best steam mop for carpets
0.4L capacity | 2.5kg | Includes carpet glider
This is the steam mop I have rhapsodised about before on the Strategist. While it's not a steam carpet cleaner in the strictest sense, the mop does come with a clip-on carpet glider, a triangular plastic guard that allows the steamer to be used on carpets and rugs. I only have two rugs in my home, and this steam mop does a good job keeping them clean. I'd absolutely recommend this if you have a small home and space is at a premium (I know my utility cupboard can't take any more upright gadgets). Readers on Amazon were impressed by the impact on their carpets, with several reviewers saying theirs looked brand-new after running the Vileda across it several times.
• Stacey Dee Woods, Strategist contributor
• Paul Iskyan, president of ABC Rug & Carpet Cleaning Service
• Justin Renard, VP of growth and marketing at cat-food start-up Smalls
• Kelsi Trinidad, former New York Magazine newsletters editor
The Strategist UK is designed to surface the most useful, expert recommendations for things to buy across the vast e-commerce landscape. Read about who we are and what we do here. Our editors update links when possible, but note that deals can expire and all prices are subject to change.