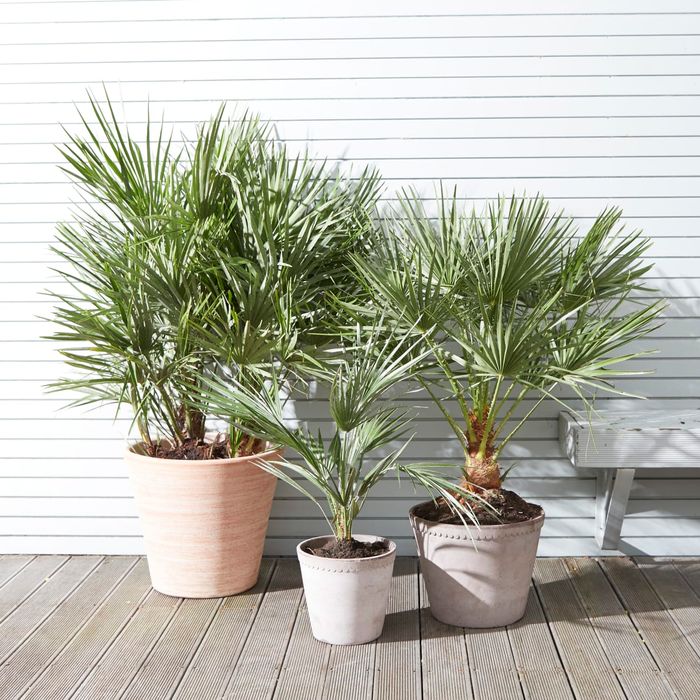 Though you may already have an assortment of tasteful plants throughout your living room, bedroom, and bathroom, you might also be wondering what kinds of plants you can display on your balcony. It's important to note that in most cases, your beloved plants aren't interchangeable between the indoors and outdoors. "Houseplants are kept indoors because they like to live in a certain environment and require special care, such as extra humidity or warm temperatures," explains Kay Ismail, of Plant Boutique. Angela Slater, a horticultural expert for Hayes Garden World, agrees, saying "By their very nature, many houseplants are only suitable to be indoors, as most of them come from tropical climes. However, there are a few plants which can cross this boundary and be grown both in the garden and indoors."
Generally speaking, you should look out for "plants that naturally prefer low-light conditions or that can live in tropical climates," when choosing one for your balcony, according to Ismail. James Folger, founder of the Stem, adds that plants that thrive in light shade will enjoy a shady balcony or patio, though you should be mindful of frost and cold snaps later in the year.
But the kind of plant best suited for your space will depend entirely on what direction it faces, and where in the country you live, according to Tim Sherrratt, founder of Anther + Moss. You can easily figure out which direction your patio faces by using the compass app on your phone, or note its position based on where the sun rises and sets each day. "You may get away with more tender species in the south on a city balcony or enclosed patio, as cities are generally a couple of degrees warmer than more open landscapes," added Slater. We spoke to a total of ten experts, including landscape gardeners, plant-shop owners, and gardening writers, to find out the best outdoor plants for every kind of space, including sunny and shady spots, as well as trailing plants, border plants, and dramatic-looking options. Better still, all but one of these plants can be kept outside during winter, too.
Best overall outdoor plant
Because it can handle the broadest range of outdoor conditions, our experts deemed the snake plant (also known as sansevieria or "mother-in-laws tongue") the best overall outdoor plant. "It's very popular, and enjoys growing in most light conditions," says Esmail. "It's a great plant to keep on your balcony as it's known for its tremendous survivability — many people use this plant to create striking borders or hedging."
The snake plant was considered an easy plant for beginners, too. "I always suggest sansevieria to first-time plant owners," says Jennifer Panxhi, owner of Jen's Plants & Florists in Spitalfields. Alice Bailey, co-founder of Forest, a plant shop with stores in Deptford and East Dulwich, likes that it has practically evolved to enjoy tight spaces. "They enjoy having really cramped roots — they want to be crammed into a small pot. You can have the same one in the same pot for five or so years."
Stacey Rockliffe, owner of online plant shop Mawusi Plants, said she recommended it because it retains a lot of water. "Generally, they don't need to be watered frequently at all." She said they are also low-shade tolerant, meaning they can be placed pretty much anywhere. "I (naughtily) left mine in a room with no water or light when I went away for five weeks," she admits. "And I came back to it looking as green and healthy as ever. It's been my favourite ever since." Panxhi warns that "it does not like its leaves to be watered," and to wait until the soil has completely dried out before watering.
Best outdoor plant for sunny spots
Folger recommends the corn plant (also known as a dracaena) for outdoor spaces that enjoy a spot of sunshine. "It's an easy-care plant native to tropical Africa, and looks great anywhere in the home — especially on the patio or balcony." He says it likes a bright spot, but should be kept out of direct sunshine."'It can tolerate most light conditions, but will thrive in bright, indirect light. Keep it out of harsh direct sunlight."
Best outdoor plants for shady spots
Fittingly, for a plant nicknamed the "cast-iron plant," the aspidistra came recommended as a good houseplant that is comfortable outdoors. "This plant is impossible to kill," said Panxhi. This plant also featured in our look at the best plants for beginners for its ability to withstand different environments, and experts told us it can handle being outside too. "It is one of the easiest plants to look after," says Folger. "It has arching, glossy green leaves and looks great on a patio or balcony. Keep it out of direct sunshine and water only when the soil dries out. It can tolerate a range of temperatures — but bring it inside in the cold weather."
Sherratt agreed, adding that the plant likes dimly lit corners, thriving when it isn't overexposed to lots of direct sunlight, and when the soil isn't completely saturated. "Ideally, water it every couple of weeks, except for winter, when once a month is fine."
Esmail recommended an aloe vera plant for outdoor spaces. "It prefers indirect sunlight so a shady spot is best, and it should be brought back indoors in the winter."
Isabelle Spandler of Wiltshire Garden Design suggests ferns for shady spots because of their delicate-looking and appealing fronds. "Dryopteris affinis or Cristata (a.k.a. the King of Ferns) has a striking shuttlecock shape and retains its bright-green foliage through the summer. As a native woodland plant, it likes to be kept moist but is still a great beginner plant. Cut back the dead fronds in the winter for fresh, new growth."
Best trailing plant
Five experts said ivy was an excellent trailing plant for outdoors. Esmail specifically said she likes English ivy, which "looks great trailing off a balcony, or potted in a decorative pot on a table. Being native to England it prefers to be placed in a cooler environment and should be watered regularly in the summer months." Other experts liked different varieties, such as devil's ivy (also known as a pothos). Rockliffe said it's a particularly good option "for a beginner that wants some interaction with their plant" as it changes appearance and grows quite quickly. 'The great thing about them is their resilience; they can handle a missed watering day quite well."
Alice Vincent, author of Rootbound and How to Grow Stuff, said "it puts up with low light and intermittent drought, but nevertheless rewards with swift growth." She added that "it's a doddle to propagate — which is always fun."
Best palms for outdoors
Folger likes the tall kentia palm for outdoor spaces, saying the small footprint but dramatic foliage makes an instant impression. "It can grow up to 150 centimetres high, which will add height and interest to a patio or balcony. It should be kept in light shade and watered when the top soil has dried out, and a slightly damp climate or regular misting will keep the leaves fresh. It is most happy in bright light — but keep it out of direct sunlight — and next to a wall is perfect. Bring it inside in the cold weather."
Slater and Sherratt, meanwhile, both suggested chamaerops humilis (better known as the Mediterranean dwarf palm). "This cold hardy palm can be either a garden or house plant. It is suitable for small spaces as it grows very slowly, so it won't get out of hand," says Slater. She suggests growing it in a loose, free-draining compost and says it will need watered once the top of the compost has dried out. "Water less in winter, and feed with a general-purpose fertiliser in spring. It loves bright light, but will tolerate a bit of shade."
Sherratt added that this palm "does well in any aspect, providing there's at least partial shade, but it has a preference for North or East. This verdant plant is hardy and durable, and thanks to its status as a palm, can easily bring a zest of tropical paradise to a balcony or patio space."
Best border plant for outdoors
Design consultant Sam Norris recommends bamboo for its "small footprint and epic growth," adding that "it can provide a natural screening, either for exposed areas or to help create dedicated areas in your garden." Norris notes young plants grow quickly, and their shape means they can accommodate any kind of space. "But young bamboo plants are more suited to the climate seen in the southern half of the U.K.," he adds; the cold, drying winds can scorch their leaves.
Best trees for outdoors
Despite the reputation for cold weather, the U.K. is a suitable place to have a citrus tree on your balcony or patio. Slater says they like "cool, semi-shaded positions" and do well grown in containers, rather than directly in the ground. "The bonus of citrus trees is the gorgeous scented white flowers, and the odd home grown lemon or lime for your gin and tonic."
Slater also recommends seeking out more unusual options — like kumquat trees, whose orangelike fruits are about as small as an olive.
The Strategist UK is designed to surface the most useful, expert recommendations for things to buy across the vast e-commerce landscape. Read about who we are and what we do here. Our editors update links when possible, but note that deals can expire and all prices are subject to change.