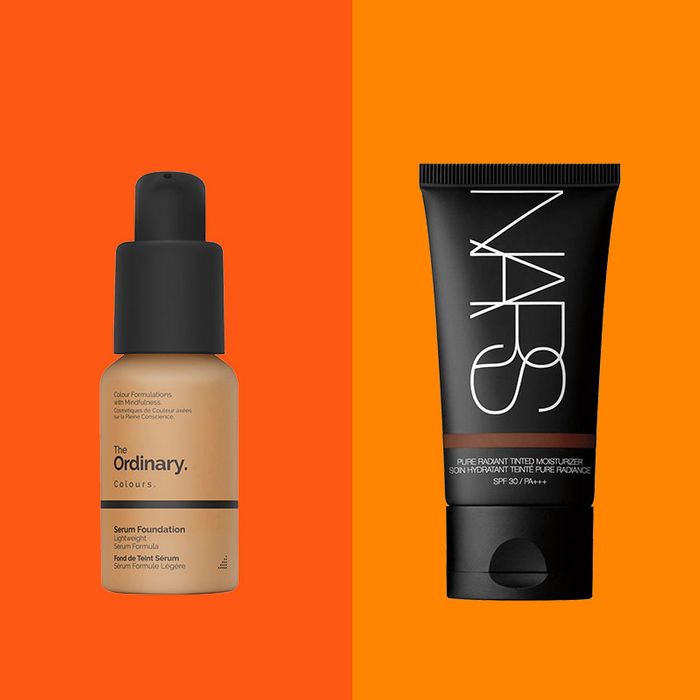 Photo-Illustration: Courtesy of the retailer.
A tinted moisturiser is the best option for days when you're wanting a bit of coverage but not quite feeling up to a full face of foundation. A good one will blur blemishes, brighten your complexion, and keep your skin hydrated all day. The best ones are multitaskers that will provide a combination of sun protection and skin-care benefits along with a smooth finish.
But not all tinted moisturisers are formulated the same way, and several types of products can fall under this umbrella. A tinted moisturiser, at its most basic level, is a moisturiser with some pigment. But if you're looking for something that will do more work, you might want to consider a BB cream or a CC cream. BB creams, also known as beauty balms, offer a bit more coverage than standard tinted moisturisers; they're designed to conceal blemishes as well as moisturising the skin. CC creams are colour correctors that work to conceal areas of hyperpigmentation, or dark spots, via colour correction.
No matter the type of tinted moisturiser you go for, there are some key criteria you want to keep in mind to make sure you're getting the level of coverage you need and maximising skin-care benefits.
Best tinted moisturiser overall | Best less expensive tinted moisturiser | Best tinted moisturiser for pigmentation and dark spots | Best cruelty-free tinted moisturiser | Best tinted moisturiser for buildable coverage
Shade range: Tinted moisturiser is the halfway point between bare skin and a full face of makeup. One hugely important step to achieving this imperceptible, barely there finish is selecting the correct shade of product for your skin. As each person's skin is so different, we've kept our eye out for products that come in a wide range of shades to increase the likelihood of finding a perfect match.
Moisturising ingredients: As well as providing some coverage, a tinted moisturiser should still, well, moisturise. To make sure a product is quenching the skin, we've read reviews from those with drier skin types to understand how well the product sits on the skin, and if it's suited to your skin type. We've also looked for hydrating ingredients including humectants such as glycerin, which retain moisture within the skin, and antioxidant-rich vitamins C and E, which improve skin texture, target hyperpigmentation, and protect the skin from UV damage and pollutants.
SPF protection: Tinted moisturisers are the ultimate multitasking product, especially if you can get some SPF protection to protect while you conceal. "We know that sun exposure is responsible for around 80 percent of the factors we associate with premature skin ageing — think fine lines, wrinkles, and pigmentation," says Dr. Anjali Mahto, a consultant dermatologist and the author of The Skincare Bible. Therefore, products with protection from UV lighting are an essential part of maintaining the health and overall appearance of the skin. With this in mind, we've checked the SPF rating of each moisturiser. Anywhere between an SPF rating of 15 to 30 is a good range, with the higher being the better. Where a product has no SPF protection, this is usually reflected in a (much) cheaper price.
Best overall tinted moisturiser
30 shades | Glycerin and seed oils | SPF 30
Laura Mercier was recommended by four of our experts as the ultimate brand for tinted moisturisers. It makes three different formulas, but the one that maximises sun protection and shade range is the Natural Skin Perfector with SPF 30 and 30 shades. (The Oil-Free Tinted Moisturiser was also highly recommended, but it has just SPF 20 and 20 shades.) The formula, which contains glycerin as well as macadamia and kukui-seed oils, keeps the skin quenched throughout the day. It also contains brightening vitamin C and E, which work in tandem with "a perfect amount of sheer coverage" to give a "healthy glow," according to London-based makeup artist Emily Wood.
I'm a huge fan. As someone with drier skin who has recently transitioned into a phase of "no makeup makeup," the Laura Mercier Skin Perfector has surpassed Nars Sheer Glow as my go-to base over the past six months. A small dollop of product, when applied with a damp beauty blender, adds a healthy glow to my skin, and the huge shade range means I can find exactly the right match each season. It also feels properly moisturising, especially when applied over a hydrating primer.
Best less expensive tinted moisturiser
36 shades | Coconut alkanes, emollients | SPF 15
Usually a fan of luxury options, celebrity facialist and skin-care expert Michaella Bolder advocates for this bargain foundation from the Ordinary. According to Bolder, the serum is "a fantastic and super-affordable liquid that, when chosen in the light form, acts as a matte, tinted moisturiser, which is great for all skin types". She adds that there are "no particular skin-care benefits" to the product, but there are "a large selection of colours to suit most, if not all, skin tones". As well as the whopping 36-shade range, the product has an SPF rating of 15. So while it doesn't offer the same skin-care benefits as its peers, it still evens skin tone and protects skin from UV damage at a fraction of the price.
The Ordinary serum is often sold out, so for a drugstore dupe, try Garnier's BB cream. It's recommended by international makeup-artist duo Pamela and Andrea, who call it "a great product if you're wanting to achieve a natural dewy complexion — your skin will still be glowing by the end of day. The coverage is light, so ideal for on holiday or when you're wanting something to just even out your skin tone". It's also rated SPF 15, but unlike the Ordinary's serum, this BB cream has vitamin C to brighten dark spots and boost collagen production.
Best tinted moisturiser for pigmentation and dark spots
16 shades | Vitamin C | SPF 30
Kristabel Plummer, a London-based fashion and lifestyle blogger, discovered the NARS radiant tinted moisturiser when she couldn't find a BB cream to match her skin tone. Available in 16 shades, the oil-free product contains antioxidant rich vitamin C and offers an SPF 30 protection. What's more, it "feels like you're barely wearing anything," says Plummer. "I love this for lazy makeup days, infrequent British heat waves, and quickly evening out my skin tone."
Mahto is also a fan. She says despite the sheerness of the moisturiser, it "provides a great level of coverage for acne and pigmentation". She also gives the product's SPF 30 rating two thumbs up, emphasising (again) the importance of UV protection.
Best cruelty-free tinted moisturiser
12 shades | Hydrating glycerin | No SPF protection
As with all Glossier products, the Perfecting Skin Tint is entirely cruelty free and vegan friendly. This means the product contains no animal-derived ingredients and the brand categorically never test on animals. Whilst some other options on this list are either vegan or cruelty free, the Skin Tint is the only one of our picks that qualifies as both. It sits at the middle of the price range of our best picks, which is reflected in its modest shade range of 12. However, makeup artists Pamela and Andrea do find that those 12 shades can flex between a wide range of tones. Perfecting Skin Tint includes glycerin, a highly moisturising humectant which keeps the skin well hydrated all day. "It gives you that no-makeup makeup look and you're left with a youthful, dewy finish that will enhance your natural colouring", they say.
As well as being popular with makeup artists, the Perfecting Skin Tint has proved widely popular with more mature customers: Dozens of the product's hundreds of reviews come from those ages 60 to 70, wondering why they hadn't discovered the non-cakey, pore-blurring formula sooner. One downside of the product, however, is it does not offer any SPF protection.
Best tinted moisturiser for buildable coverage
12 shades | Hydrating cucumber extract | Noncomedogenic | No SPF protection
"If you're after affordable medium-coverage tinted moisturiser, this one is for you", says makeup artist Gina Blondell. "The vegan formula is buildable and effective at evening out skin tone and hiding blemishes." Like a kind of step between tinted moisturiser and foundation, the Nyx Tinted Skin Veil is ideal for those who usually opt for a full-coverage base. Wood says the formula is "breathable,""meaning even when layered for coverage, the result doesn't look too heavy or feel too caked on. For best results, both Blondell and Wood recommend applying with a brush and blending out with a sponge.
Like the Perfecting Skin Tint, the NYX Skin Veil offers only 12 shades, but Wood finds that each one has been "formulated to accommodate a wide range of skin tones". The moisturiser is also good for a range of skin types. Those with drier skin will benefit from soothing and hydrating cucumber extract and aloe vera, whereas oilier or acne-prone skin types will be pleased to hear that the product is noncomedogenic. A downside of the product, however, is its lack of SPF protection.
Some other tinted moisturisers we've written about:
The Strategist UK is designed to surface the most useful, expert recommendations for things to buy across the vast e-commerce landscape. Read about who we are and what we do here. Our editors update links when possible, but note that deals can expire and all prices are subject to change.