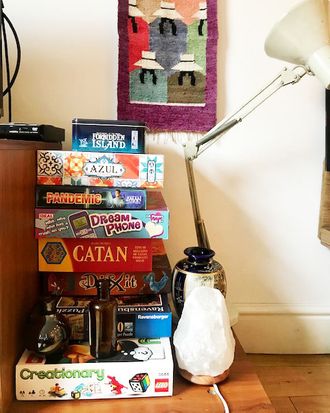 Some of my collection of board games.
Photo: Courtesy Ailbhe Malone
When my husband and I travelled across Italy by train four years ago, I searched Reddit for the best two-player games to keep us entertained. I wanted games that wouldn't take long to learn, but that we could also bring along to a bar in the evening, or play on a train table as we travelled. We were also only travelling with hand luggage for over two weeks, so every game had to be super-portable, with as few pieces as possible, and ideally board free. Since that trip, we've bought games to take on trips to Japan, Australia, and Scandinavia — some from that original Reddit thread, others found through Amazon lurking. And now, as we're staying at home due to coronavirus, we've picked up and started to play some new ones, too. Below, the games we like to play as a twosome, including options that can be scaled up for more people (for when social distancing ends).
Hive was the first two-player game we purchased. I've since recommended Hive to many other couples who are travelling together — my friend Tabatha took it on a trip to Japan with her boyfriend and got so obsessed that they ordered an expansion pack as soon as they came back. Once you learn how the pieces move, it's easy to pick up, like a smaller-scale game of chess. The games are fast, about 15 minutes, and the more you play, the better you get at it. A note: Hive has weirdly large tiles. We bought Hive Pocket as we were travelling, but when I bought Hive for my brother Rory (who had tried, and loved, our set), he was disappointed that the tiles were too clunky to bring to his local bar in Berlin. Hive Pocket is the better choice if you're on the go, and Hive classic is probably better for younger players.
This the larger-tiled version.
Pass the Pigs is a bit like shooting craps, but with pigs. You bet on how the pigs will land, pretend to be a hog-caller when you throw them, and stack up the points. This is a fun game to play at a bar, as it doesn't take up much space. It's superfast — each round is maybe ten minutes — and it can be scaled up to as many players as you like.
I hate Scrabble, but I love Bananagrams. It took us a couple of rounds to learn how to play, but it's very easy to pick up. You're basically playing solo Scrabble while also racing the other player. I own the Party Edition, which has a couple of extra rules (such as: If you get the flamingo tile, you need to stand on one leg), but I prefer the classic set when it's two players.
Dobble is a little like Snap, but each card has eight symbols on it. It's fast to learn, fast to play, and horrendously competitive. It needs a lot of counter space, so this is one to play at home. You can easily scale up to eight players, and it's a fun option for kids, too.
Pandemic is a cooperative game — meaning you and the other players work as a team. In this instance, it's a team to stop a disease taking over the world (so you may choose to skip this one for now, or purchase and feel a sense of control). Each player is given a character with a certain skill set (for example, an engineer or a project manager), and these skill sets collaborate to work on a cure. Working together for the first time takes some getting used to, but due to the mix-up of skills each time you play, it doesn't get boring for two players on replays. You can also raise the difficulty level as you go, and it's good for up to four players.
If you really want to get into it, one of the highest-ranked games on BoardGameGeek is Pandemic Legacy, a game that's designed to be played in 12 to 24 sessions.
Another cooperative game, this time an Indiana Jones–style adventure, where you need to rescue four artifacts from a sinking island. It's for up to four players.
The gameplay in Azul is very straightforward, but the design is so soothing that I wanted to mention it. The premise is: You're a Portuguese artisan tiler, tasked with decorating the Royal Palace of Evora. You stack tiles to earn points, with the points determined by how you have arranged the tiles. I'd recommend watching a YouTube clip to understand the scoring if you're playing for the first time. It's for up to four players.
I bought Dream Phone a few years ago when I was having some friends over for a dinner party. It's super-fun, and it's been updated to include texting your crush rather than calling them.
The Strategist UK is designed to surface the most useful, expert recommendations for things to buy across the vast e-commerce landscape. Read about who we are and what we do here. Our editors update links when possible, but note that deals can expire and all prices are subject to change.