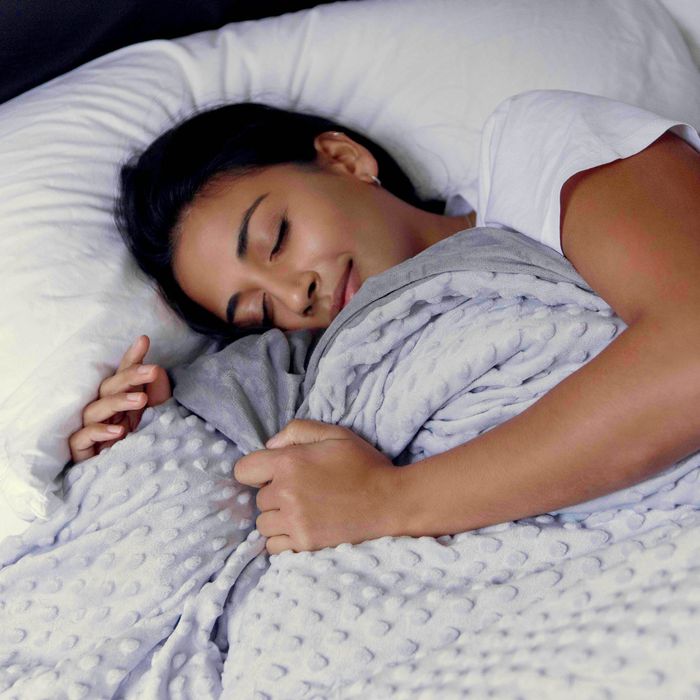 Photo: Courtesy the retailer
Here at the Strategist UK, we like to think of ourselves as crazy (in the good way) about the stuff we buy, but as much as we'd like to, we can't try everything. Which is why we have People's Choice, in which we find the best-reviewed products and single out the most convincing ones. (You can learn more about our rating system and how we pick each item here.) 
And while we've written about bedding on our U.S. website — including the best weighted blankets for a better night's sleep, the best weighted blankets to gift, and the best weighted blankets for kids — here, we've rounded up the best weighted blankets as praised by the most enthusiastic reviewers on Amazon.co.uk.
Note: It's recommended to choose a weighted blanket that's around 7 to 12 percent of your body weight. For example, someone who weighs 60kg could use any blanket between 4.2kg and 7.2kg. Unless otherwise noted, we've listed the price for the 6.8kg (15 lb.) version of each blanket below.
Best-rated weighted blanket
With an average of 4.8 stars, the jaymag weighted blanket seems to impress almost everyone who has bought it. Specifically, every single reviewer who reports having autism, anxiety, or insomnia has given this weighted blanket a glowing review. Some write that the blanket is almost too effective. One reviewer found their blanket was so comforting that they wrapped themselves up in it to read a book, then promptly fell asleep. Regardless of their particular needs, almost all reviewers agree that this weighted blanket is calming and helps them fall asleep faster. Many say their fitness trackers showcase a marked increase in sleep quality, while others simply report feeling better rested in the morning. There are a small number of negative reviews — but half of these customers still praise the blanket's quality or, if they decided to return it, the service they received in the process. One comment that comes up again and again: "Why did I wait so long to buy this?"
Best-rated (less expensive) weighted blanket
Like the jaymag blanket, the Buzio is particularly popular with buyers who have sensory-processing issues or sleep disorders. One reviewer explains that, before purchasing the blanket, he had worked his way through a laundry list of products and methods to beat insomnia. Though it's expensive, he writes, the Buzio blanket improved his sleep to the extent that he'd happily pay twice the price again. Another reviewer, who experiences panic attacks, recommends folding up the blanket and placing it on your torso or thighs to help with anxious, unsettled feelings.
Reading these reviews, it seems the Buzio blanket matches our best-rated pick on many criteria, with one small exception: Reviewers are slightly more critical of this blanket's fabric and stitching. However, unlike our best-rated pick, this blanket claims to be machine washable and is available in a wider range of weights, including a 2.3kg kids' blanket.
And now some micro-picks for every type of weighted blanket you might be looking for.
Best weighted blanket with a removable, washable cover
The supersoft teddy-bear-like material on this blanket stood out to reviewers, who gave it an average of 4.8 stars on Amazon. Five reviewers also mention how this blanket isn't too hot in the summer and isn't too cold in the winter — very useful when it comes to Britain's mixed weather. Although some customers caution that the removable cover can be tricky to attach to the inner blanket, others praise the secure loop-tie design, which stops the blanket from moving around inside the fleece. There is literally only one review for this product that is not four or five stars. That one describes the blanket as well made but acknowledges, as with the other blankets on this list, that a weighted blanket is not a solution for everyone.
Best weighted blanket for couples and king-size beds
This weighted blanket is one of the few on the list that comes in a larger, heavier king-size-bed option. A few customers acknowledge their initial concern with the heaviness of this blanket and mention having to heft it on top of the bed in the evening. But now, as six reviewers say, this blanket helps them get a full eight hours each night. One particularly happy customer praises the way the blanket folds around their body, keeping draughts out and staying put while they sleep. This is a bonus when using the blanket as a couple, as it stays put while their partner tosses and turns. Three other reviewers mention that the heaviness has relieved their partners' restless legs and improved all the couples' sleep. Although this is our top pick for king-size beds, the blanket is well reviewed in all sizes. Like the Van Beeken, it comes with a removable, washable cotton cover — plus this is the first blanket on the list which offers a choice of two colours.
Best weighted blanket with a trial-period guarantee