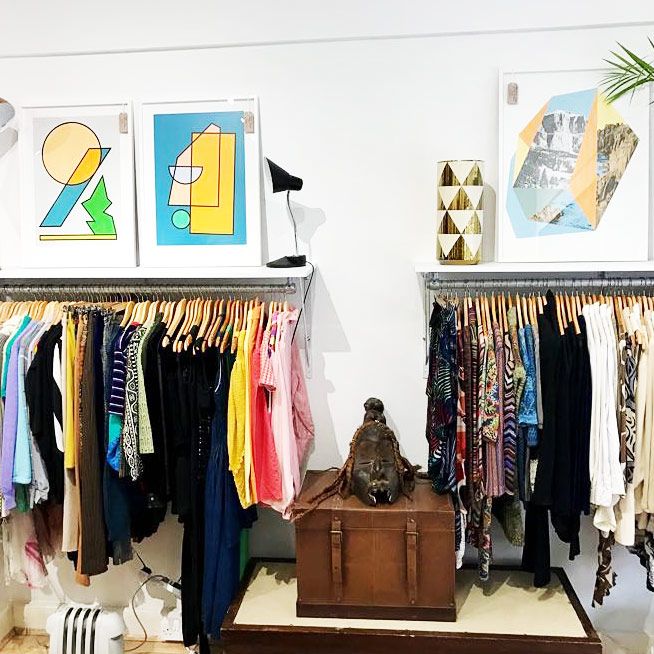 Photo: Courtesy of Pelicans and Parrots
There are lots of ways to support the struggle against police brutality. You can donate money to a local grassroots organization or email your MP, asking them to lobby the government. You can join a protest, if you feel you can do so safely. You can educate yourself and talk about racial injustice with those who are less likely to be on the receiving end of it. But one of the most direct and sustainable ways to support the Black community is to shop at Black-owned businesses, many of which have also been disproportionately affected by the coronavirus pandemic.
Over the last couple of days, we've done some more in-depth research into U.K.-based, Black-owned businesses we hadn't covered in the past. The recommendations are pulled from a variety of sources — including our writers' and editors' reporting. Some recommendations were culled from It's Black Owned, a website that profiles Black business owners; others are places where our writers and editors personally love to shop. Dozens were shared on Instagram posts and in Instagram comments, including by designer and calligrapher Ofe from Studio Oudizo, journalist and Black Gals Livin' podcast host Vic Sanusi, blogger Kristabel Plummer of I Want You to Know, as well as Jamii (a discount card for Black British brands) and Black Women's Directory, which launches in July this year.
Here, we've created a directory of 96 Black-owned businesses you can support in several different categories: beauty brands, clothing and accessories, food and drink, home décor, boutiques, and beyond. We acknowledge that this list is far from complete and skews toward London businesses (where our team is based), but we will continue to update and add more national and non-London local businesses moving forward. If you want to jump to a specific category, use the links below.
Home Décor | Stores and Boutiques | Food, Drink and Groceries | Kids | Beauty and Skin Care |Clothing |
We welcome suggestions or recommendations — you can email edit@thestrategist.co.uk
Like most industries, greeting cards often fail to represent the world we see every day, meaning a distinct lack of cards and other stationery that features BAME (Black, Asian, and minority ethnic) people. Black Law student Avila Chidume decided to change this in 2018, creating her own greeting cards for various occasions, representing diverse and underrepresented communities through the striking graphics. Avila.Diana also make personalised cards and mugs. Hannah Holway. 
Aysha Bell is trained in three different types of yoga (Vinyasa Flow, Kundalini, and Yin) and has studied meditation, breath work, sound healing, and Reiki. As well as offering sessions, which are based on yoga with a blend of breath work, harmonic resonance, and sound, Bell sells meditation gift boxes. They include a candle, healing stones, a sage stick, and a set of guided meditations to download. The candles can also be bought separately, and come in both lavender and a cedarwood/geranium blend. Chris Mandle.
Natalie Manima, a London-based therapist of Ghanaian descent, was inspired to start creating vibrant, handmade homeware accessories after being surrounded by bright African colours and prints as a child. Manima sells lampshades, pillows, bedding, and more through Bespoke Binny, alongside running virtual lampshade-making classes, for those wanting to create their own lampshades at home. H.H.
Chloe Ainsley's modern range of stationery, wedding invitations, and art prints are simple but striking. Based out of her design studio in Kent, Ainsley's designs incorporate wax seals, feathers, or simple string accents to elevate save-the-dates or menus to something extra-special. C.M.
Vanessa Agyemang founded Copper Dust after noticing a gap in the interior-design market for handmade, luxury African home décor. Creating limited-edition products — including bespoke lampshades and concrete planters — Vanessa is influenced by her Ghanaian heritage, her studies in interior architecture and design, and the fashion industry. It currently has a sample sale on, with 50 percent off on limited products. H.H.
The design work of UK-based artist Dorcas Magbadelo is influenced by her Nigerian heritage, but also bold colours and patterns. Her art prints are particularly gorgeous, but she also has a line of quick-to-sell-out pins, which could happily adorn a denim jacket. Ailbhe Malone.
London-based ceramicist Freya Bramble Carter creates textured and tactile pieces that are as useful as they are beautiful. From vases to dishware, her work is inspired by the natural world and finished with her own artisan glazes. Though most of her work is currently sold out, she takes commissions. A.M.
This subscription box, created by Comfort Badaru Smithson, is named after the Swahili term for a person skilled in making things. The craft kits are designed for people who are looking for a creative project, and the contents change each month. September's contained everything you need to make a woven sunburst mirror, including dowels, raffia in three colors, a mirror, and craft glue. Each kit also comes with a special gift. You can buy a one-off box, or subscribe, and the money goes straight to supporting the artisans who provide the materials in Africa. C.M.
London-based "illustration lab" Kazvare have worked with brands like Adidas, Tate Modern, and O2 on large-scale events, but they also sell their pop culture–influenced prints, homewares and books online. You may have seen their products sold in stores like Oliver Bonas and Scribbler, like this print of Stormzy and Beyoncé eating at Morley's or an illustrated guide to taking the tube. A.M.
Kitschnoir aims to represent the "love, joy, and humour within the Black British experience." Founded in 2017, it originally sold hand-designed greeting cards but has since expanded to include lunch bags and notebooks. At the moment, Kitschnoir is offering a handwriting service on all cards: Choose the card and type in your message and they'll send it directly to your chosen recipient. A.M.
Bedfordshire-based Carla Sealey started Naked Ceramics in 2017 and says she is inspired by the natural colours and textures of the environment. Her range, which includes stoneware mugs, plates, and wildflower vases, comes in a range of neutral hues and are made through a combination of hand-building and slip-casting clay. C.M.
When Nicola Lespeare couldn't find a card featuring a girl with an afro for her sister's birthday, she decided to create her own range. Lespeare's line of greeting cards includes birthdays, thank-you notes, and blank cards, although it's the especially cute new baby cards that we are drawn to. C.M.
Our Lovely Goods is an Aberdeen-based, family-run business specialising in handcrafted natural wax candles, ethical skin care, and more. They work closely with Nigerian artisans to create homemade products such as botanical body butter and hand balms. The company also holds workshops — which involve creating your own candles, facial mists, and body scrubs — as well as events and private parties. H.H.
What started as a therapeutic hobby soon became a business venture for Angelica "GeGe" Louise, who founded her lifestyle and candle brand, Tribal Unicorn, in East London. Each candle — all made from organic soy wax — is inspired by life in London, from Notting Hill carnival to Shoreditch. Tribal Unicorn's range of products includes playful candles, like this (currently sold-out) Nova candle. H.H.
This home fragrance brand takes its name from the Swedish "lagom" (meaning "not too much, not too little, just enough") — and was launched by award-winning TV journalist Thabang "Thabi" Motsei. The 100 percent soy wax candles, made in the UK at Motsei's studio in East Sussex, are scented with premium and essential oils. The collection is currently sold out but includes geranium and grapefruit, amber and cedarwood, and lavender and ylang-ylang, as well as an unscented candle, and each one comes in a reusable amber glass jar. C.M.
Detola and Geek sell African-inspired, handcrafted lampshades, tote bags, wall art, coasters, pillows and more. Using bold, geometric prints, the colourful lampshades often have alternative linings inside, such as metallic gold or bronze. Designer and founder Tola Laseinde also offers lampshade making workshops, as well as DIY craft kits to make your own lampshade at home. H.H.
While working as a global events manager, Ricki Lawal would often travel with a candle as a staple suitcase item, to remember the smells of home even when she was far away. This year, she launched Selfmade Candles, which sells natural, vegan-friendly soy candles, hand-poured in London. Scents include eucalyptus, vanilla and lavender, and sage and rosemary, and each candle comes in a reusable glass jar with a label containing plant seeds — so you can use the jar afterwards to plant the label and watch the seeds grow. In the wake of the murder of George Floyd and the Black Lives Matter protests that have followed, Selfmade Candles are now offering a limited edition 'Conscious' candle, with 100 percent of proceeds going to Stand Up to Racism. H.H.
New Beacon Books was the first Black publisher, specialist bookshop and international book distributor in the UK, after being founded in 1966 by the late John La Rose. They focus on publishing and selling works of fiction, nonfiction, and children's literature from African, Asian, Caribbean, and Black British authors. Though the North London–based bookstore is currently closed due to COVID-19, you can still browse and order from their diverse index of books. H.H.
This toy shop was founded by Pamela Djima in June 2020, and works with black-owned businesses to curate culturally diverse products. They stock books, puzzle sets (focusing on countries such as Ghana and Nigeria) as well as a diverse range of dolls – including ones with albinism and vitiligo. C.M.
Pigment Perfect was founded by graphic designer Jane D'Offay, after her eldest daughter was a victim of racial abuse at school. Although the abuse was dealt with swiftly, the long-term impact on her daughter lingered: She began to compare herself to others, from her skin tone to her hair texture. D'Offlay worked with her daughter to design visual materials that would help the latter realise her heritage and her power. The range includes positive, child-friendly art prints as well as colouring books and bags. A.M.
Pelicans and Parrots is a highly curated vintage store which often pulls in peak-'90s Moschino, Valentino, and more (they also have some handpicked contemporary interiors and furniture). The owners also run a contemporary gallery a little up the road (which, for a while, was the best rum bar on Kingsland Road). The store is closed for now, but you can support them by following the shop on social media: @pelicansandparrots. For those with larger wallets, their contemporary-art gallery — Ramp — is available to shop online. A.M.
Prick is the first boutique plant shop in London dedicated to solely selling cacti and succulents. Based on Dalston's Kingsland Road, the shop was opened by Gynelle Leon, an award-winning Black photographer and trained florist, in 2016. Orders can be made through the online shop, and with the Dalston store currently closed, an online order is a great way to support the business. H.H.
Ethical fashion activist Kalkidan Legesse founded Sancho's in 2014, with an aim to provide sustainable alternatives to the fast-fashion industry. There are currently two Sancho's stores in Exeter, selling ethically sourced, often fair-trade clothing, accessories, homeware, and bath and body products such as vegan soap. You can also buy many of the products they sell — from a variety of different brands like Girlfriend Collective and People Tree — at their online store. H.H.
F

O

O

D

,

D

R

I

N

K

,

A

N

D

G

R

O

C

E

R

I

E

S
This Essex-based, African-inspired sauce range only has three products, but they're so popular that their Etsy page has a flag noting that "multiple buyers came back to this shop for additional purchases in the past six months." They offer a stir-in jollof sauce as well as three-chile sauce and a sweet and spicy chutney — both of which come in mild, medium, or hot. A.M.
Dark Sugars founder Nyanga Mendy began the company's journey on a stall at Borough Market, before traveling around South America and West Africa to research cocoa on her family's farm. Now the Brick Lane shop works Ghanaian cocoa beans into a variety of products, from ice cream and chocolate-covered nuts to luxurious hot chocolate. Many of their products can be ordered online, including a DIY hot-chocolate kit. H.H.
Deserted Cactus is a vegan homestyle café in the heart of Peckham, founded by influencer and YouTuber Esme of London Afro Vegan. Esme's recipes are inspired by Asian, Mexican, and Caribbean food, using plant-based ingredients to create hearty, filling portions. Though the cafe is currently closed due to the lockdown, under normal circumstances it's full of loyal customers and curious newcomers. For now, you can support Esme through her YouTube videos and Instagram content. H.H.
As well as her children's brand, Philly and Friends (see below, in Kids), Vese Aghoghovbia-Aladewolu is co-founder of this company — which she launched with her three sisters in order to pioneer West African flavours. Their products include Chapman, a sparkling, nonalcoholic drink featuring notes of black currant and spices (that's known as "the sangria of West Africa"), and rodo sauce, a blend of scotch bonnet peppers, onions, and garlic. C.M.
Eat of Eden
Eat of Eden has four locations in London — Brixton, Clapham, Lewisham, and Shepherd's Bush — and provides organic vegan and vegetarian food to order. Their menu takes inspiration from Caribbean and European recipes, such as their ackee and sweet pepper with grains, or their dal patties. Each location has a slightly different menu, but they also cater for private events, too. C.M.
Fish Wings and Tings
Chef Brian Danclair describes his food at this Brixton Village hotspot as "Nouvelle Caribbean Cuisine," a nod to his training in French Provençal cooking. Danclair worked in Washington, D.C, as a chef from the age of 19, and was inspired by his grandmother Valentina's cooking. The menu features mutton and roti dishes, as well as snack-size dishes such as reggae wings and split-pea fritters. They're also on Deliveroo. C.M.
This Haitian family restaurant in Acton, West London, is focusing on collection and deliveries at the moment. Dishes include griot (pronounced gree-oh), a traditional Haitian pork dish simmered with chile and citrus. Reviewers love the goat curry, and they're also doing £6 tiki cocktails, too, made with Carribean rum. C.M.
Las Olas is a direct-to-consumer premium-spiced-rum company based in London. It was founded by friends Samuel Williams, Samuel Adewale, and Dion Polius and is the first premium, Black-owned spiced-rum brand in the UK. Inspired by rum's status in Guatemala, Jamaica, and Belize, where it is enjoyed on its own rather than blended into cocktails, Las Olas seeks to elevate rum as a premium drink in and of itself and say they're launching refill packs to promote sustainability. C.M.
Based in Livingston, West Lothian, Matugga rum uses East African sugar cane molasses to make their signature small-batch golden rum. Both Matugga's spiced rum and golden rum have been medaled internationally — the Golden Rum received a silver medal at the International Wine and Spirit Competition (2017), and the Spiced Rum received a silver medal at the New York World Wine and Spirits Competition (2015). A.M.
Plumb and Rabbitts
This wedding-cake business owned by Autumn Anastasia Rabbitts uses recipes Autumn learned from both her grandmother and great-grandmother — recipes from pre-war Britain. Rabbitts, who has a degree in Jewellery Design from Central St. Martins and is based in Alnwick, Northumberland, has a range of bespoke cakes, including a pistachio sponge with orange-blossom jelly and dark-chocolate ganache. She also offers tasting boxes, delivered to you, so customers can try her services anywhere in the U.K. C.M.
Founded by French-Senegalese Dalla Niakhaté, who came to London from Paris in 2018, Thés Lac Rose is a couture tea company producing ethically sourced, naturally flavoured black and herbal tea blends. Named after Le Lac Rose, a distinct, pink-coloured lagoon near Senegal's capital city of Dakar, Thés Lac Rose sources ingredients from local producers in countries such as Sri Lanka and Kenya. Their collections include Et Dieu Créa La Femme (And God Created Woman), which offers green teas inspired by rule-breaking women such as Frida Kahlo. H.H.
Three Little Birds
April Jackson opened this Jamaican café, boutique, and rum bar on Coldharbour Lane after appearing on The Apprentice in 2015. The food includes sharing plates, such as codfish fritters and jerk roast cauliflower, while the shop, which is launching soon, promises to feature coffee, art prints, and jewellery. They've also just announced a second site a stone's throw from Clapham Common. C.M.
Renee's Kitchen is a vegan restaurant and vendor based in Lewisham. They serve Jamaican-inspired, plant-based food — such as jerk "chicken" and island curry — at markets, events and festivals around the country as well as delivering through Deliveroo. H.H.
Uncle John's is a family-run Ghanaian bakery in Tottenham that bakes traditional recipes. They have an impressive range of breads and cakes, including sweetbread (lightly spiced, with Madagascan vanilla), coconut cake, and Ghanaian doughnuts. They're currently operating as normal, albeit with social-distancing measures in place, and are accepting online deliveries for customers within an eight-mile radius. C.M.
After studying Ghanaian recipes as part of her MA, Zoe Adjonyoh started Zoe's Ghana Kitchen in 2010, setting up a stall at Hackney Wicked Arts Festival and selling her homemade peanut butter stew. The next year, she set up a restaurant space and began hosting supper clubs and later opened a pop-up restaurant in Brixton. Zoe's authentic Ghanaian cooking is much-loved across London, and in 2017 she published a cookbook, which is currently available on Kindle. You can also support the kitchen's crowdfunding campaign to help the team deliver hot meals to NHS workers and vulnerable people in the Hackney Wick and Bow community. H.H.
Based in North Wales, Goch & Co. (Goch meaning 'red' in Welsh) sells chilli sauces, jams, oils and chutneys, all inspired by founder Stan Creusailor's Southern African heritage. Their sauces and condiments have won awards such as the Great Taste Award, and they even share recipes on their site for inspiration. H.H.
Based between Lagos, Nigeria, and the UK, Sheni and Teni create educational puzzles based on traditional scenes from countries in Africa. Each puzzle has multiple difficulty levels, so can suit multiple ages. It came recommended to us by Nina Malone, founder of the Dope Black Mums podcast. "It has different difficulty levels in one box, so it is great for multiple ages and is a fun way to learn about history," she says. A.M.
After the birth of her son, Deborah Ajaja noticed a gap in the market when it came to milestone cards — a common baby shower and new-mum gift which allows families to document and celebrate the many milestones of their children's upbringing. Struggling to find any milestone cards which represented her son's darker skin, she decided to create two sets of cards, for Black and mixed-race kids, respectively. Milestones include losing a first tooth, celebrating their first Christmas, and traveling for the first time. H.H.
With a drive to ensure that all children grow up seeing their own realities reflected in their favourite books, Imagine Me Stories offers subscription boxes with representative books, Black history activities, and reading club charts. Boxes are available to gift, and founder Keisha Ehigie also works with nurseries and schools to create custom-made packages. H.H.
As well as rompers, blazers, and tulle skirts, this Leicester-based kids company makes nappy wallets and head wraps featuring colourful Ankara prints. Owner Abby, who is a mother of two, started Mom Made after growing frustrated at the lack of stylish options for her sons. Most of her items are made to order. C.M.
This African-inspired children's range by sisters Kady and Lafia seeks to celebrate their heritage and preserve tradition. The sisters, who were born and raised in Poland but currently live in London, source African fabrics for their extensive collection of baby and toddler blankets, baby bibs, and sensory cubes. They also have a home-décor section for grown-ups. C.M.
This children's brand was founded on the principle that every child should not only see themselves represented, but also feel self-love and confidence within themselves. Inspired by the founder's daughter's nickname, Philly & Friends published Who do I See in the Mirror?, an illustrated, hardback book about a little girl named Philly. The company also sells wall art, which is customisable with any child's name and features motivational messages and bold colours. Every time a purchase is made through their site, a book is shipped to an underprivileged child, through partnership with the charity Books 2 Africa.
Nonwhite dolls are often hard to find, so Londoner Alisha Lestrade began selling her handmade, diverse dolls at Camden Market in 2012, under the name Sugacandipop. Relaunching her company as Thimble & Dolls in 2017, Alisha now works with 11 skin tones to create four different fabric doll types — with a bespoke, made-to-order service also available. Thimble & Doll also offers customisable felt bunting. H.H.
Afrocenchix began in Birmingham,and was founded by two friends, Joycelyn Mate and Rachael Corson, who were frustrated at the lack of quality afro hair-care products available on the market. After taking matters into their own hands (Corson went to study at the Institute of Trichologists), they founded their own brand, which became the first product for afro hair to be sold in Whole Foods UK. Their award-winning products contain organic shea butter and are free from perfume and artificial fragrances. Afrocenchix also has an editorial platform, which includes advice on how to create an afro hair-care routine and advice for common afro hair-care problems. C.M.
The Afro Hair and Skin Co. is an award-winning natural-beauty brand founded by beauty expert, writer, and holistic-health advocate Ibi Meier-Oruitemeka. Meier-Oruitemeka only uses locally sourced and grown ingredients to create nourishing, organic products through her company, which also actively supports British artisans and makers. With a focus on meeting the needs of afro-textured hair and melanin-rich skin, products include shampoo bars, facial oil, and clay masks. H.H.
Antidote Street is an lifestyle site and e-commerce platform, focused on textured hair: Users can shop a variety of brands (including several featured in this list, like Boucleme and Dizziak) as well as read reviews of salons and expert advice on how to care for afro and curly hair. A.M.
Harley Street-trained aesthetician Bianca Estelle founded the skin-care range Bea Skincare in 2015. The range is influenced by Estelle's background in cosmeceutical science, as well as her clinical work at her two Marylebone clinics: bea Skin Clinic and Vitamin Injections London. The range has several collections — from mature skin, to skin-tone correction, to acne care — but there's also an essentials range which is suitable for all skin types. A.M.
Boucleme is a plant-based hair-care brand specifically developed for people with curls, based in South West England. Founder and CEO Michelle Scott-Lynch says she was frustrated at existing products on the market containing sulphate and silicone (which strips out moisture and weighs down the follicles). Boucleme uses fair-trade ingredients where possible and focuses on using naturally derived ingredients in their products. C.M.
This handmade skin- and hair-care range focuses on maintaining moisture balance — at an extremely affordable price point (the best-selling Curl, Please! Curling Custard starts at £5). Shop the collaboration with kids' hair-care coach @naturallycrowned — a trio of kid- (and adult-) friendly hair products that can all be used to set twists or braid-outs — or join the waiting list for their wheat-free, paraben-free moisturising spray. A.M.
Aaron Wallace saw the challenges faced by many of his customers at the Shear and Shine barbershop when it came to grooming and decided to develop his own line of products. The two key ingredients in this range include mango butter and black-seed oil — which are rich in nutrients and can help treat dryness, reduce breakage, and encourage healthier hair growth. C.M.
Candour Beauty
Founded by entrepreneurs Abi Lawrence- Adesida & Jacqueline Kusamotu, Candour is an online marketplace that "puts women of colour at the forefront to provide a curated selection of products" across skin care, hair care and personal care. You can pick up Afro Hair & Skin Co., Black Girl Sunscreen, and The Mane Choice products here, and the website's Candour Stories series runs advice columns on meditation, UV exposure, and balancing work and family during periods of intense stress. C.M. 
Charlotte Mensah is an award-winning hairstylist and artistic director of Portobello Road's Hair Lounge. Her premium hair-care range, which includes the multi award-winning Charlotte Mensah Manketti Oil, is designed for afro/mixed hair and is made with sustainably sourced oils and other organic ingredients. Mensah also set up her own academy to hold workshops in Ghana, and a charity — L.O.V.E. (Ladies of Visionary Empowerment) — to give further educational opportunities to young African women. In 2018, she became the first Black woman to be inducted into the British Hairdressing Hall of Fame. H.H.
Darren Scott Salon
Located in Maida Vale, Darren Scott Salon offers a number of hair-extension and wig treatments. These include lace frontal wigs, full lace wigs, and U-part wigs. Scott also offers treatments for Afro/Carribean hair, including hair straightening and scalp treatments. C.M.
Dizziak is a "multicultural," super-moisturising hair-care range, founded by former beauty writer Loretta de Feo. There are currently two products (both stocked by places such as Cult Beauty and Liberty London): a deep conditioner and a moisturising wash. The graphic black and white packaging is reason enough to purchase, but both products have been nominated for (and won) industry beauty awards. A.M.
Equi founder Ekwy Chukwuji-Nnene's vegan, natural hair-care line focuses on three goals: growth, thickness and retention. Equi believes that technique is just as important to hair health as the products, so it hosts weekly Q&A Instagram lives, covering product use, building a hair-care regimen, understanding and correcting porosity, and more. A.M.
Goodman Factory promotes healthy beard care. Their key product is their beard oil, made with grape-seed, jojoba, and mixed essential oils, but they also sell beard-care products, including a handcrafted walnut wood beard comb and a beard brush to maintain hair follicles. The founders also run stories tackling common misconceptions about beards and have a YouTube channel where they discuss mental health, motivation, and identity. C.M.
Sharron Jenkins says her Bedfordshire-based (and award-winning) business Kalabash Bodycare, which specialises in Caribbean-inspired artisan soaps, bath and body care, is a way to pay homage to her heritage. The soaps are made with a blend of olive, coconut, and castor oils, and come in enticing scents such as charcoal and lemon and ginger, orange, and patchouli. C.M.
Founded by two friends (Abi Oyepitan, a former Olympic athlete, and Liha Okunniwa, an art book publisher), and based between Cheltenham and Hackney, Liha is a luxurious, all-natural skin-care brand. Liha's products blend English folk remedies with West African ingredients, like Nigerian shea butter — and are all 100 percent vegan, cruelty-free, and free from parabens, sodium lauryl sulphate, and chemicals. If you're not sure where to start, their Luxury Layers bundle features their two hero products: a tuberose oil and a fragrance-free shea butter. A.M.
The Essex-based company makes hair and body oils, shampoos, and beard oils as well as a range of shaving bars made from products such as shea butter and kaolin clay. Luxemore is also partnered with the Distant Relatives Project, a nonprofit that supports communities in countries including Nigeria, Jamaica, and Ghana. C.M.
Make-up Addiction
Founder and CEO Djimbi Djevdet focused on makeup as a way of coping with chronic pain. After being diagnosed with fibromyalgia in 2012, she turned to beauty videos on YouTube to take her mind off things, and went on to launch Make-Up Addiction, which makes and sells everything from eyeshadow palettes to eye glitters. The range of shades and products is impressive — and Djevdet even does masterclasses online to help other people break into the industry (a recent one looked at how to get beauty PRs to notice you). C.M.
Manicure You was created when founder Nicola started to notice the effects that acrylic and shellac treatments were having on her nails. Determined to look after her nails naturally, she launched this range of polishes, which come in shades such as Berry, Mint, and Boy Blue. Manicure You products are free from the seven major toxins usually found in nail polish, as well as being cruelty-free. C.M.
Swedish-born, London-based photographer Maya Njie began working with scents at university as a way to add to her photography art practise. In 2016, she launched a line of small-batch, hand-bottled perfumes made from high-quality essential oils, compounds, and resins. They're now stocked internationally, from Australia to Japan to the Conran Shop in London. Njie offers bottle refills by post, as well as 7.5-milliliter perfume sizes for scent layering. A.M.
MDM FLOW creator Florence Adepoju trained as a cosmetic scientist and, at the age of 22, launched a line of handmade, highly pigmented lipsticks: all made in her at-home Essex lab and all cruelty-free. The MDM FLOW range is stocked at Topshop, Harvey Nichols, and more — and they've recently released a mascara. A.M.
Marcia Edwards founded her skin-care brand, Oil of Nature, after her twin daughters suffered with dermatitis and eczema. Unhappy with the side effects of the conventional medication they were prescribed, Edwards began researching unrefined Ghanaian shea butter. She noticed that the ingredient had several qualities that could not only help her daughters but also others struggling with similar skin conditions and/or very dry skin. Oil of Nature's products — which now include whipped body butters, lip balms, and shampoo bars — are paraben-free and all made from Ghanaian shea butter and other natural oils. H.H.
"I have not had a bad-hair day since I created Skimdo," says Kim Cowans. Her aim was to create a product that could keep the ringlet-y, voluminous complexity of her natural hair but also have the swish and shine she admired in straight hair. It's gained in-the-know status after being used by FKA Twigs and Neneh Cherry, and according to Skimdo, a 250-milliliter tub can last three to six months. The discreet, minimalist design is also designed to look good on your dresser. C.M.