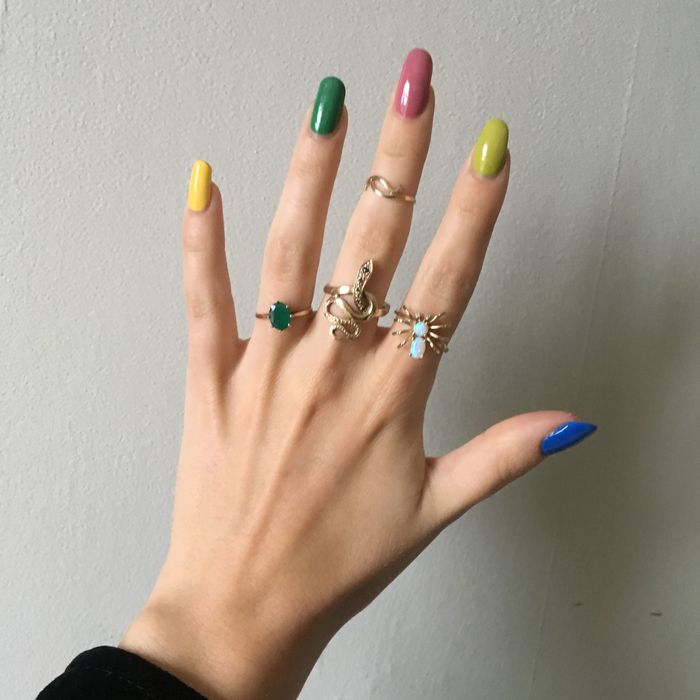 Champagne nails on a lemonade budget.
Photo: Natalya Lobanova
There are a lot of areas in life that I am deeply underperforming in — home-ownership and not having pasta pesto for dinner three times a week come to mind. One aspect that I do feel that I've mastered is maintaining well-manicured hands. Well-manicured hands make me feel immediately well put-together and in control, and like everyone else searching for a sense of control in their lives, I have invested a lot of time and effort into chasing that feeling.
After spending much of my young adult life trying every nail-growth serum, treatment, and polish, I've finally managed to perfect a routine that has left me with consistently perfect nails. Best of all, most of the products are under £10 and don't require a UV lamp — you can just use regular nail polish.
My friends now greet me not with a 'hello', but with 'Wow, are those your natural nails?', which is all I've ever really wanted. Here are all the products I use to keep my nails healthy and my manicure long-lasting.
A cuticle oil
I've tried a lot of nail moisturising products, and this is the one I always come back to for two reasons. Vitamin E oil most closely resembles the natural oils our bodies produce, and therefore is the most effective at keeping us moisturised — others are less easily absorbed and more likely to just sit on top of the skin and nails. Another important aspect is the brush applicator, which allows me to apply the oil to the underneath of my nails when they are painted, ensuring they're still moisturised. Cream moisturisers do not allow for this level of control because of their thick consistency, and roller-ball applicators just don't fit.
A glass nail file
Cardboard nail files last approximately 0.3 seconds until they start peeling They also often come with unnecessary buffers or are too rough – buffing the surface of your nails is counterproductive as it just makes them thinner and weaker. Metal nail files are awful — too coarse on your nails and often make a horrible sound.
Glass nail files, however, are durable and gentle. I love this one in particular because it's very sturdy — having gone through a series of nail files that shattered the moment I inevitably dropped them, this one has lasted me years and is still going strong. I love the mint colour and the handy case it comes with, too.
A nail polish remover
This is a cheap find that is as gentle on nails as a remover can be. Often people resort to using extremely highly concentrated acetone to remove their nail polish, drying out their poor nails and cuticles. Using a gentler formulation but allowing the nail to soak in it for longer is more efficient, effective, and far gentler on your skin and nails. I soak some cotton wool in this remover, place it onto the nail, then wrap with tin foil and let that soak for about a minute, longer if you'd like to remove gel polish or glue. I can then remove the foil and cotton and my nails will be clean with little to no colour residue.
A base coat
This base was bought on a whim; little did I know it would literally change my life — or at the very least reignite my love for having the extremely long nails of a divorcée from the 1980s with a dark past and mysterious source of wealth. I only use this as a base coat as it takes too long to dry as a top coat. It holds colour for weeks, but best of all it allows for plenty of bend in my nails whilst keeping them strong. So, unlike when I'd used strengthening nail polish bases, my nails never, ever snap anymore — they just bend but stay intact.
A top coat
This is the best solution if you're the type of person to spend ages painting your nails, then mindlessly go to the fridge to get a snack and ruin all your hard work because you managed to accidentally catch your semi-dried nail polish on a block of cheese, or something. This top coat dries really quickly and into a lovely, shiny top coat that looks on par with the glossiness of gel nail polish. Best of all, the combination of this and all the other products I use makes my polish last up to a week without a single chip or the use of a UV lamp.
A repair kit
For the longest time, I could never grow my nails as long as I wanted to because inevitably, one would break and I'd have to file down the rest. This product perfectly glues any cracks or breaks in your nails for up to weeks at a time, leaving them just as strong as the rest of your nails and entirely undetectable. Just apply the glue all over the broken nail, immediately dip the nail into the powder, then file down the surface to a smooth one. You can then apply nail polish on top as normal. When removing the nail polish, the glue will initially soften a little but dry back down to its previous state, meaning you do not need to reapply it between manicures.
A pair of rubber gloves
Probably the most underrated tool of all — don't let your hands soak in hot, soapy water if you want your polish to last. Use rubber gloves when you do the dishes. Maybe these ones that come recommended by Rachel Khong?
The Strategist UK is designed to surface the most useful, expert recommendations for things to buy across the vast e-commerce landscape. Read about who we are and what we do here. Our editors update links when possible, but note that deals can expire and all prices are subject to change.